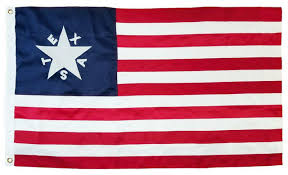 A letter came in a while back wanting to know what flag was flying over the Alamo during the historical battle in March 1836. The writer stated: "Since the aim of the battle was not for independence from Mexico but rather re-instatement of the Mexican constitution of 1824 which was made null and void by then Pres. Santa Ana. The only flags know at that time was the Mexican flag and canon flag 'Come and take it.'"
If you want to believe the many movies Hollywood and others have produced about the Alamo, it was the Mexican tricolor of red, white and green modified by having 1824 sewn into the white stripe. Truth is, there is no evidence such a flag ever flew over the Alamo. The 1824 stood for the liberal constitution that Mexico had adopted right after Independence from Spain. Although at the beginning there were many who favored restoration but by December 1835 most of that support was gone. Good story, but not likely. By this time most Texians wanted no part in restoring the Mexican Constitution. They had joined the volunteers in Bexar to fight for Texas independence.
So, which flag or flags flew during the siege over the Alamo in 1836? Fortunately, Texas historian Coy Prather came forward to clear this up. He sent me an article by Robert Mayberry Jr. from his book, Two Flags and printed in the Texas Monthly, March 2002: "Two flags flew over the Alamo during the famous 1836 siege. Neither was a Mexican tricolor with '1824' inscribed. The presence of such a flag is pure myth, and its description was not based on any eyewitness account. The story of the 1824 flag originated in 1860 as conjecture that the Texians were fighting to restore the tenets of the Mexican Constitution of 1824.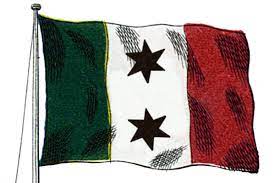 This story of the 1824 flag was repeated so many times that it became a matter of faith and assumed an undeserved place in the mythology of Texas. In reality, the defenders of the Alamo wanted no part of 1824. Eyewitnesses do, however, report a green, white, and red Mexican tricolor at the Alamo. But it had two stars, one for Texas and one for Coahuila, not 1824. This flag emphasizing the union of Texas with Mexico made only a brief appearance and probably was associated with the Tejanos of the Texian garrison. The fort's main flag, the one Travis reported "still waves proudly from the walls" in his February 24 message "To the people of Texas and all Americans in the world" resembled not the flag of the Mexican Republic but that of the American one.
A preponderance of contemporary evidence suggests the flag of the Alamo had a field of thirteen red and white stripes like the Stars and Stripes of the United States, but in the canton [the square or rectangle in the upper hoist or the rectangle closest to the pole] was the lone star and between each point a letter of the word "Texas." This was a flag the Anglo-Celtic defenders of the Alamo would have died for."