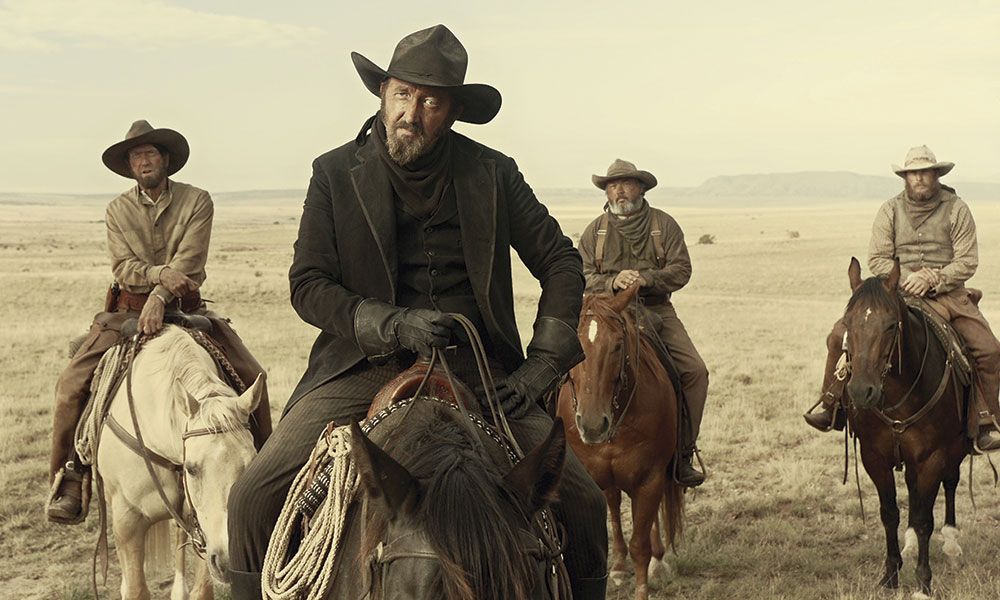 The new Netflix Western anthology film from Joel and Ethan Coen, The Ballad of Buster Scruggs, is the best Western comedy since 1969's Blazing Saddles, which is to say it's the best Western comedy in half a century. And unlike Blazing Saddles (1969), Three Amigos, Rustler's Rhapsody, A Million Ways Do Die in the West, et al, Scruggs is not a parody of Western movies. It is a series of Western stories seen through the distinctively quirky prism of the Coens.
The short scripts were written over a period of over 20 years, and only the last, "The Mortal Remains," was written after the film deal with Netflix was made. The other five were penned randomly over the years, and are presented in order of creation, the first, "Buster Scruggs," being the broadest. Frequent Coen collaborator Tim Blake Nelson is delightful as the title character, a cheerful singing cowboy who behaves much more like a Lee Marvin character than a Gene Autry one.
James Franco is a would-be bank robber in "Near Algodones," which has some nods to Sergio Leone without becoming homage. "Meal Ticket" features Liam Neeson as a small-time theatrical impresario, traveling from town to town, passing the hat after his artist, an armless and legless man (Harry Melling) performs beautiful dramatic readings. The problem is, what to do when the hat comes back empty?
"All Gold Canyon" is practically a one- man show, starring singer Tom Waits as a prospector with a definite method in his search for a vein. The other five stories are originals, but this one, also the most purely dramatic, is based on a Jack London story.
By far the most romantic, and painfully believable story, inspired by a Stewart Edward White tale, is "The Gal Who Got Rattled," about travelers on a wagon train. It features Zoe Kazan as a woman unsure how she'll pay her team driver, and Bill Heck as the ramrod who may have the answer.
Finally, "Mortal Remains" stars Tyne Daly as a haughty stagecoach passenger taunted by a French snob (Saul Rubinek), until they are forced to deal with the immediate presence of death. The most theatrical of the tales, all but the final moments occur within the coach.
The use of traditional Western music throughout is warming and cinematography by Bruno Delbonnel captures a natural beauty that is all but overwhelming. After several decades, it's novel to see so many short Western stories. But after all, weren't the half-hour Gunsmoke episodes better than the hour-long shows? Each of the six tales stands alone—there are no shared cast members or locations, but each is a separate facet of the shared personalities that brought us 2010's True Grit. I recommend it highly.
—Henry C. Parke