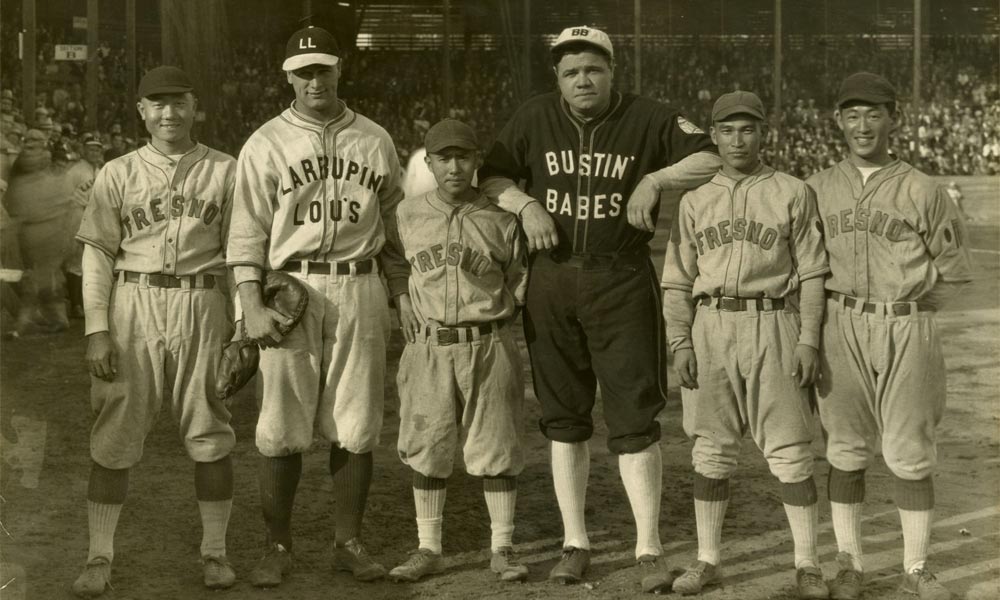 One of the little known stories about World War II is the part that baseball played—in the Japanese interment camps.
Two months after the Japanese attack on Pearl Harbor, on February 19, 1942, President Franklin D. Roosevelt signed Executive Order 9066, demanding some 117,000 Japanese-Americans report to "relocation centers" to assure their loyalty.
Never mind that two-thirds of them were native-born citizens of the United States and that hundreds of families had sons in uniform fighting for America.
The two largest camps were in Arizona, and that's where semi-professional baseball player Kenichi Zenimura was sent with his family. He fell into such a depression, he didn't unpack his suitcase for two weeks.
Like many, he couldn't believe this was happening. By then, Zenimura was a well-recognized player—he excelled at all nine positions, his biographer noted—and had also helped expand "America's past-time" to Japan. He led barnstorming tours to Japan of American teams—including the all negro league– in 1924 1927 and 1937, and was instrumental in the negotiations that led to Babe Ruth's visit to Japan in 1934.
After two weeks at the Gila River Relocation Camp in Arizona, Zenimura pulled himself out of his depression by building a ball field. He diverted water from a laundry room o nourish grass for an outfield. He built stands from wooden poles taken from the enclosing fence. He used flour to make chalk lines.
And then he started organizing ball teams. Eventually, he had a 32-team league and teams even traveled to other internment amps in the U.S. To compete against once another.
It's said that baseball was Zenimura's way to bring some "normalcy" to the barbed-wire-enclosed camps, to lift spirits, to bring hope.
After he was released from the camp in 1945, Zenimura returned to his home in Fresno and continued to play competitive ball for another decade. In the mid-1950s, he was instrumental in negotiating the professional baseball contracts of several Japanese-American players in the Central and Pacific Leagues.
He is now known as "The Dean of the Diamond," and is recognized as "The Father of Japanese American Baseball." In 2006, he was inducted into the "Shrine of the Eternals" in the Baseball Reliquary, a non-profit educational organizing founded to memorialize important figures in baseball's history. It is similar to the annual elections to the Baseball Hall of Fame, but statistical accomplishment is not a criteria.
A book about his efforts in the camps is entitled Barbed Wire Baseball.