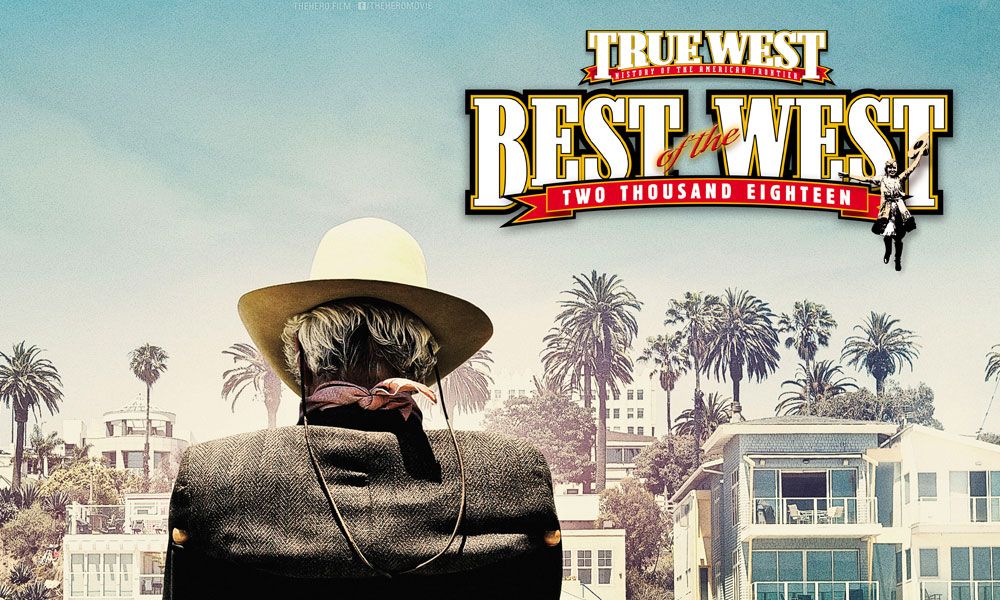 The one notable theme that has emerged from this year's short list of Westerns is the tale of the aging tough guy or, less sentimentally, the "Geezer Redemption Story."
The aging screen cowboy is not a new phenomenon. Yet for years, he was treated with far too little dignity. Many of the bit players in the 1930s and 1940s B-Westerns had been stars during the silent days. This dishearteningly common trend continued during the 1950s, when fans saw childhood heroes, including Bob Steele and Tom Tyler, play uncredited henchmen and stagecoach drivers. Of course, these roles allowed sentimental filmmakers to throw a little money their way; but when recognized in the bit part, the faded star felt humiliated in front of his fans.
Then came Sam Peckinpah's Ride the High Country (Warner Archive), in 1962, where 60ish stars Joel McCrea and Randolph Scott, at the end of their careers, not only carried the picture handsomely, but also established the underlying theme of all such movies: a character sets out to make things right before he dies, often with a willingness to die to accomplish this feat. The appeal to an older actor is irresistible, offering a chance to play a part that values age and experience, instead of a throwaway role. For mature movie audiences, these films offered a cast with familiarity and shared—if imagined—experience, and the vicarious thrill of not feeling marginalized themselves.
Though an acknowledged classic today, critics overlooked Ride the High Country in its own time, and the theme lay dormant, except when played for laughs as in 1969's The Over-the-Hill Gang, until it was revived magnificently in 1976, in Don Siegel's The Shootist (Paramount), in which John Wayne, then 69, closed his career playing a dying lawman. 
In 2012, Ernest Borgnine, then making what would be his final film, The Man Who Shook the Hand of Vicente Fernandez, told True West, "It's a Western, but it takes place in a nursing home."
Borgnine played a man recovering from a stroke, and having to stare down a gang of assisted-living scooter-riding thugs, the lead villain played by Western stalwart Barry Corbin. Remarkably, the story shaved years off Borgnine's age, putting him in his 80s, instead of his true age of 95!
In 2017, the Westerns genre featured a bumper crop of these films. In The Hero, the in-demand 73-year-old movie icon Sam Elliott plays fictional Western movie icon Lee Hayden. He's been reduced to narrating barbecue sauce ads when he receives two pieces of life-changing news: he has cancer, and he's getting a lifetime achievement award from a fan organization. His stoned acceptance speech goes viral, creating a chance for a comeback, a romance and a possible reconciliation with his neglected daughter (Krysten Ritter). Elliott's restrained, but raw, performance has earned him serious talk of an Oscar win. 
"Realism is a thing," insisted 91-year-old Harry Dean Stanton, as the title character in the modern-day cowboy Western Lucky. The ancient realist lives in a small desert town, surrounded by numerous casual friends, but no close ones or family, and he's growing to fear his slow-coming demise.
Much of the story and character comes from Stanton's life, even the fact that he was a Navy cook in the Pacific during WWII. Although the setting looks like Arizona, only two days were shot there; the rest was in Los Angeles, California, to avoid making Stanton travel.
With a strong supporting cast, including James Darren, Ed Begley Jr. and Tom Skerritt, the movie is an amusing and moving character study that might just earn a posthumous Oscar for Stanton, who died shortly before the film's September release
In the only period film of the group, and a more direct descendant of Ride the High Country and The Shootist, Lance Henriksen stars in Gone Are the Days as Taylon, a one-time bank robber who hopes one more score will allow him to make things right for a young woman who doesn't know she's his daughter.
"Taylon is dying, but he's not giving up," Henriksen tells True West. "He'd done it all, and he regretted every minute of it, on the one hand. And on the other hand, he prided himself that he was still around. When I read the script, I said, 'Oh my God, this has an element of Buster Keaton in it—it's so physical.' Because of the long passages where I'm all alone. There's that feeling of being trapped in a great silence."
A star for decades, Henriksen also feels, like Taylon did, the sting of age. "I'm 77, and I don't feel no 77. The only thing that's changed is my hair got grey. And suddenly, people dismiss you. They're not interested; there's nothing to gain from talking to you."
Looking ahead, coming sometime in 2018, 81-year-old Oscar winner Robert Redford will star in Old Man and the Gun, playing a real-life outlaw who busted out of San Quentin and, at 79, robbed banks near his retirement community.
The film industry's change of heart about its aging actors is heartening for fans and critics to see. Rather than just charitably throw old hands a bone, filmmakers throw them roles that, as with Ride the High Country, provide elegant cappers to fine careers. 
Like all years, 2017 was also a year of losing incredible people in the Western movie community, including, as noted in the pages of True West, Powers Boothe and Sam Shepard. Singer, guitarist and True Grit star Glen Campbell also died, after sharing his battle with Alzheimer's disease more publicly than any prominent figure since President Ronald Reagan. With the support of his family, he played and performed, magnificently, until the end of his ability. 
Also silenced was Alessandro Alessandroni, the composer and guitarist best remembered as the whistler in the theme of 1964's A Fistful of Dollars and 1968's Once Upon a Time in the West, among his so many other Euro-Western scores.
Bill Paxton died unexpectedly, from complications due to surgery, at the age of 61. He embraced the frontier West in his roles as Frank James (1994's Frank and Jesse) and Morgan Earp (1993's Tombstone), and more recently, the native Texan set foot in 1836 Texas as the legendary Sam Houston in 2015's Texas Rising. He understood the true heartbeat of Hollywood, saying, "I don't care how much hardware you throw at an audience. If they are not emotionally invested in the thing, it's zero."
Taking a cue from Paxton, here are the best Westerns of the year that elevated the story to the next level and got us all emotionally invested.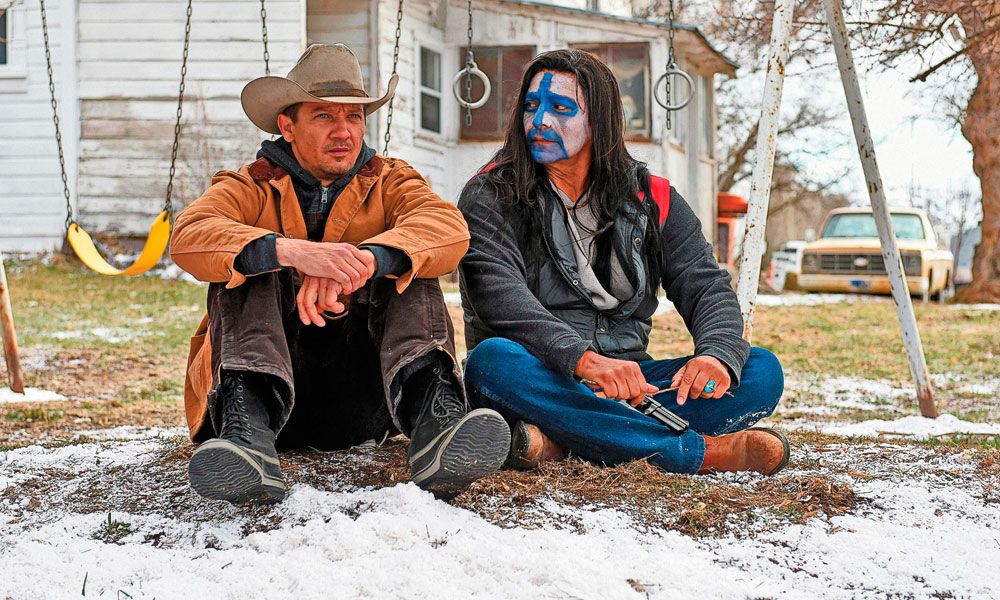 Best Western Movie
Wind River
Taylor Sheridan, who wrote Hell or High Water, which won True West's award for best Western movie last year, wrote and directed this year's Wind River (Weinstein Company).
When a particularly brutal rape-murder is discovered in the snowy recesses of the "rez," urban FBI agent Jane Banner (Elizabeth Olsen) joins forces with tracker and predator-hunter Cory Lambert (Jeremy Renner).
Grim, but with brains and heart, the film features a fine cast of indigenous actors, including Graham Greene, Tantoo Cardinal and Gil Birmingham.
Best TV Western
The Son
Philipp Meyer's bestselling novel about the building of a Texas ranching and oil dynasty, seen through the eyes of patriarch Eli McCullough (Jacob Lofland as a boy and Pierce Brosnan as a man), first as a captive, then as a titan, is by turns a beautiful postcard and a visceral assault on the viewer. Wonderfully written, directed and performed, this AMC series is the most original TV Western since Lonesome Dove. Season Two is in the works!
Reader's Choice
Underground (WGN America)
Best TV Reality Western
The Cowboy Way: Alabama
Returning for Season Two on January 4, 2018, this INSP series about three Alabama cowboy ranchers is an unassuming and unexpected charmer.
Bubba, Cody and Booger each have their own specialties—carpentry, rodeo and horse-training respectively—and are partners in a cattle company.
Contrasted by obviously staged "reality" shows, the naturalness of the trio and their families is striking, and the day-to-day struggles of their work is educational and highly entertaining.
Reader's Choice:
Gold Fever (Outdoor Channel)
Best Western Movie Blu-Ray
The Good, the Bad and the Ugly
Everything you could possibly want related to this final film in Sergio Leone's "Man With No Name" trilogy is found on these two discs released for the 50th anniversary by Kino Lorber, including the theatrical cut, the 17-minute extended cut, deleted scenes, composer Ennio Morricone featurettes, three commentaries and a slew of documentaries, including reminiscences by Producer Alberto Grimaldi and stars Clint Eastwood and Eli Wallach.
Reader's Choice
Hannie Caulder
(Olive Films)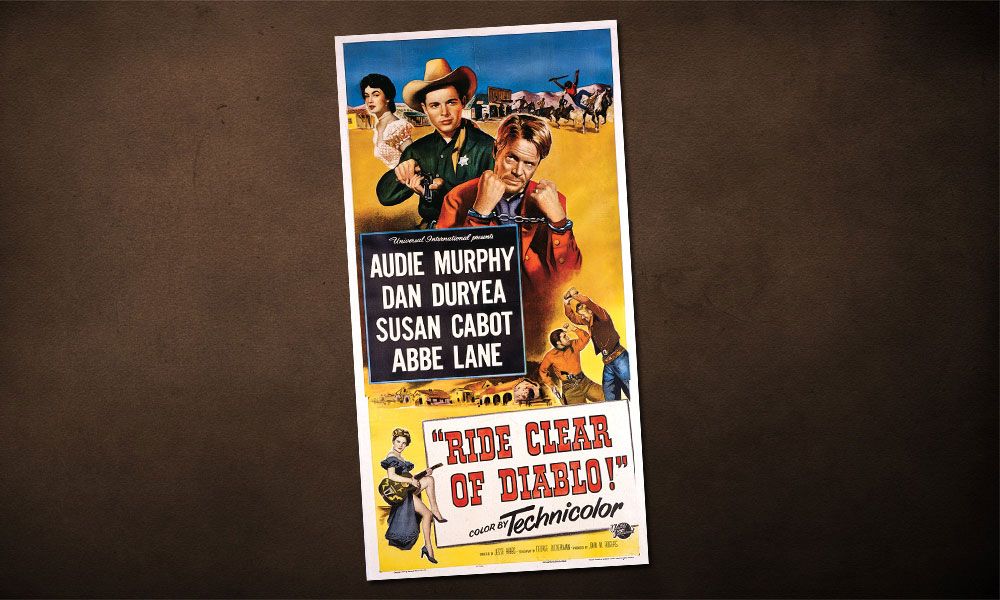 Best Western Movie Collection
Audie Murphy Westerns Collection
In honor of Universal finally jumping on the Technicolor bandwagon 75 years ago, the win
for 2017 goes to this collection of gorgeous Technicolor Universal Oaters.
The set showcases Audie Murphy's development into a convincing and enjoyable actor in the Jimmy Stewart-Henry Fonda-Gary Cooper mold.
Murphy's acting talents were rarely appreciated; since he was one of the most decorated American hero of WWII, folks assumed that's why he got the part. Of course, they're right. These Westerns will convince you he deserved the parts. 
As a horse breaker falsely accused of murder in 1950's Sierra, an American Indian hater-turned-peacemaker in 1954's Drums Across the River and as an on-the-lam bank robber impersonating a lawman in 1958's Ride a Crooked Trail, Murphy shines.  Each film has strong supporting casts, and his byplay with costar Dan Duryea, in 1954's Ride Clear of Diablo, is a particular pleasure.
Reader's Choice
Monogram Cowboy Collection,
Volume 9: Johnny Mack Brown (Warner Archive)
Best TV DVD
The Westerner
Viewers who only know Brian Keith from pablum like CBS's Family Affair will be amazed to see how tough he could be in Sam Peckinpah's series that aired on NBC in 1960. Spun off of Zane Grey Theatre (and the pilot is included), the 13-episode series, on this DVD released by Shout!
Factory, sets the tone for Peckinpah's features and contains some of Western TV's finest half-hours. Even better, four Peckinpah biographers provide excellent commentary!
Reader's Choice
Paradise: The Complete First Season (Warner Archive)
Best Silent Western Release 
The Cowboy and the Flapper
Handsome, muscular William Fairbanks, a largely forgotten leading man of silent Westerns, stars in this breezily entertaining story about a lawman who infiltrates a notorious gang, but must risk blowing his cover to free a woman (Dorothy Revier) who has wandered into their midst.
The Library of Congress doesn't have a record of any surviving copies, so kudos to Grapevine Video for finding what must have been a collector's copy to allow all of us to enjoy this 1924 silent Western that provides a rare chance to see Fairbanks and Revier in action.
Reader's Choice
Something New
(Alpha Video)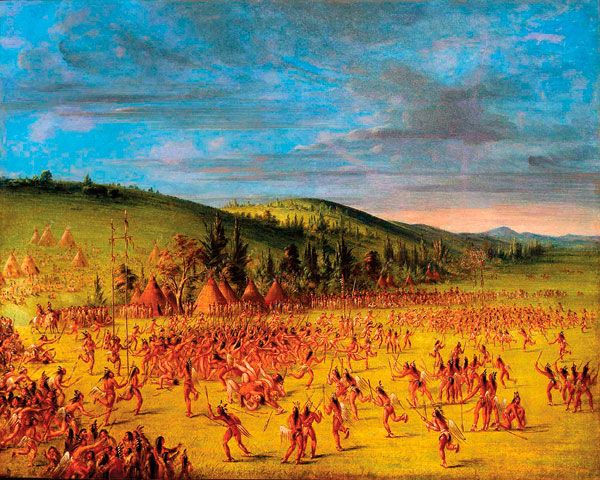 Best Western Documentary
Spirit Game: Pride of a Nation
Lacrosse, the game invented by the Iroquois to entertain the creator, is the "Spirit Game" of the title.
The film released by XLrator Media exuberantly tells the story of the 1980s creation of the Iroquois Nationals, the group's struggle to be recognized as a national team and, in 2014, the accomplishment of hosting the first-ever International Lacrosse Championship on a reservation.
Although the film centers on an Eastern tribe, the Iroquois, lacrosse is a 500-year-old sacred contest that historically conditioned American Indian warriors for battle and helped settle intertribal conflicts. Full of triumph, frustration and hope, this film proves you don't need to know the game to love the story.
Reader's Choice
Dawson City: Frozen Time
(Kino Lorber)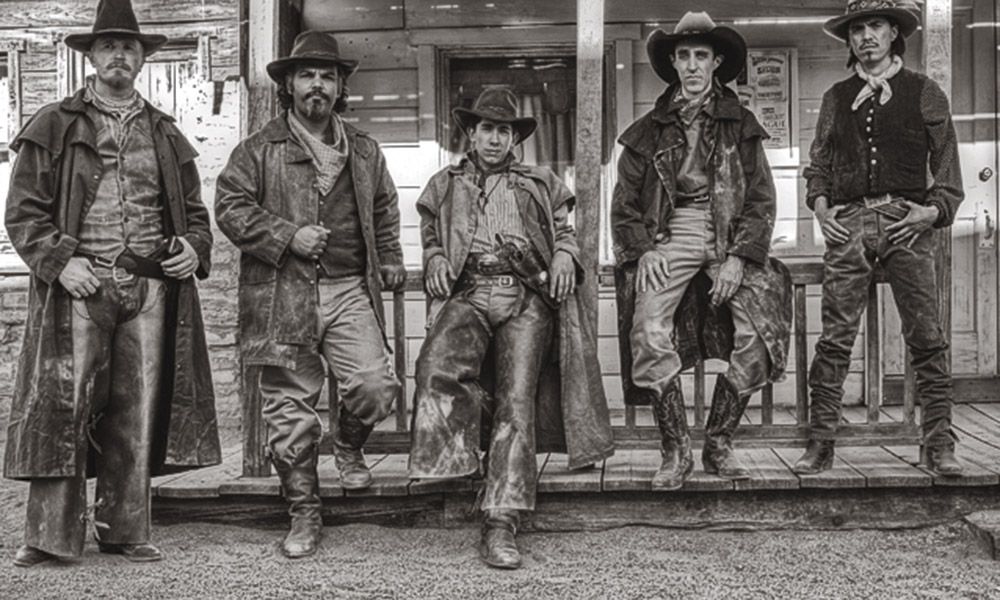 Wild Bill Hickok and the O.K. Corral
Fresh takes on an iconic real-life Westerner and an iconic Western gunfight were added to the annals of the Cinematic West in 2017.
Luke Hemsworth took on the role of legendary gunslinger "Wild Bill" Hickok, opposite Kris Kristofferson's fictional Mayor George Knox.
Before filming Hickok, the Australian-born Hemsworth knew outlaw Ned Kelly better than the Westerner he came to identify as a "dirty cop." To bring Hickok to life on the screen, Hemsworth tried to find "his humanity, what drove him, and the parts that held him back—his foils."
Meanwhile, filmmaker Alex Cox set out to explain the Gunfight Behind the O.K. Corral. He took inspiration from Akira Kurosawa's Rashomon, 1952's Best Foreign Film Oscar winner. "It's one story told several times from different perspectives, the idea being that you don't know which one is the truth," Cox says.
For his Tombstone: Rashomon, the perspectives come from newspaper interviews, letters and "transcriptions of the coroner's report and of Judge Spicer's hearing: [saloon owner Roderick] Hafford, Wyatt Earp, Ike Clanton and Johnny Behan all gave testimony," Cox says.
The premise of his movie is explained in the film's opening title: "On 27 October, 1881, a time-traveling video crew arrived in Tombstone, Arizona, to film the gunfight at the O.K. Corral. Realizing they were a day late, they started interviewing the survivors."
As with the Kurosawa film, Tombstone: Rashomon provides no final answers, but the Western does give the viewer a wide array of testimony to sift through.
I've watched it three times: I still don't know who's telling the truth, but I know which ones are liars.
Hickok is already out on DVD, while Cox's film is due out on DVD in 2018.
Henry C. Parke is a screenwriter based in Los Angeles, California, who blogs about Western movies, TV, radio and print news: HenrysWesternRoundup.Blogspot.com.