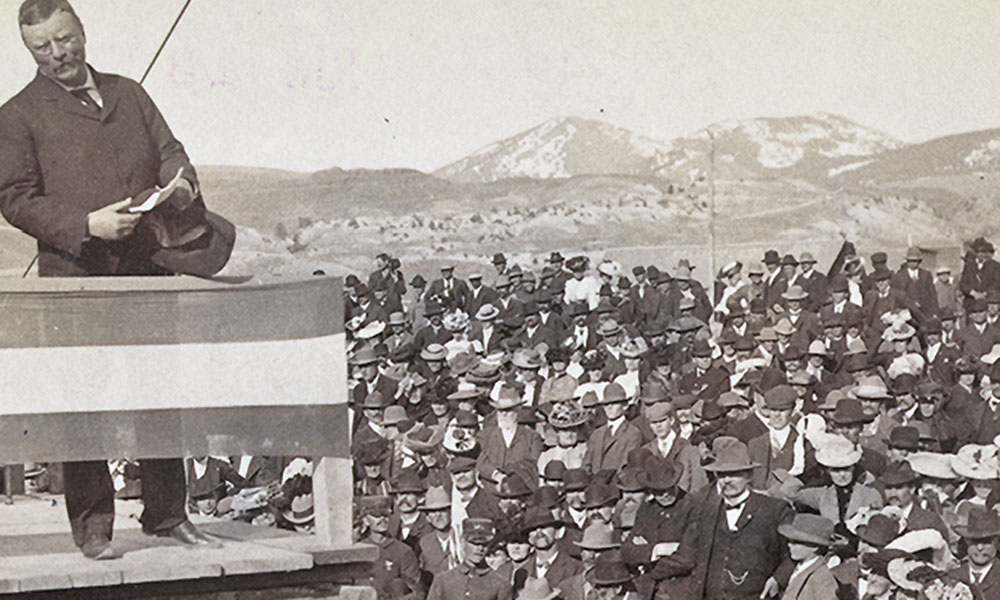 A I write this column from my desk in my office in Iowa City, Iowa, in October 2018, reflecting on the past, present and future state of Western history and fiction publishing, I recall where I was 25 years ago. I was newly engaged to be married, a third-year graduate student in history at Arizona State University and I was working for editor Bob Early in my first year as the research editor at Arizona Highways magazine.
True West's long-retired founder Joe Small had died at 79 years old earlier that year, and current owner Executive Editor Bob Boze Bell had just published the first edition of The Illustrated Life & Times of Doc Holliday. True West was still published by Bob Evans Publications' offices in Stillwater, Oklahoma; Arizona Highways had a subscriber base over 400,000 (over 52 percent out-of-state subscribers); and my professors in the history department were simultaneously touting the Internet as the future of history research while encouraging all of us to abandon traditional 19th-century research topics such as frontier settlement, overland trails, cowboys and cattle drives, Indian wars, law and order, transportation, et. al., for less-developed genres such as gender, race, environment, sexuality, labor, urban, 20th-century and ethno-cultural studies.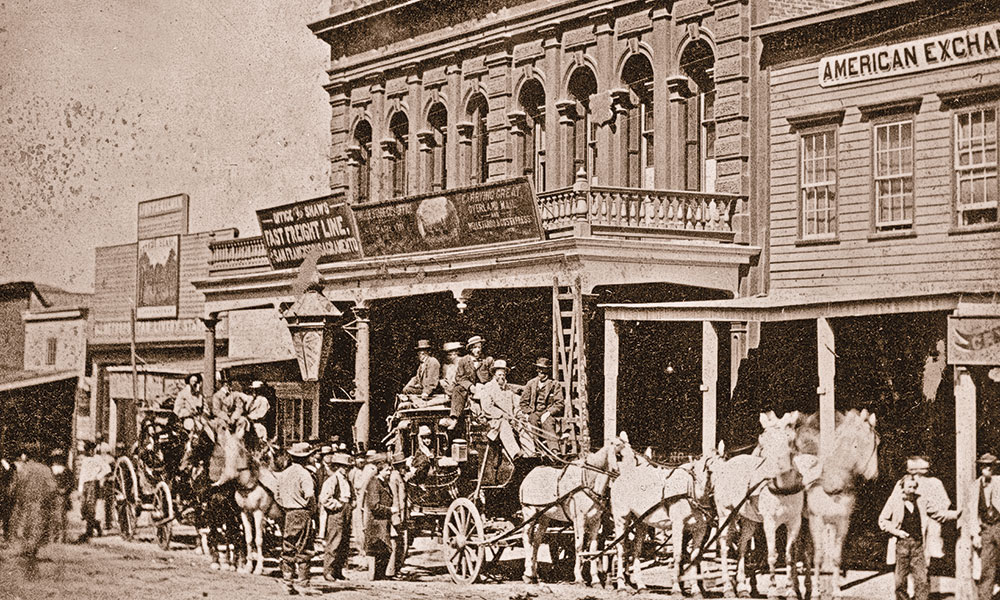 Graduate students who attended local and national history association conventions discovered they were part of a larger academic movement that encouraged the abandonment of traditional Western American history research and publishing. Historians and editors William Cronan, George Miles and Jay Gatlin asked in their opening essay, "Becoming the West: Toward a New Meaning for Western History," in Under an Open Sky: Rethinking America's Western Past (1992): "Does the western past have a future?"
Twenty-five years later, and almost six years after joining True West's editorial staff as Western Books editor, I must reinterpret the question: "Does the Western past have a future in book and magazine publishing?" Has the academy been successful in snuffing out—or at the minimum relegating Old Western history to a sub-genre limited in scope, distribution, interpretation and publication?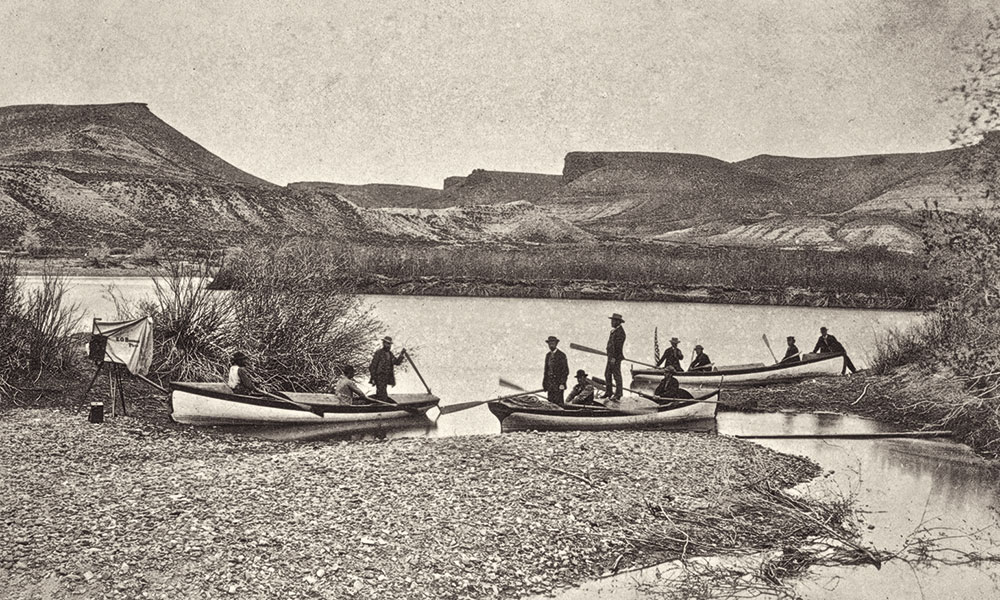 From where I sit in Iowa City, I would have to answer yes, at least in academic publishing. While the University of Oklahoma Press, the University of Nevada Press, the University of Nebraska's Bison Books, University of North Texas Press and the Texas A&M University Consortium continue to take the lead in publishing new volumes in the traditional 19th-century Western history genre, most of the university publishers who were leaders in 19th-century American Western history book publishing have either abandoned the genre entirely, or have minimized it to a level that in the long run cannot be sustained profitably or academically.
So whom can True West readers count on for traditional Western history and biography in 2019? New York publishers will distribute about a dozen annually, as will Western historical societies. Independent publishers including Arcadia and The History Press, McFarland, Rowan-Littlefield (Two Dot, Lone Star, et. al.) and True West's Two Roads West imprint fill numerous gaps in traditional fields and scholarship of Western history and should now be considered by our readers as leaders in the field. Self-publishers and publishing entrepreneurs should consider the opportunity to fill the void in Western history publishing—but beware the other academic prognostication 25 years hence—that the Internet would change the future of writing, research and the history academy. Where is the profit in history publishing when much of the information is available online or at least in an affordable e-book? Just look closer at hand—there are only two Western history magazines still publishing: True West and Wild West. What truly does the future portend if our history is no longer valued, appreciated, published, interpreted or promoted?
Speaking of the e-book, Western fiction authors and publishers have also entered a new galaxy of publishing. Similar to their colleagues from the history aisle of publishing, Western fiction authors have discovered fewer and fewer publishing houses—academic or otherwise—marketing traditional 19th-century Westerns. In catalogs, bookstores and online booksellers, the contemporary Western mystery rules. But there is hope for Old West novel fans—as delivered by three publishers: Kensington, Five Star and Wolfpack. These three are delivering the entertainment in storytelling that they grew up reading, and as True West's Western Books editor, I applaud their efforts to keep the genre alive—and thriving.
So what does the future portend in Western history and fiction publishing? I would challenge anyone with a vested interest in Old West history to directly communicate with the publishers about topics you want to see investigated, interpreted and published. Subscribe to history magazines, including Wild West. Join and participate in local, state and national historical and preservation societies and organizations. I'm a member of the Western Writers of America, Western History Association, National Council of Public History, The Westerners Corral, Wild West History Association and the Arizona Historical Society, what about you? Follow up on Old West research topics—and publish them—the e-book world is not limited to just fiction. Investigate, record and write your families' stories for the next generation. And, most importantly, give the gift of history by sending a subscription to a friend or loved one, or sending a book as gift and  sharing your passion for the American West with the next generation. It's not just the right thing to do, it's the only way we can ensure the history is preserved,  not just a century from now but in the next ten years.
Best Author and Nonfiction Book of the Year
Shotguns and Stagecoaches: The Brave Men Who Rode for Wells Fargo in the Wild West by John Boessenecker (Thomas Dunne Books)
Award-winning author of Texas Ranger: The Epic Life of Frank Hamer, the Man Who Killed Bonnie and Clyde John Boessenecker is back with his latest big Western history book, this time taking on the legendary story of Wells Fargo and its iconic stage lines—and the men who drove and protected them.
Best of the Rest
1) Cattle Industry: The Chisholm Trail: Joseph McCoy's Great Gamble by James E. Sherow (University of Oklahoma Press)
2) Western Trails: West Like Lightning: The Brief, Legendary Ride of the Pony Express by Jim DeFelice (William Morrow)
3) Exploration: The Promise of the Grand Canyon: John Wesley's Powell's Perilous Journey and his Vision for the American West by John F. Ross (Viking)
4) Biography: They Called Him Buckskin Frank: The Life and Adventures of Nashville Franklyn Leslie by Jack DeMattos and Chuck Parsons (University of North Texas Press)
5) Mining: The Bonanza King: John Mackay and the Battle Over the Greatest Riches in the American West by Gregory Couch (Scribner)
Best Biography
Ben Thompson: Portrait of a Gunfighter by Thomas C. Bicknell and Chuck Parsons (University of North Texas Press)
Thomas C. Bicknell and Chuck Parsons' dual research and writing effort has created one of the finest biographies of a Western gunfighter published in recent years. The writing team included in Ben Thompson fully annotated endnotes, an unabridged bibliography and detailed appendices that historians, students and researchers will be using as a valuable resource for decades.
Best of the Rest
1) Law and Order: Captain Jack Helm: A Victim of Texas Reconstruction Violence by Chuck Parsons (University of North Texas Press)
2) Politics: The Cowboy President: The American West and the Making of Theodore Roosevelt by Michael F. Blake (TwoDot)
3) Western Culture: Carleton Watkins: Making the West American by Tyler Green (University of California Press)
4) Literature: The Life of Mark Twain: The Early Years, 1835-1871 by Gary Scharnhorst (University of Missouri Press)
5) Women: Ann Bassett: Colorado's Cattle Queen by Linda Wommack (Caxton Press)
Best American Indian History
The Black Legend: George Bascom, Cochise, and the Start of the Apache Wars by Doug Hocking (TwoDot)
Doug Hocking, who made his name well-known in Western history circles two years ago with the first-ever biography of Tom Jeffords, has returned to familiar ground to provide a thorough recounting and interpretation of the Bascom Affair of 1861 and the beginning of the 25 year Apache Wars.
Best of the Rest
1) War and Peace: Uninterrupted Odyssey: Ulysses S. Grant and the American Indians by Mary Stockwell (Southern Illinois University Press)
2) Religion: A Whirlwind Passed Through Our Country: Lakota Voices of the Ghost Dance by Rani-Henrik Andersson (University of Oklahoma Press)
3) Culture: Apacheria: True Stories of Apache Culture, 1860-1920 by W. Michael Farmer (TwoDot)
4) Warfare: 'I Will Not Surrender the Hair of a Horse's Tail': The Victorio Campaign 1879 by Robert N. Watt (Helion and Company)
5) 20th-Century: A Journey Freedom: Richard Oakes, Alcatraz, and the Red Power Movement by Kent Blansett (Yale University Press)
Best Law and Order History
Arizona's Deadliest Gunfight: Draft Resistance and Tragedy at the Power Cabin, 1918 by Heidi J. Osselaer (University of Oklahoma Press)
Arizona State University history professor Heid J. Osselaer's investigative research on the controversial Power Cabin shoot-out demonstrates why even the most remote corners of the West are never too far from the larger national—and even international—market forces and policies that affect the rural West.
Best of the Rest
1) Prostitution: Deadwood's Al Swearingen: Manifest Evil in the Gem Theatre by Jerry L. Bryant and Barbara Fifer (Far Country Press)
2) Texas Rangers: The Ranger Ideal: Texas Rangers in the Hall of Fame, Volume I, 1823-1861 by Darren L. Ivey (University of North Texas Press)
3) Criminal: Pirates of the Prairie: Outlaws and Vigilantes in America's Heartland by Ken Lizzio (Lyons Press)
4) Lawmen: Calling the Brands: Stock Detectives in the Wild West by Monty McCord (TwoDot)
5) Outlaws: Ned Christie: The Creation of an Outlaw and Cherokee Hero by Devon Abbott Mithesuah (University of Oklahoma Press)
Best Fiction
The Removes, A Novel by Tatjana Soli's (Forge)
Award-winning California author Tatjana Soli's The Removes is a bold, adventuresome novel of the post-Civil War Western Indian Wars. Told through the experiences of two female antagonists, George Armstrong Custer's wife, Libbie Custer, and Cheyenne Indian abduction victim 15-year-old Kansas pioneer girl Anne Cummins, the dynamic and original narrative will enthrall readers.
Best of the Rest:
1) Old West: The Kid and Me, A Novel by Frederick Turner (University of Nebraska Press)
2) Mystery: A Dying Note: A Silver Rush Mystery by Ann Parker (Poisoned Pen Press)
3) Literary: This Scorched Earth by William Gear (Forge)
4) Frontier Fiction: Born to the Badge, Wyatt Earp, An American Odyssey, Book Two by Mark Warren (Five Star)
5) Mass Market: Where the Bullets Fly by Terrance McCauley (Pinnacle)
Best Cultural West
Elevations: A Personal Exploration of the Arkansas River by Max McCoy (University Press of Kansas)
Author, journalist, professor, historian and adventurer Max McCoy has brought all of his talents, passion and skills in research, journalism and storytelling to weave together one of the most original books of the year. If you like to read Edward Abbey, Colin Fletcher, William Least Heat Moon and John McPhee, you will place McCoy's Elevations side by side with their best in your library and save a space for McCoy's next volume.
Best of the Rest
1) Cowboys: The Last Cowboys: A Pioneer Family in the New West by John Branch (WW Norton)
2) Regional: 1880: The Boomer Movement, the Land Run, and Early Oklahoma City by Michael J. Hightower (University of Oklahoma Press)
3) Tourism: Tombstone, Deadwood and Dodge City: Re-creating the Frontier West by Kevin Britz and Roger L. Nichols (University of Oklahoma Press)
4) Frontier Fare: The Golden Elixir of the West: Whiskey and the Shaping of America by Sherry Monahan with Jane Perkins (TwoDot)
5) Western Film: Junior Bonner: The Making of a Classic with Steve McQueen and Sam Peckinpah in the Summer of 1971 by Jeb Rosebrook with Stuart Rosebrook (Bear Manor Media)
Best Art/Illustrated Book
Joe De Yong: A Life in the West by William Reynolds (Alamar Media, Inc)
Historians, students, collectors and fans of Western American art will be in debt to William Reynolds for many decades after his publication of Joe De Yong: A Life in the West. Sharply written, exquisitely designed and beautifully illustrated, Joe De Yong reflects the professionalism and style that Reynolds has brought to all his media work for four decades.
Best of the Rest
1) Cowboy Artists: Charles M. Russell: The Women in His Life and Art ed. by Joan Carpenter Troccoli (CM Russell Museum)
2) Cultural: Transnational Frontiers: The American West in France by Emily C. Burns (University of Oklahoma Press)
3) Film: Cowboys, Creatures and Classics by Chris Enss and Howard Kazanjian (Lyons Press)
4) Western Art: Albert Bierstadt: Witness to a Changing West by Peter H. Hassrick (University of Oklahoma Press)
5) Photography: Eye on the West: Photography and the Contemporary West by George Miles (The Beinecke Rare Book & Manuscript Library, Yale University)

Best New Western Author
Texas novelist Vicky Rose has published her first novels with two Western publishers in 2018. For Wolfpack Publishing, she writes under the pseudonym V.J. Rose and had two novels published, a classic frontier Western, Treasure Hunt in Tie Town, and a modern Western mystery, Testimony. For Pinnacle Westerns, she debuted under the pseudonym Easy Jackson with the first volume of the Tennessee Smith Western series,  A Bad Place to Die. Fans of Western fiction will have to keep their eye on Rose in 2019 as she continues to thrill her readers with new Western fiction.

Best Western History Publisher
The University of Oklahoma Press
With so many of its peers reducing or dropping 19th-century Western history from their catalogues, The University of Oklahoma Press has picked up the slack and is the standard bearer for publishing the history of the North American West. Fans of Western Law and Order history should follow closely the University of North Texas Press and Two Dot/Rowman Littlefield's fast growing catalog of Old West titles.
Best of the Rest
1) National: W.W. Norton • New York, NY
2) University, Law & Order: University of North Texas Press • Denton, TX
3) University, Regional: University of Nevada Press • Reno, NV
4) Old West History: McFarland Jefferson, NC
5) Trade: TwoDot/Rowman & Littlefield Lanham, MD

Best Western Fiction Publisher
Five Star Publishing
Five Star Publishing, an imprint of Gale Cengage Learning in Waterville, Maine, publishes more authors and titles than any other publisher of Western fiction. Fans of Western fiction, especially e-book readers, should also be closely following the increase in new authors—and new releases—from Pinnacle and Wolfpack Publishing—the two international leaders in Western e-books.
Best of the Rest
1) National: Forge • New York, NY
2) University: University of Arizona Press • Tucson, AZ
3) Electronic: Wolfpack Publishing, LLC • Las Vegas, NV
4) Regional: Poisoned Pen Press Scottsdale, AZ
5) Mass Market: Pinnacle New York, NY

Best Western Bookstore
Guidon Books
After over 50 years of publishing Western, Civil War and Indian history books in Arizona, Guidon has announced its closure in 2019. Contact proprietors Shelly and Gordon Dudley for more details.
7830 E. Redfield Rd. Suite 1
Scottsdale, AZ 85260
(480) 945-8811 • Guidon.com
Best of the Rest
1) Large: Powell's City of Books Portland, OR • Powells.com
2) Medium: Collected Works Bookstore and Coffeehouse Santa Fe, NM • CWBookstore.com
3) Small: Sheridan Stationary Books & Gallery • Sheridan, WY  • SheridanStationary.net
4) Specialized: The Poisoned Pen Bookstore • Scottsdale, AZ • PoisonedPen.com
5) Writer's Haven: Hooked on Books Colorado Springs, CO • HookedOnBooksCo.com

Best of the Best Roundup
Travel History
Heritage travel, travel guides, travel photo and travel essay collections continue to be a strong genre in Western publishing. A cross-selection from 2018:
1) The Lewis and Clark Expedition Day by Day by Gary E. Moulton (University of Nebraska Press)
2) 66 on 66: A Photographer's Journey by Terrence Moore, Foreword by Michael Wallis (Schaffner Press, Inc.)
3) The Traveling Feast: On the Road at the Table with My Heroes by Rick Bass (Little, Brown and Company)
4) Lady Long Rider: Alone Across America on Horseback by Bernice Ende (Far Country Press)
5) Across America and Back: Retracing my Great-Grandparents' Remarkable Journey by Mary Ann Hooper (University of Nevada Press)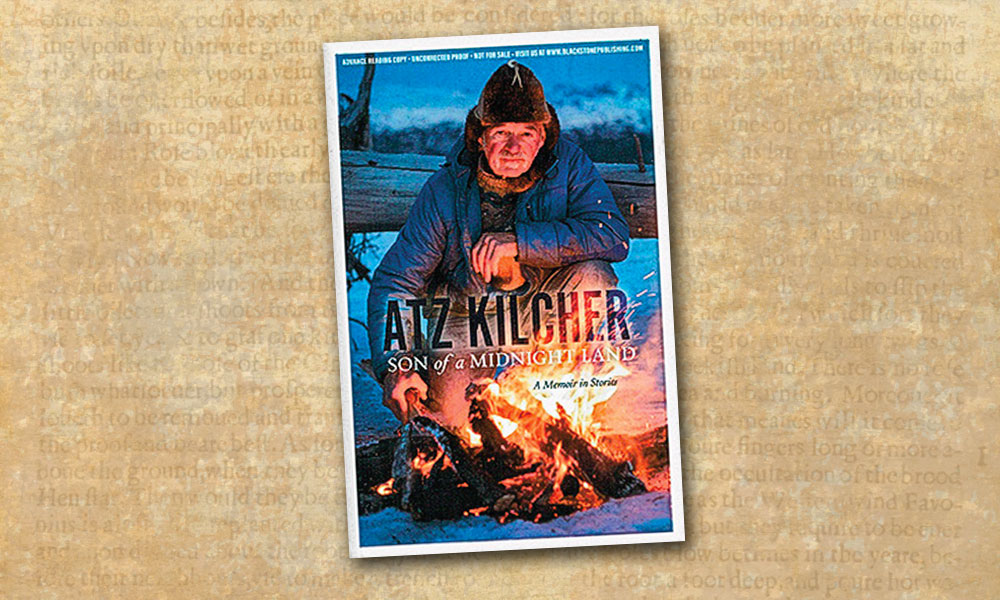 Environmental History and Water
The role of the environment and water in the history of the American West  remains a very strong genre across university press catalogs. A cross selection from 2018:
1) Son of a Midnight Land: A Memoir in Stories by Atz Kilcher (Blackstone Publishing)
2) Flood on the Tracks: Living, Dying and the Nature of Disaster in the Elkhorn River Basin by Todd M. Kerstetter (Texas Tech University Press)
3) A Thirsty Land: The Making of an American Water Crisis by Seamus McGraw (University of Texas Press)
4) Coastal Sage: Peter Douglas and the Fight to Save California's Shore
by Thomas J. Osborne (University of California Press)
5) A Natural History of the Mojave Desert by Lawrence R. Walker and Frederick H. Landau (University of Arizona Press)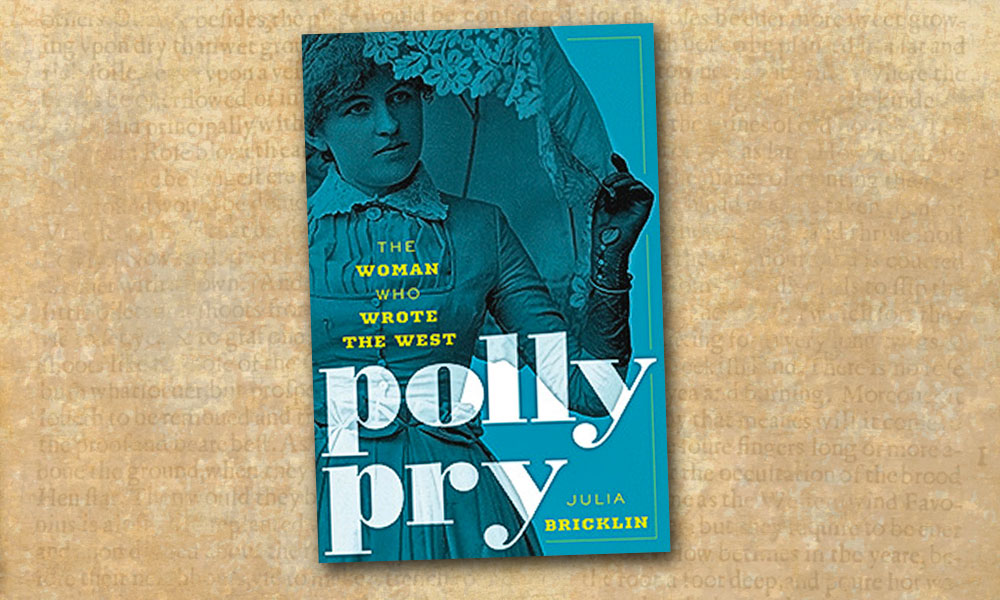 Women, Race, Family and Labor in the West
Gender, race, family and labor studies dominate many university catalogues. A cross-section selection from 2018:
1) Mining the Borderlands: Industry Capital, and the Emergence of Engineers in the Southwest Territories, 1855-1910 by Sarah E.M. Grossman (University of Nevada Press)
2) West to Montana by Christine Wortman-Engren (Far Country Press)
3) James A. Murray: Butte's Radical Irish Millionaire by Bill Farley (Mountain Press Publishing)
4) Born Criminal: Matilda Joslyn Gage, Radical Suffragist by Angelica Shirley Carpenter (South Dakota Historical Society Press)
5) Polly Pry: The Woman Who Wrote the West by Julia Bricklin (TwoDot)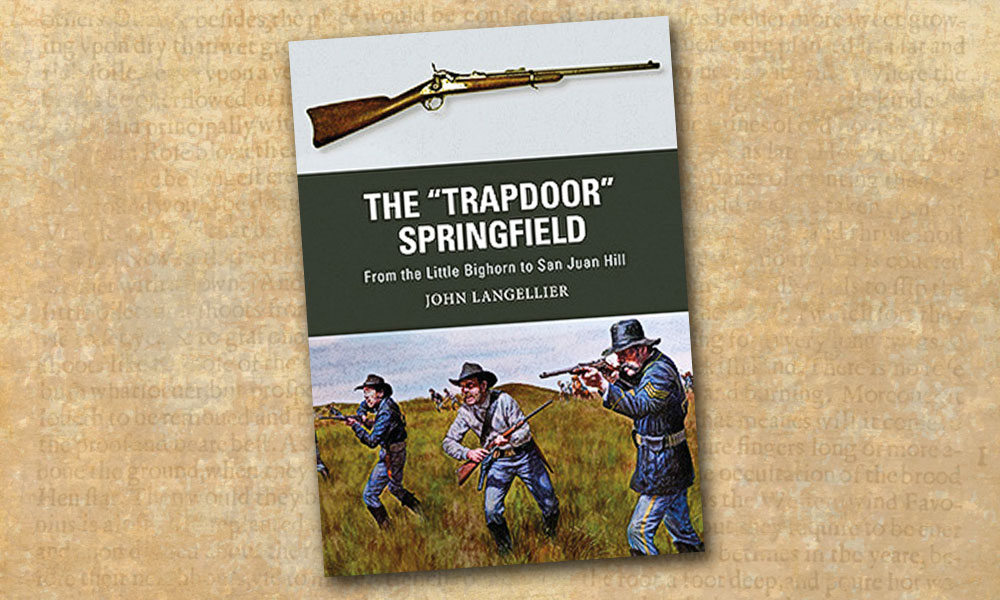 Military, Conquest and Weapons in the West
Warfare in the West remains a leading genre for academic and popular history publishers. A cross-section selection from 2018:
1) Blood Moon: An American Epic of War and Splendor in the Cherokee Nation by John Sedgwick (Simon & Schuster)
2) Coast-to-Coast Empire: Manifest Destiny and the New Mexico Borderlands by William S. Kiser (University of Oklahoma Press)
3) The Commanders: Civil War Generals Who Shaped the American West by Robert Utley (University of Oklahoma Press)
4) Murder and Intrigue on the Mexican Border: Governor Colquitt, President Wilson and the Vergara Affair by John A. Adams (Texas A&M University Press)
5) The "Trapdoor" Springfield: From the Little Bighorn to San Juan Hill by John Langellier (Osprey Publishing)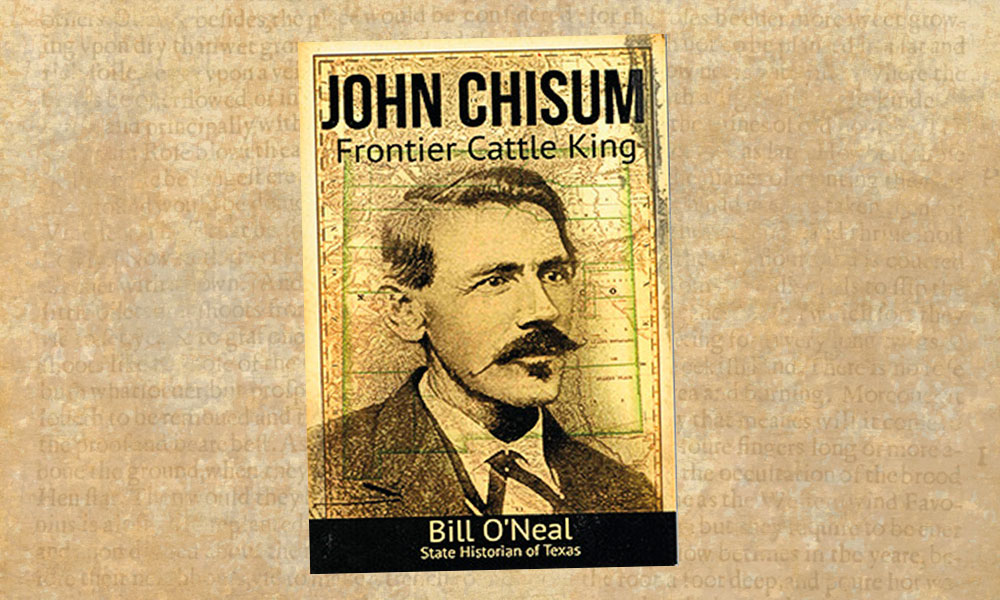 Independent Publishers
Small presses continue to make a strong impact on the Western non-fiction and fiction marketplace. A cross-section selection from 2018:
1) Valley Creek Station by Carl B. McDonald and Herschel McDonald (Christian Faith Publishing)
2) John Chisum: Frontier Cattle King by Bill O'Neal (Eakin Press)
3) Disappearance of Lucinda by Phyllis de la Garza (Silk Label Books)
4) The Beginning of His Excellent & Eventful Career by Cameron MacKenzie (MadHat Press)
5) How to Cuss in Western (And Other Missives from the High Desert) by Michael P. Branch (Roost Books)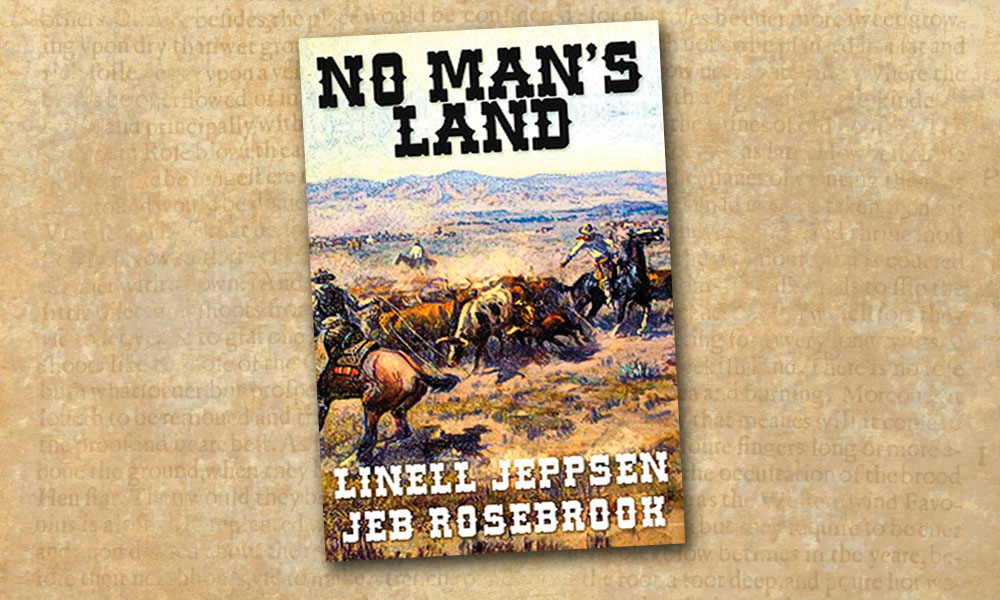 E-Books and Print on Demand
In 2018, Western fiction authors and publishers continued to mine the profitable field of e-book publishing and print-on-demand. A cross-section selection from 2018:
1) Hell Bound: A Peyton Bonner Novel by G.R. Williamson  (Indian Head Publishing)
2) Girl With a Gun: An Annie Oakley Mystery by Kari Bovee (SparkPress)
3) No Man's Land by Linell Jeppsen and Jeb Rosebrook (Wolfpack Publishing)
4) Treasure del Diablo: The Gaslight Boys by John T. Wayne (Mockingbird Lane Press)
5) A Brock Clemons Western: Battle on the Plateau: A Western Adventure by Scott Harris (Dusty Saddle Publishing)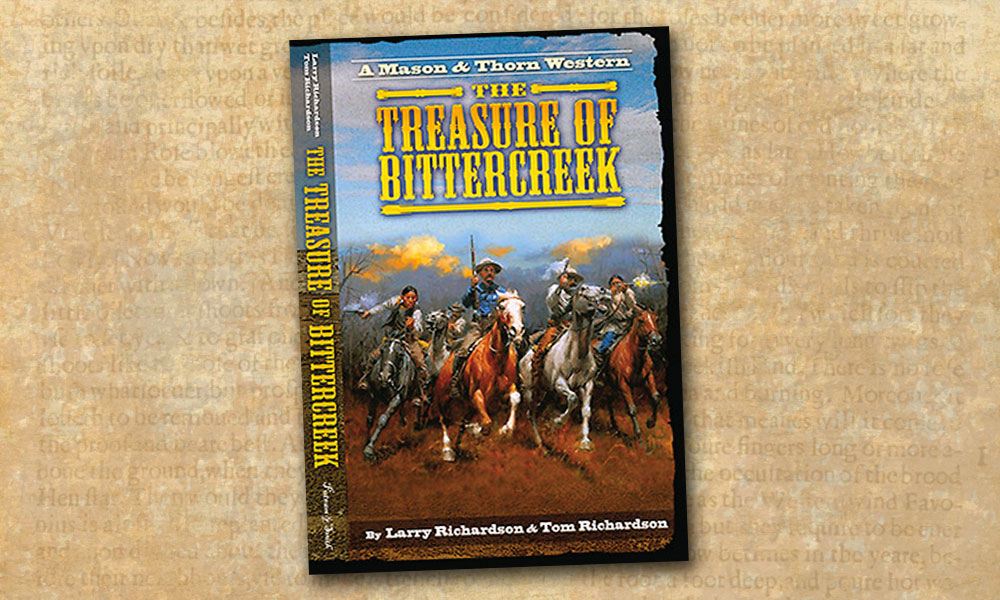 Self-Published
In 2018, Western authors continued to take advantage of the broad platforms of print and e-books to self-publish. A cross-section selection from 2018:
1) Hell Bound: A Peyton Bonner Novel by G.R. Williamson  (Indian Head Publishing)
2) The Treasures of Bitter Creek: A Mason & Thorn Western by Larry Richardson & Tom Richardson (Putnam & Smith)
3) Telluride: Top of the World by Tom Tatum (Outskirts Press)
4) Stories the Canyon Keeps: A "Grand" Family Legacy by Debbie Probst-Gipson (Quickstep Publishing)
5) Out West: Stories of the American Frontier by Mark Huenemann (Proficient Consulting LLC)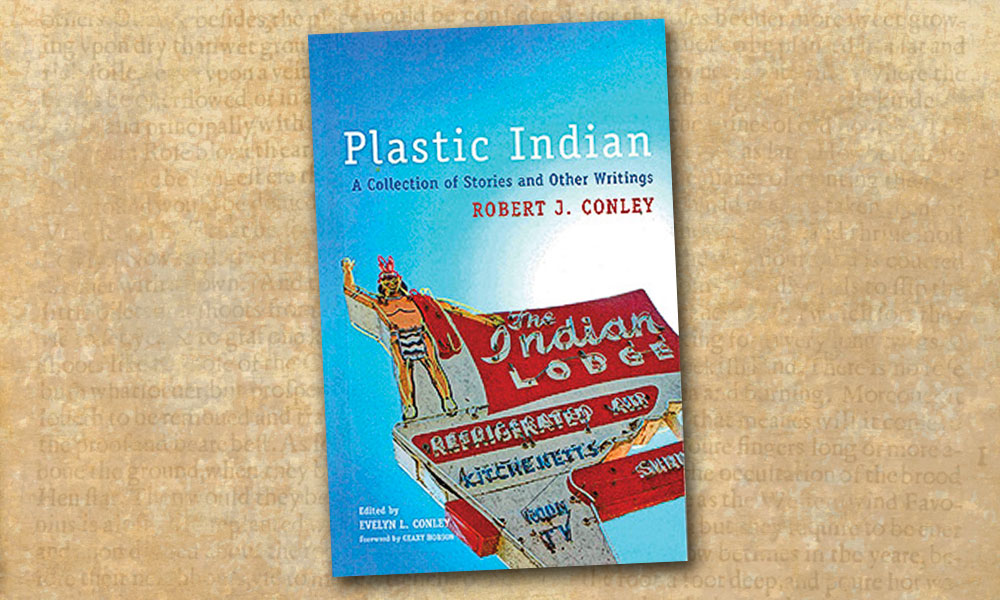 Best Western Essays and Short Stories
Short-story authors and essayists remain key contributors to the genre of Western literature. A cross-section selection of short story and essay collections from 2018:
1) The Trading Post and Other Frontier Stories: A Five Star Anthology edited by H.I. Rumney (Five Star)
2) My Ranch, Too: A Wyoming Memoir by Mary Budd Flitner (University of Oklahoma Press)
3) Plastic Indian: A Collection of Stories and Other Writings by Robert J. Conley, ed. by Evelyn L. Conley (University of Oklahoma Press)
4) Great Plains Literature: Discover the Great Plains by Linda Ray Pratt (University of Nebraska Press)
5) The Light Shines from the West: A Western Perspective on the Growth of America by Robert C. Baron (Fulcrum Publishing)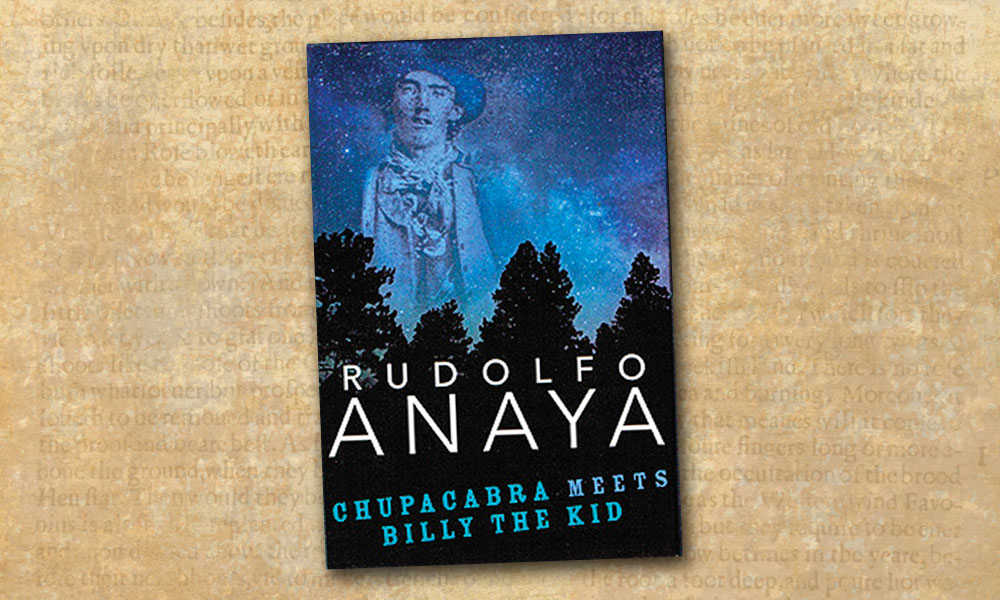 Weird, Wild Fantasy, Sci-Fi and Horror Western Fiction
This may be a new fiction category for the 2018 Round-up, but not a new category for fans of Western fiction. Max Evans' Bluefeather Fellini: In the Sacred Realm may have set the standard in recent years for this category, but going back to Ambrose Bierce and Edgar Rice Burroughs, Western authors have been blending genres. Fans from all generations enjoy this cross-genre category. Here is a sample from the past year:
1) Chupacabra Meets Billy the Kid by Rudolfo Anaya (University of Oklahoma Press)
2) Mad Amos Malone: The Complete Stories by Alan Dean Foster (Del Rey)
3) A Town Called Vengeance by Kevin Wolf (North Star Editions)
4) The Hunger by Alma Katsu (GP Putnam)
5) Deadlands: Boneyard by Sean McGuire (Tor Books)
20th- to 21st-Century Western Mystery Fiction
In 2018, the mystery genre continued to dominate Western fiction. A cross-section selection from the past year:
1) See Also by Proof by Larry D. Sweazy (Seventh Street Books)
2) Gold Dust: A Red River Mystery by Reavis Z. Wortham (Poisoned Pen Press)
3) Lies Come Easy by Steven F. Havill (Poisoned Pen Press)
4) A Death in Eden by Keith McCafferty (Viking)
5) Depth of Winter by Craig Johnson (Viking)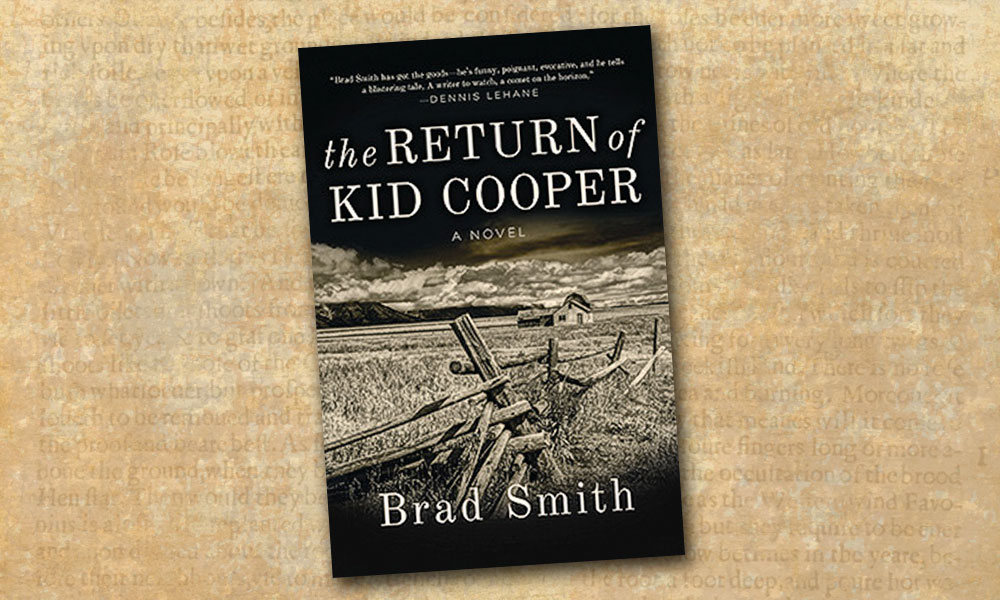 20th- to 21st-Century Western Fiction
Fiction authors continued to mine the rich cultural heritage and history of the West for novels that explored the human condition across time and regions. A cross-section selection from the past year:
1) Don't Skip Out on Me, A Novel by Willy Vlautin (Harper Perennial)
2) Ruby Dreams of Janis Joplin: a Novel by Mary Clearman Blew (University of Nebraska Press)
3) Whiskey, A Novel by Bruce Holbert (Farrar, Strauss and Giroux)
4) The Long-Lost Love Letters of Doc Holliday by David Corbett (Black Opal Books)
5) The Return of Kid Cooper, A Novel by Brad Smith (Skyhorse Publishing)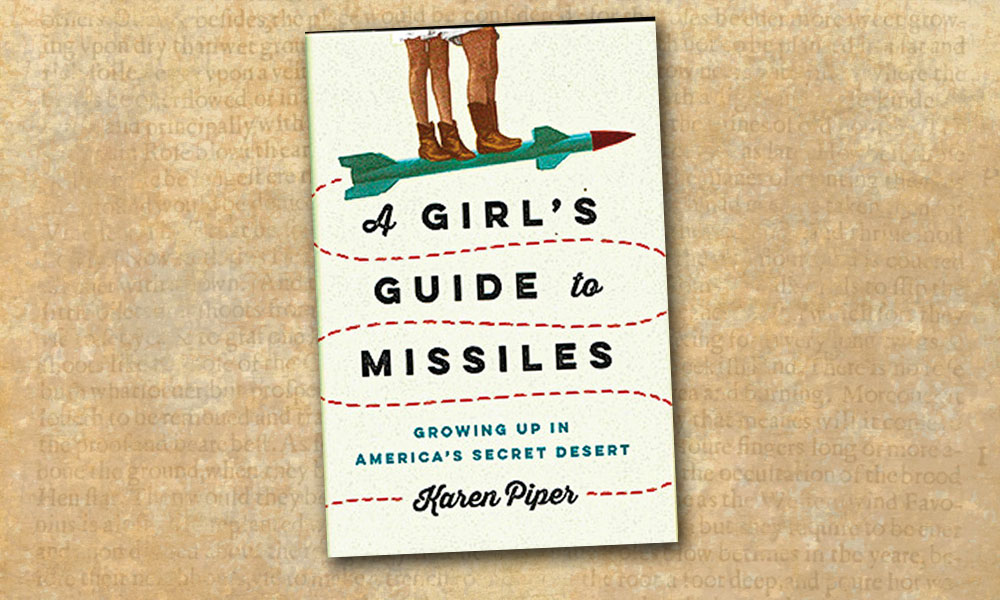 20th- to 21st-Century Western Nonfiction
In 2018, publishers of Western nonfiction continued to trend their catalogs toward 20th- and 21st-century history rather than 19th-century Western topics. The environment, race, urban and cultural history topics dominate the past year's publications. A cross-section selection from 2018:
1) The City that Ate Itself: Butte, Montana and Its Expanding Berkeley Pit by Brian James Leech (University of Nevada Press)
2) Boom Town: The Fantastical Saga of Oklahoma City, Its Chaotic Founding, Its Apocalyptic Weather, Its Purloined Basketball Team, and the Dream of Becoming a World-Class Metropolis by Sam Anderson (Crown)
3) First Americans: US Patriotism in Indian Country After World War I by Thomas Grillot (Yale University Press)
4) Old Riot, New Ranger: Captain Jack Dean, Texas Ranger and U.S. Marshal by Bob Alexander (University of North Texas Press)
5) A Girl's Guide to Missiles: Growing Up in America's Secret Desert by Karen Piper (Viking)
What do you think?