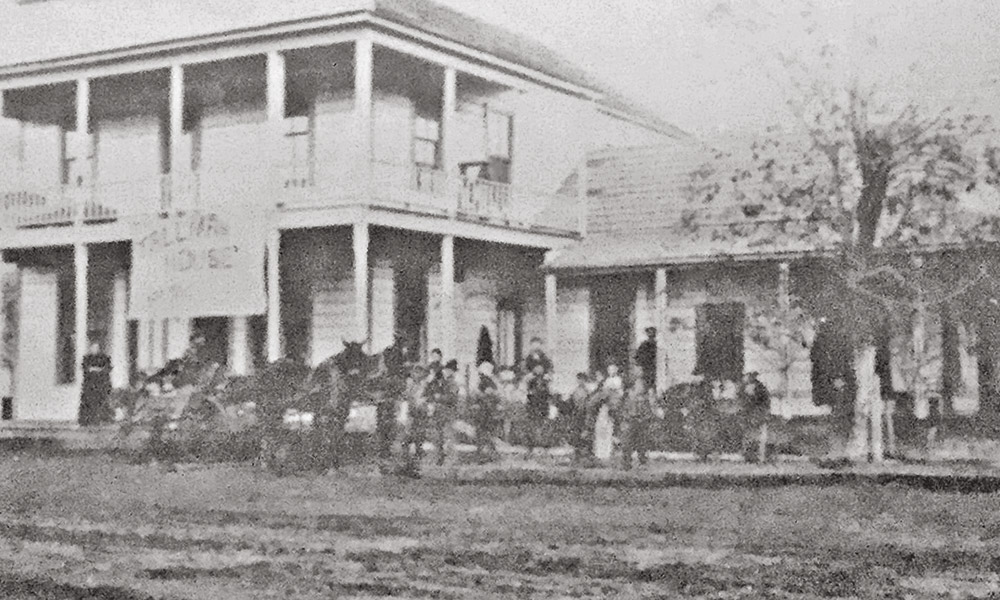 In the 1860s, Upper Lake, California, was a farming and mill town, but because of Clear Lake's boating and fishing, and the healthful benefits of the surrounding hot springs, the county was becoming a resort destination. People from the Pacific Northwest and larger California cities visited the area to relax and cool off.
Upper Lake was so small that some residents had multiple occupations. When Charles W. Gillett wasn't busy running his general store, he was offering prayers and gospel as the town's minister. When Constable Robert Bucknell wasn't enforcing the law, he was butchering the town's meat.
The constable butcher gave prominent pioneers a reason to celebrate, at a double wedding on  August 9, 1870, when he married Winnie Alley and her half-brother John Lemuel Alley married Ella Eliza McMath. McMath's mother cooked the bridal couples a breakfast in dutch ovens over an open fire. Then they were escorted on horseback by 17 other couples to the Alley family home for the ceremony and a barbecue dinner served to more than 100 guests.
Five years later, Bucknell was likely butchering meat for the weary travelers, brought by stage or boat, staying at the Ridgway House, a two-story hotel erected in 1875 by Jeremiah Ridgway.
Along with delicious viands made from cows, sheep, hogs, elk and deer, diners enjoyed meals made with locally produced dairy, wheat, barley, oats, corn, beans, potatoes, sugar beets, butter and honey. Fruit trees dotted the landscape, growing apples, peaches, pears, apricots, figs and oranges for folks to snack on. Grapes, raspberries, strawberries and even olives also dressed up meals.
By 1883, Ridgway had sold his hotel to farmers Rufus and Mary Tallman, who changed the name to Tallman House. Early ownership brought challenges for the Tallmans. For instance, in February 1883, Mary laid down for a nap, but awoke to a smoke-filled room. Luckily, she was able to alert everyone to get out, and the Tallman suffered only minor damage to the dining room wall around the chimney.
The Tallman House quickly recovered from the fire. The popular hotel flourished for more than 10 years.
Then fire struck the Tallman House once again. On October 29, 1895,  guests awoke around 2:30 a.m. and narrowly escaped. But this time, the kitchen fire destroyed the entire building.
The Tallmans had the hotel rebuilt. In 1900, they advertised, "Home cooking. Reasonable Rates. Headquarters for tourists and commercial travelers."
The hotel stayed in the family until the 1940s, and then ownership changed hands. After the hotel sat dormant for 41 years, modern pioneers Bernie and Lynne Butcher  reopened the hotel, maintaining its historic elegance and tasty fare, while also offering luxuries never dreamt of by the town's earliest settlers.
Sample this apple and walnut dessert to experience some of Upper Lake's bounty.
Stuffed apples
6 large apples, cored
½ cup walnuts, chopped
1 cup brown sugar
1 cup hot water
¼ tsp. nutmeg
Whipped cream
Place the cored apples into a baking dish. Combine the walnuts and a half-cup of sugar. Fill equal amounts into the apples, and pour the hot water around the apples. Bake at 400° for about 20 minutes or until the apples are soft. Remove the apples from the pan, and pour the liquid into a saucepan. Add the remaining sugar and nutmeg, and cook over medium heat until thickened, about five to 10 minutes. Drizzle sauce over the stuffed apples, and top them with whipped cream.
Recipe adapted from The San Francisco Call, October 15, 1899
Sherry Monahan kicked off her journey into Old West cuisine, spirits and places by authoring Taste of Tombstone. Visit SherryMonahan.com to learn more about her books, awards and TV appearances.
What do you think?