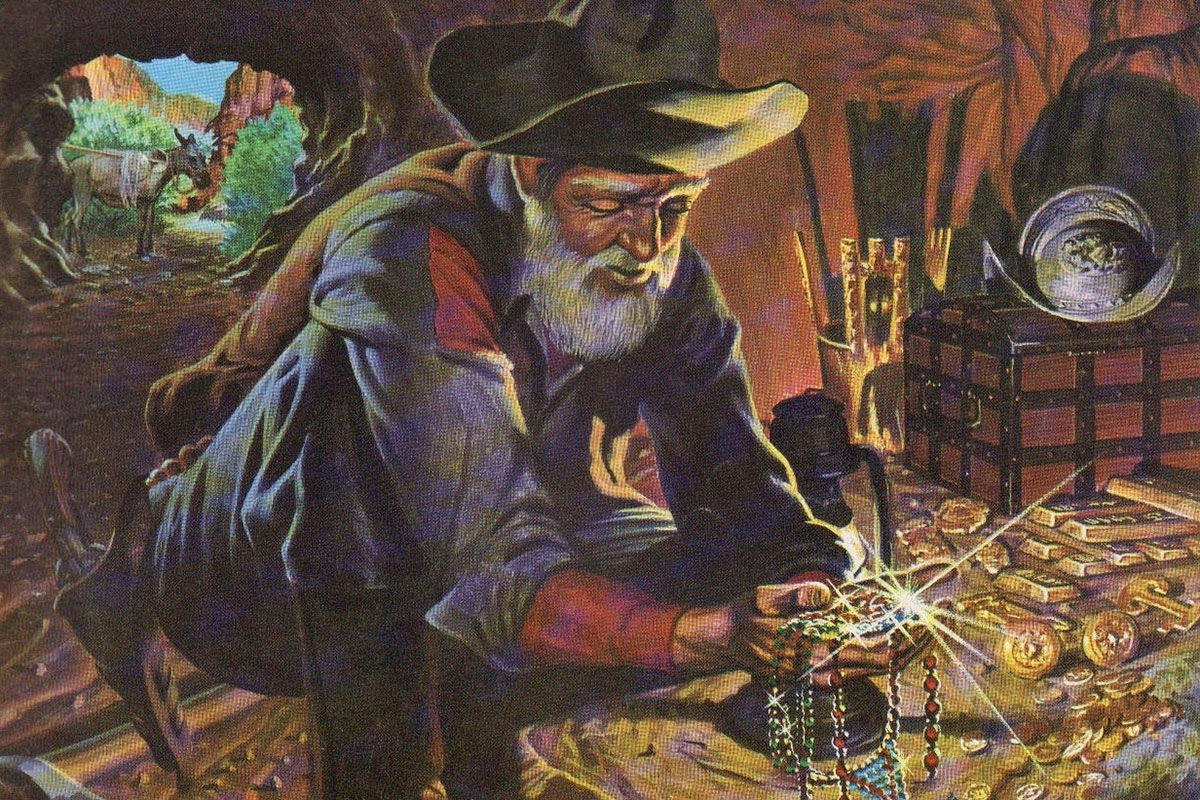 Back in the long hot summer of 1968, I was driving up the Apache Trail working on a story of the 1872 Battle at the Salt River Cave.  A few miles south of Tortilla Flat, a man jumped out of some bushes into the road and thumbed me down. He wanted a lift to the bar at Tortilla Flat.
I had some beer in an ice chest on the seat of my pickup and as he helped himself to a cold one he asked if I knew who he was. I said no and he whipped out a news clipping from the Arizona Republic about a man named Dugan who had found the Lost Dutchman. "I'm Dugan" he said proudly, offering a handshake.
In those days all anybody who wanted to see his name of the front page of the state's largest newspaper had to do was announce he'd found the Lost Dutchman Mine.
He went on to tell me the story of "his gold mine." He said he could sit up there at the entrance of the mine and watch people boating on Canyon Lake. By this time he was on his second beer and continued to regale me with stories of the Dutchman's Mine. When we pulled into Tortilla Flat and he turned to me and said, "You practically saved my life today and in gratitude I'm going to make you a full partner in the Lost Dutchman Mine."
We shook hands on the deal. I drove on up the canyon. I pretty much forgot about my encounter with Mr. Dugan until one day I was delivering a lecture on lost mines and decided to tell the story. It went over so well I kept it in my repertoire.
I never saw Dugan again but for years I always closed my lectures  with, "If any of you ever find the Dutchman's mine just remember that half of that gold belongs to me."
A few years ago I wrote the story and soon after received an email from a young man who said he was a nephew of Dugan and that "my partner" in the Dutchman died several years ago, taking the location of his mine with him. His other occupation when not looking for lost treasure was a hamburger fry cook at Bob's Big Boy down on Central and Thomas in Phoenix.
By then I was beginning to wonder if that chance meeting with Dugan had really happened but it turns out he was for real. Perhaps the meeting was just a figment of my imagination; an apparition that I met along the Apache Trail, in an area that has witnessed many bizarre happenings.
He said his uncle was quite colorful and did believe that he'd found the Dutchman's mine, thereby validating my tale of our meeting on the Apache Trail that hot summer afternoon. I used to tell my students who were aspiring writers that if they wanted to sell a million copies of their first book all they had to do was to write a story about the Lost Dutchman Mine. There are enough Dutchman Hunters out there to guarantee a nice profit.
"Just use your imagination," I said, "and make up a good story." Most important was to have a rendering on the cover of an old grizzled prospector at the entrance to a cave, gazing in wonder at a wooden chest, laden with horde of gold nuggets; add in a skeleton wearing a Spanish suit of armor. Top it off with a big rattlesnake crawling in and out of the skull's eye sockets.
My old friend, Dean Cook, wrote a song a few years ago titled "Tall Tales and Lost Treasures" that I recorded on the Oblivion Label. The lyrics go like this:
Though I never found that vein,
Never even found a nugget,
No outlaw stash nor mystic mother lode,
As time goes by I realize,
The joy is in the searchin',
And I'd rather have the stories than the gold.
Marshall Trimble is Arizona's official historian and vice president of the Wild West History Association. His latest book is Arizona Outlaws and Lawmen; The History Press, 2015. If you have a question, write: Ask the Marshall, P.O. Box 8008, Cave Creek, AZ 85327 or email him at marshall.trimble@scottsdalecc.edu.