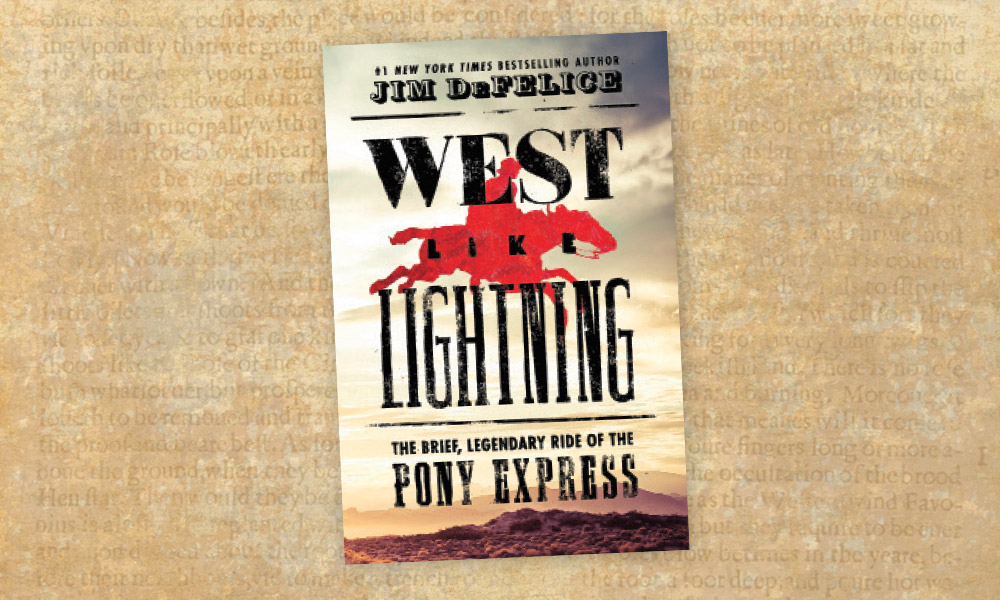 Historians of the American West have written dozens of books on trailblazers and overland trails in the past six decades, but Jim DeFelice's West Like Lightning: The Brief, Legendary Ride of the Pony Express (William Morrow, $27.99) is the first comprehensive history of the legendary transcontinental experiment in mail delivery in sixty years.
DeFelice, the New York Times best-selling author of American Sniper, has applied his
professional research skills with his popular style of story-telling to produce a fast-paced history of one of the most dramatized Old West entrepreneurial efforts in communications history, and its founder William H. Russell.
DeFelice writes, "If the Pony riders were brave archetypes of the American Spirit racing across the American heartland, Russell and his partners were surely 19th century venture capitalists. The fact that they failed so spectacularly is itself thoroughly American. If you're going to fail, fail big."
Like the Pony Express riders themselves, DeFelice paces the dramatic story with alacrity and diligence, peppering his prose with great quotes and first-hand reminisces of the trail from riders of all ilk, well-known and obscure, as well as authors and chroniclers familiar to us all, including an adroit observer, British explorer Sir Richard Burton and a young Samuel Clemens (pre-Mark Twain), who each traveled the overland route and witnessed the Pony riders in 1860 and 1861, respectively.
"The Pony flashed briefly across the American landscape, a strike
of lightning in a sky often dark with danger and ambiguity."
DeFelice uses Twain's recollections in Roughing It (1872) and Burton's observations in The City of the Saints: Among the Mormons and Across the Rocky Mountains to California (1862) throughout the book, including this gem from Burton: "We were presently met by the Pony Express rider; he reined in to exchange news; which de part et d'autre simply nil. As he pricked over the plain, the driver informed us, with a portentous rolling of the head, that Ichabod was an a'mighty fine 'shyoot.'"
DeFelice's appendix, endnotes and bibliography provide the reader with a primer on material available for further research—and even personal travel. In West Like Lightning, he brings relevance of his 19th-century subject matter to the 21st-century reader. "The Pony flashed briefly across the American landscape, a strike of lightning in a sky often dark with danger and ambiguity," he states in his Epilogue. "The Pony is the perfect transport vehicle for the things we still value in America, and for the realities we as a nation continue to face: speed, courage, individualism…distance, time, and yes, money."
—Stuart Rosebrook
What do you think?