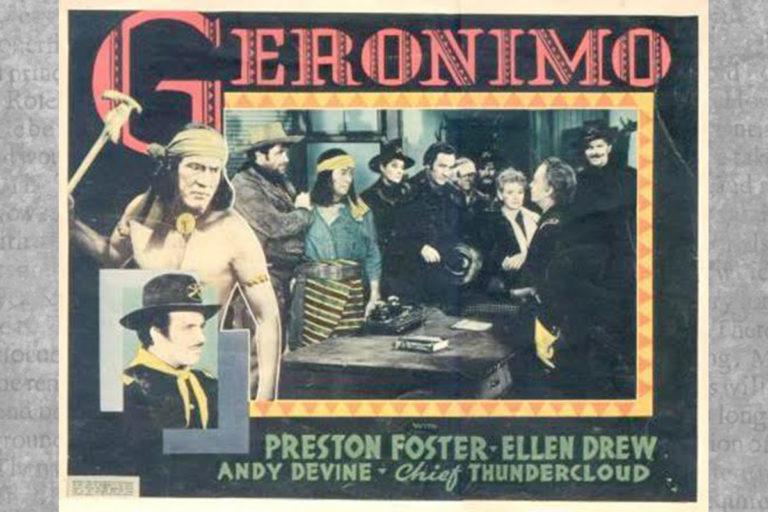 Why do paratroopers yell "Geronimo" when jumping out of an airplane? There are a number of tales as to why Army paratroopers yelled their battle cry when they jumped.  One told of the time when the old warrior evaded soldiers at Ft. Sill, Oklahoma by leaping off a high bluff. As he was going down yelled his name. The problem with this is Geronimo was a POW and had no such encounter with the soldiers at Ft. Sill. And, I'm guessing he was pretty stoved up after spending the past decade or so in confinement
Author, David DeSoucy recalled his days in the Army, "I served as a paratrooper for most of my 25-year career including service with the 501 Parachute Infantry Regiment in Vietnam. 
"The 501 Parachute Infantry Battalion is the original Geronimo unit. The Airborne Test Platoon at Fort Benning, GA. in 1940 were going to make their first jump and the movie Geronimo (1940) with Preston Foster, Andy Divine and Geronimo played by Chief Thunder Cloud, was playing at the base theater."
 The night before their first jump the soldiers went to see a movie and have some drinks afterwards. Among them was Pvt. Aubrey Eberhart a tall, brawny six-foot-three native of Georgia. After a few drinks they began to debate as to who would be the most scared on their first mass jump. Eberhart reckoned he was looking forward to it. They chided him saying he'd probably be so scared he'd forget his name. 
"To prove to you guys I'm not scared I'm gonna yell "Geronimo" as I go out the door tomorrow." 
You wouldn't expect him to yell "Aubrey!"
And that's what he did. The rest of the battalion adopted it and pretty soon it became the battle cry of the entire regiment. Today, "Geronimo" is displayed on a banner at the bottom of the 501 PIR distinctive unit insignia.