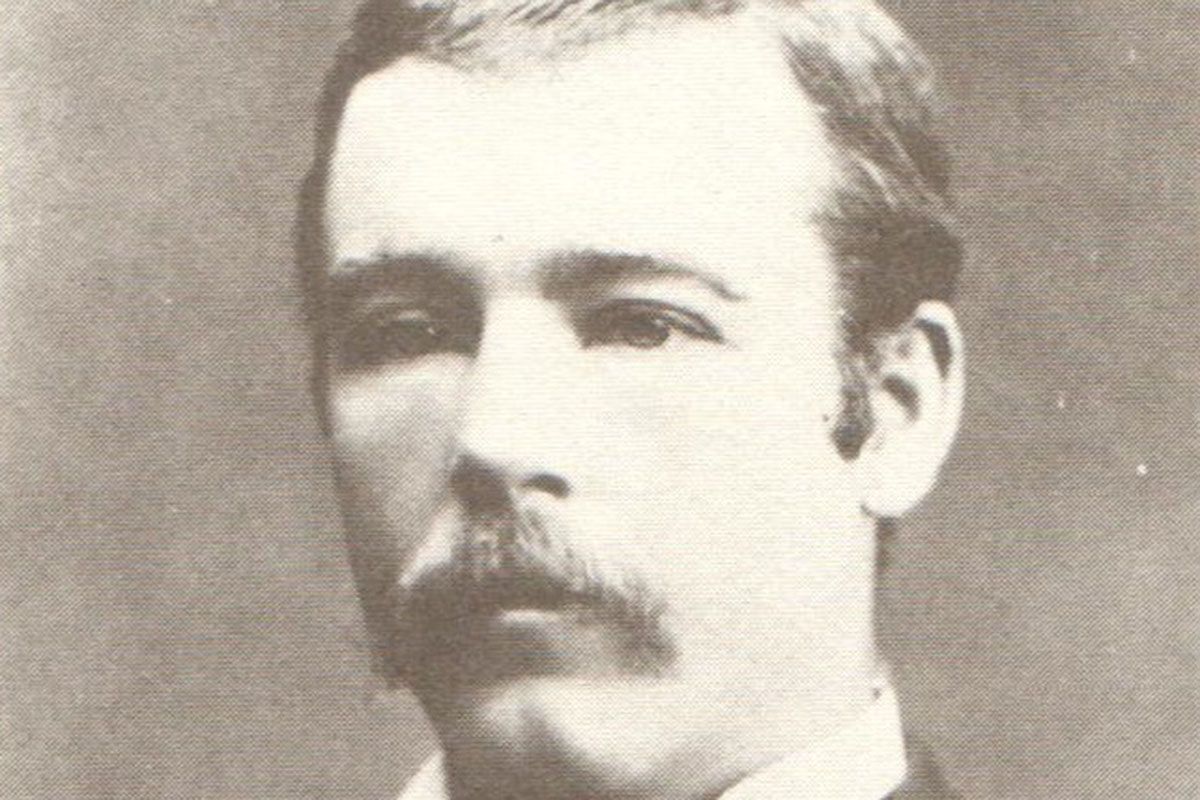 James Dunning "JD" Tewksbury and his four sons arrived in Pleasant Valley in 1879. Several years earlier Tewksbury had settled in California and married a Hupa/Hoopa Indian woman who bore him four sons, Ed, Frank, Jim and John. When she died in 1878 he packed up the boys and headed for the boom town of Globe, Arizona.  In late 1879, the he married a widow with three children from Globe named Lydia Schultes. One of her children, Mary Ann, married one of JD's sons, John.
The following year they settled on ranches in Pleasant Valley on the east side of Cherry Creek.
In the fall of 1881, cattleman James Stinson brought some 600 head of beeves into Pleasant Valley and unwittingly branded them with a "T" which turned out to be an easy brand to alter. Soon there was a dozen or so brands stamped on cow's hide that were all various alterations of the "T", including the famous "Hash Knife."
Stinson had sold his ranch on Silver Creek to the Mormons who planned to establish the community of Snowflake, some thirty miles south of Holbrook. They paid him off in cattle from Utah which were then driven south into Pleasant Valley. Stinson tried unsuccessfully to buy out the local ranchers and establish his own little cattle empire.  He was also an absentee owner, preferring to reside in the Salt River Valley. He hired a brash twenty-four-year-old man named John Gilleland to run his outfit.
Tom and John Graham arrived in Globe from Ohio in the summer 1882. They liked the country and were looking for a place start a ranch. One of the first men Tom met in Globe was Ed Tewksbury, who suggested Pleasant Valley as a good place to ranch. The Grahams settled on the west side of the Cherry Creek. In the annals of the West, most feudists waged war from ranches located at least several miles apart. The Graham-Tewksbury war was unusual in that the ranches were within eyesight of one another.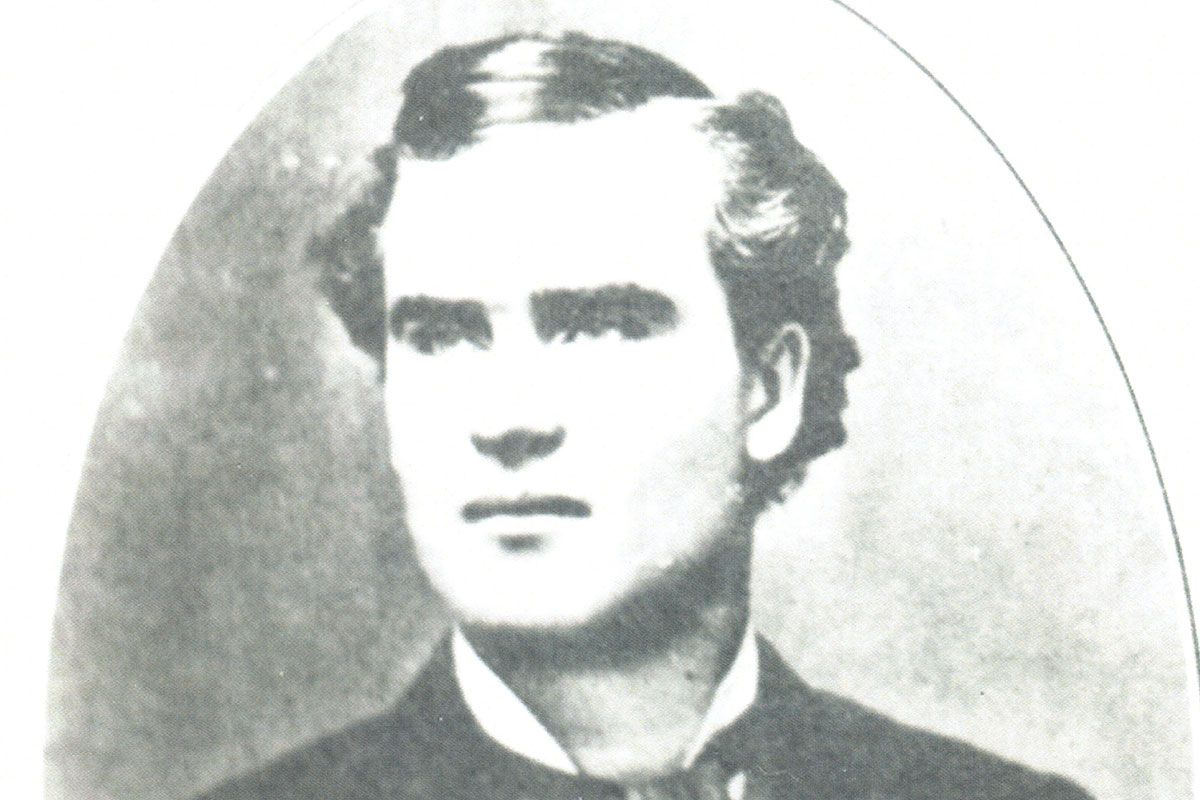 Was cattle rustling the cause of the feud? A lot of ranches got their start with a long rope and a running iron and Stinson's cattle were easy pickings. It's also been claimed the feud started over sheep being driven off the rim onto the cattle ranges but that came later.
At first the two families were friendly and both were increasing the size of their herds, as nearly everybody else valley was, by altering the T brand on Mr. Stinson's cows.
The Grahams and Tewksbury's both resented Stinson's high-handed ways agreed on a partnership herd. The cows rustled from Stinson were branded with a TE connected and soon they had accumulated a sizable herd.
Stinson knew both the Grahams and Tewksbury's were pilfering his cows but he was not prone to violence and didn't want a hostile confrontation. He was also a judge and preferred to work through the courts.
During the fall roundup in 1882 it was discovered a couple of calves wearing Tewksbury brands were sucking mama cows with Stinson's brand. Tewksbury said it was an honest mistake during branding and Stinson was willing to let the matter drop despite his brazen young foreman John Gilliland urging him to press charges.
Stinson returned to the Salt River Valley and after receiving a letter from Tewksbury explaining what happened he wrote Gilliland instructing him to allow the calves brands to be vented and re-branded. Apparently Gilliland had plans of his own.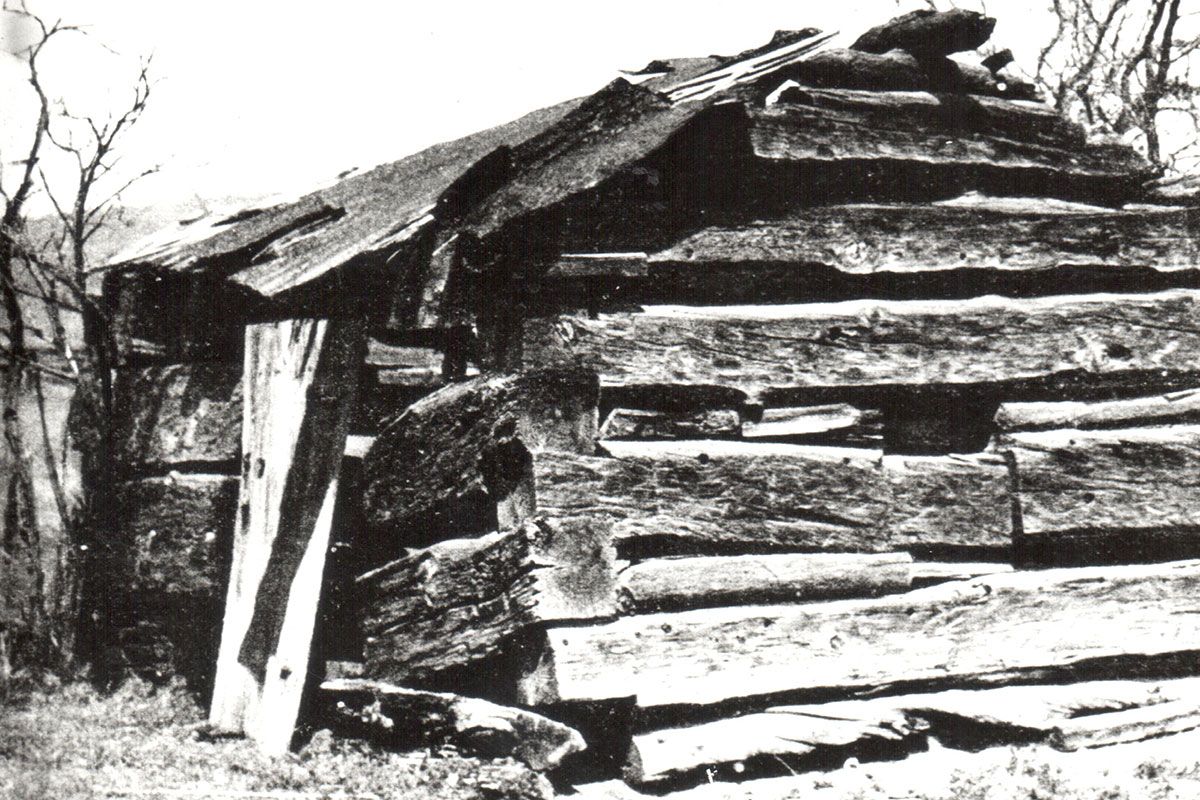 On January 6th, 1883 while Tom and John Graham were visiting the Tewksbury's at their ranch.  Gilliland, accompanied by his 15-year-old nephew, Elisha, and a cowhand named "Potash" Ruiz rode up and accused Ed Tewksbury of stealing his boss's cows. Then, without warning he jerked his pistol, fired at Ed but missed.  Ed, a dead shot, quickly grabbed a .22 rifle, and fired off a couple of rounds, hitting Gilliland in the shoulder and Elisha was trying to fire his rifle was hit by Ed's second shot. Gilliland and Ruiz turned and rode off in a cloud of dust. Young Elisha was taken by John Graham and the Tewksbury brothers to the Stinson ranch for treatment. Meanwhile, Gilliland spread the word that Tewsbury fired first and that young Elisha had been killed. Both the Tewksbury's and Graham's claimed that Gilliland was the first to fire. Elisha survived his gunshot wound.
The following July, Gilliland proceeded to press murder charges even though no killing had occurred.  At a hearing in Strawberry Valley the charges were dismissed and a grand jury held Gilliland over for trial in Prescott in January. The Tewksbury brothers were also summoned to Prescott to testify. On the chilly, 150-mile return trip, Frank caught pneumonia and died. The vengeful Tewksbury's blamed Gilliland and Stinson for his death.
Stinson, was devious but not a man of violence. He didn't want a shooting war so he decided on a strategy to divide and conquer the Graham's and Tewksbury's. He knew the Tewksbury's wouldn't go for a double cross so on November 14th 1883 he and John Graham made an oral agreement known as the Treaty of War to provide information to charge anyone with stealing his cows. The Grahams would be paid off in cattle, receiving 25 cows and 25 calves for each conviction. It was filed in Prescott on March 28th, 1884. This was a classic double-cross would certainly be cause for the Tewksbury's to transfer their vengeful feelings to the Graham's and their friends.
Three days earlier in Prescott, John Graham registered the TE connected brand for the partnership between Tom Graham and Ed Tewksbury in Tom Graham's name alone.
On March 29th, 1884, John Graham filed a felony complaint against the three Tewksbury brothers, George Blaine, Bill Richards and Herb Bishop charging them with stealing 62 of Stinson's cows. However, the scheme backfired on the Graham brothers. During the trial in Prescott in June the agreement between John Graham and Stinson became public.  The jury saw it as the Grahams trumping up charges for financial gain and the case was dismissed.
Perjury charges were leveled against the Grahams. Judge Summer Howard had them arrested and he publicly denounced them in court.
Marshall Trimble is Arizona's official historian and vice president of the Wild West History Association. His latest book is Arizona Outlaws and Lawmen; The History Press, 2015. If you have a question, write: Ask the Marshall, P.O. Box 8008, Cave Creek, AZ 85327 or email him at marshall.trimble@scottsdalecc.edu.