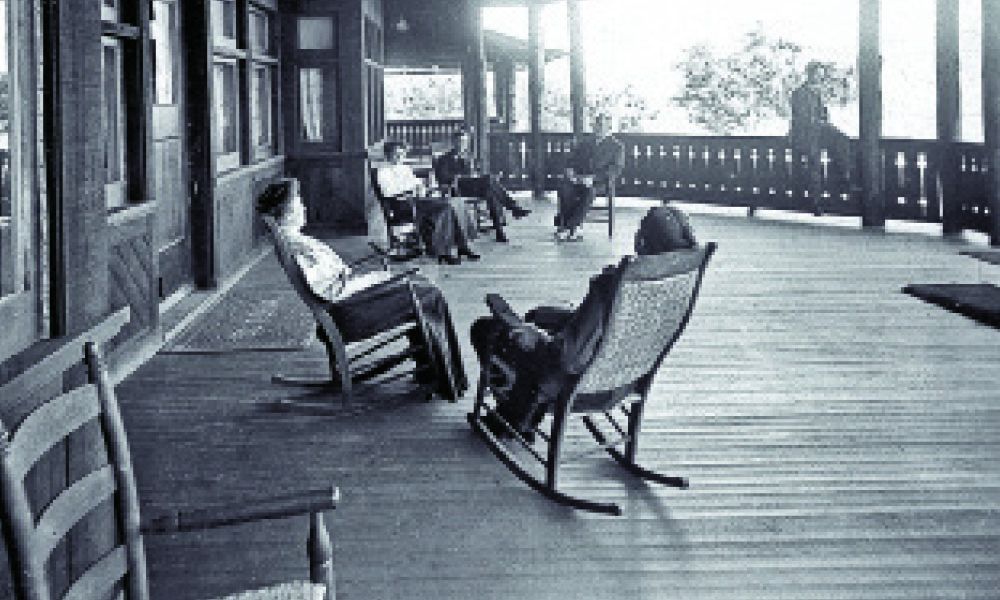 Today, visitors arrive at the Grand Canyon either by train, car or bus and have hotel and dining options because of the Fred Harvey Company. When early pioneers began trekking to the rim they pitched tents, cooked over open fires and dined in the crisp open air on the edge of the canyon. By 1901, the Santa Fe, Topeka and Atchison Railroad increased the number of visitors who sought a place to sleep and eat in comfort. Four years later Fred Harvey's son Ford opened El Tovar and offered upscale and economical rooms on the rim.
Smiling and courteous Harvey girls wearing white uniforms served hungry tourists breakfast, lunch and dinner. Diners at El Tovar today can drift back to another era as they sit in the historic dining room and eat the same breakfast selection of eggs, bacon, ham or sausage, potatoes or fruit salad and toast that early guests enjoyed. Because of its remote location, chefs relied on local gardens for fresh produce and the railroad for imported goods. Diners sat down to tables adorned with fresh flowers, glass and silver.
Like today, guests hailed from all over the world. Eating in the dining room one could rub elbows with an English globetrotter, a Chicago banker, an Arizona rancher or a Harvard professor. In 1906, some of El Tovar's menu items included caviar canapés, green turtle soup, consommé, almonds, olives, Columbia River salmon, filet mignon, spring turkey, asparagus, ice cream, assorted cakes and cheese.
Today, guests can dine on trendy Southwestern-inspired dishes or sample some historic recipes. One option is the 1947 Chicken El Tovar that features tender, boneless chicken breasts served over angel hair pasta with a creamy mushroom sherry sauce and wilted fresh spinach and fresh veggies. The delicious French onion soup with its beefy broth has been a staple on the menu for years. Notice that the meals are served on 1936-replica china, which was designed by Mary Jane Colter, chief architect and decorator for the Fred Harvey Company.
Bright Angel Camp also opened in 1905 and offered economical cottages and rooms. Patrons had the option of eating at the Harvey Café, where meals started at thirty-five cents or the pricier El Tovar. The current lodge opened in 1935 and guests dined at the Bright Angel Lodge Coffee Shop. In 1939 diners there chose from halibut, spring chicken, potted club steak, lamb, and a variety of grilled steaks followed by layer cakes, apple or lemon meringue pies, ice cream, sherbet or watermelon.
Today diners enjoy healthy diner-style meals, which include the 1938 fresh fruit sampler that changes with the fruits in season. The classic 1955 huevos rancheros is a deceptively hearty dish that includes eggs, refried beans and Tortilla Lady corn tortillas topped with enchilada sauce, pepper jack cheese, sour cream, green chilies and black olives. Modern selections have playful names like the Bright Angel Veggie Quesadilla, Hiker's Chicken Caesar Salad, Trailblazing Fajitas and Moqui Sour Cream Chicken.
Enjoy the 1938 Ponderosa Chicken Club at the Harvey House Café or try creating history in your own kitchen using the recipe below.
1938 Ponderosa Chicken Club
1/4 avocado, mashed
1/2 cup ranch dressing
1 brioche roll
4 oz. grilled chicken breast
2 slices cooked bacon
1 slice cheddar cheese
Garnish lettuce, tomato, onion, pickle
Directions:
Combine the avocado with the ranch dressing and spread a tablespoon on the roll. Place chicken, bacon, cheese and garnish as you like.
Recipe courtesy Harvey House Café, Grand Canyon, Arizona.
Sherry Monahan kicked off her journey into Old West cuisine, spirits and places by authoring Taste of Tombstone. Visit SherryMonahan.com to learn more about her books, awards and TV appearances.