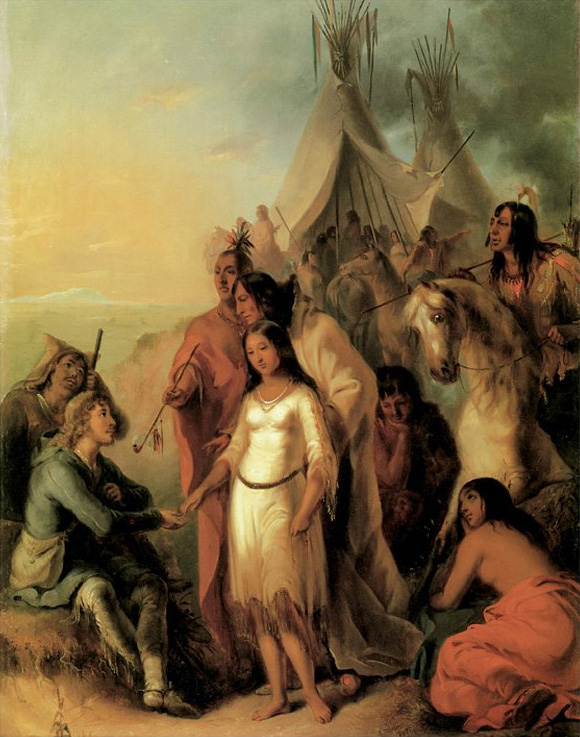 By and large a half-breed would have had a harder time fitting into the white man's world than that of the Indian. Generally speaking, the Indians were more accepting than the whites. Many white trappers took Indian wives and became respected members of their wife's tribe. Their half-breed children fared much better in the red man's world than in the white man's world. Similarly, a white child taken captive by Indians would after a time be accepted into the tribe as an equal.
The legendary mountain man and explorer, Joe Walker was married to a beautiful Shoshoni woman for some 15 years until she died in the winter of 1846-1847. He never re-married. Shoshoni women were known for their beauty and intelligence
William Bent and his partners built the storied Bent's Fort near La Junta, Colorado. It opened for business in 1833 as a trading post along the Santa Fe Trail. In 1835 he married Owl Woman, the daughter of Chief White Thunder of the Cheyenne. He was also a medicine man. Bent was accepted into the tribe and made a sub-chief. The couple had four children. In the 1840's according to Cheyenne custom he married two of her sisters, Eagle Woman and Island, as secondary wives. He had a fifth child with Eagle Woman. In 1847 Owl Woman died and Island cared for her children. In 1869 the sisters left Bent and he married another half-breed daughter of a fur trader, Adaline Harvey. He died shortly after their marriage and soon after she gave birth to a daughter.
And there were Indians like the famous Yavapai, Carlos Montezuma "Wassaja," a taken captive by Pima warriors and sold to Carlo Gentile and taken to Chicago. He eventually became a famous doctor, eventually returning to his own people at Fort McDowell. Another Yavapai captive was Mike Burns (Hoomothya.)
Following the Battle of the Salt River Caves in 1872 he was adopted by Army officer Lt. James Burns. He remained with various officers and enlisted men for many years as ward, servant, mascot, and eventually as an Indian scout. His life reads much like a western dime novel.