Name a famous American Indian leader of the nineteenth century and, in nearly every case, we have a photo. Geronimo, Chief Joseph, Victorio, Sitting Bull, Rain in the Face, Spotted Tail, Red Cloud, Quanah Parker – all of them fixed their gaze upon the polished glass of a camera lens, some of them multiple times. The glaring exception is perhaps the most famous Indigenous leader of all: Tȟašúŋke Witkó. Or, as his name is known in English: Crazy Horse.
Why is there no image of Crazy Horse? Was he ever photographed? Is there a chance a portrait of the man whom many today consider the greatest Lakota warrior to ever live is still out there, waiting to be discovered at a flea market, antique mall, or museum?
Author Marie Sandoz would likely have given her very soul to have had an authentic portrait of the leader for her acclaimed biography of the "strange man of the Oglalas" (her words), published in 1942. Sandoz was no slouch when it came to research, and she spent considerable time looking for an image, but she came up empty handed. "Apparently no photograph was ever made of him," she wrote in her book.
Five years later, a pressing need for a Crazy Horse photo arose when preparations began for a monument to the Oglala leader in the Black Hills, on Thunderhead Mountain (today's Crazy Horse Memorial). Sculptor Korczak Ziolkowski envisioned turning the mountain into a colossal carving of the chief riding his war horse. But Ziolkowski had no idea what Crazy Horse looked like.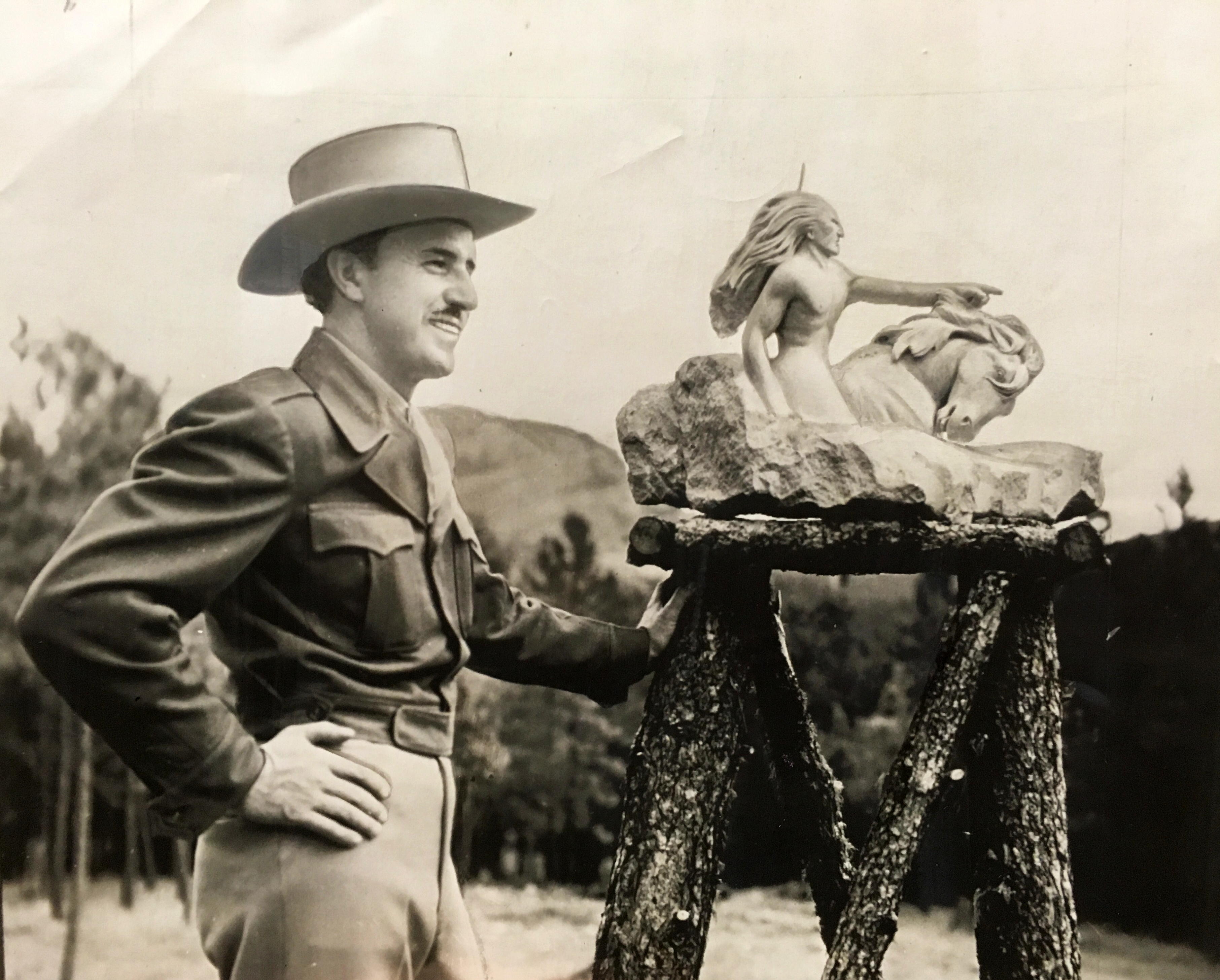 To assist the sculptor, the South Dakota Historical Society started an intensive search for an authentic photo. But they found the hunt just as challenging for them as it was for Sandoz. Crazy Horse's life had ended at age thirty-seven from a bungled (and unjustified) arrest attempt in September, 1877. And because the ever-defiant Lakota had never attended a treaty council with U. S. government officials – some of which saw a photographer present – a number of images picturing groups of various Lakota leaders could be necessarily ruled out as candidates.
For a brief window of time in the summer of 1877, however, Crazy Horse was actually in close proximity to a working photographer. The Oglala leader and his followers had surrendered near Camp Robinson, Nebraska, in May of that year, and Crazy Horse's village was subsequently located less than six miles from the military post, where photographer James H. Hamilton of Sioux City, Iowa, temporarily operated a log cabin studio.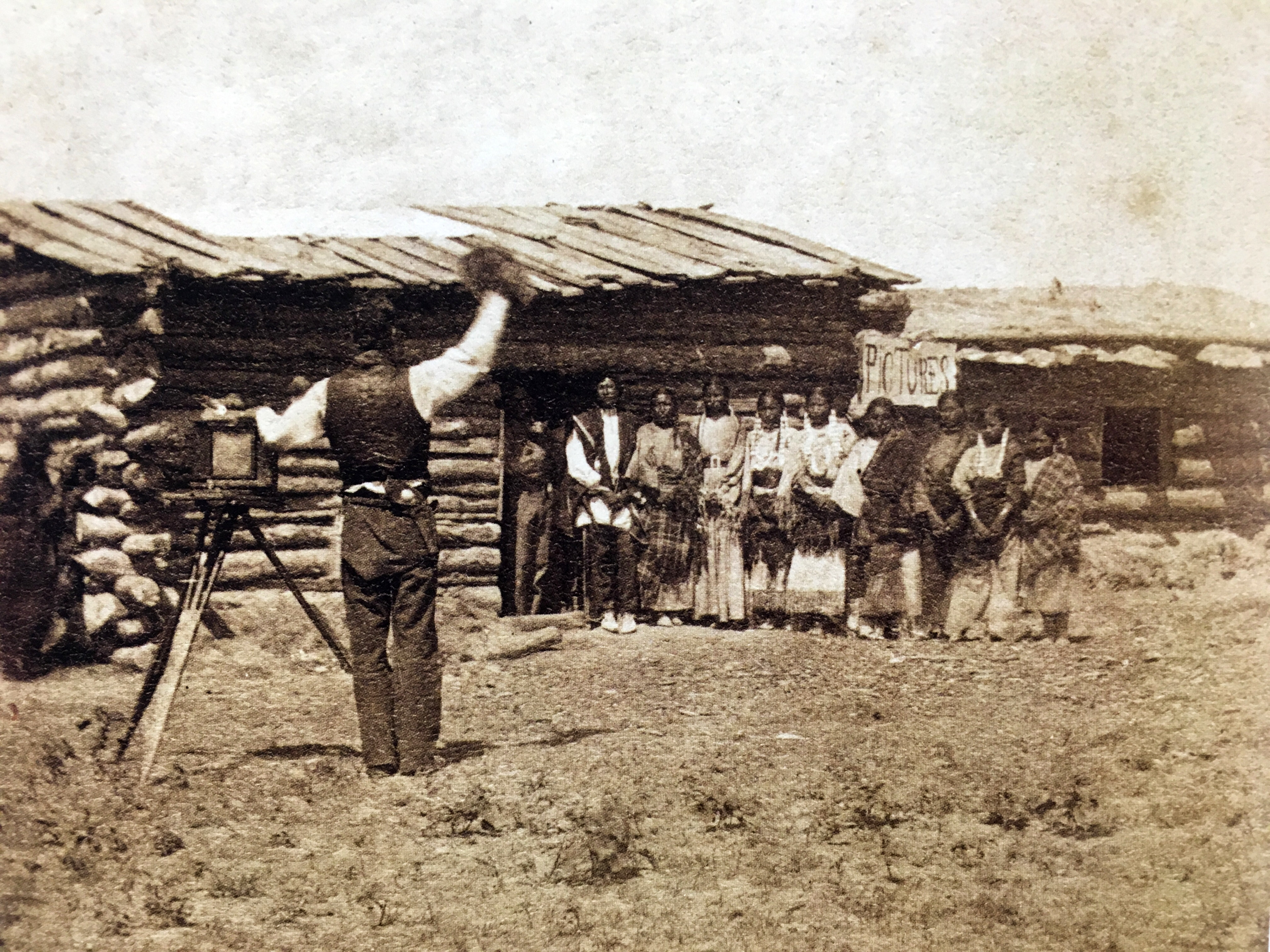 The log cabin studio that was next to the post trader's store at Camp Robinson, NebraskaPhoto Credit: Nebraska State Historical Society.
Crazy Horse occasionally visited Camp Robinson on business related to his people, and he was prodded, on more than one occasion, to have his portrait made. One of those who prodded was Dr. Valentine McGillycuddy, the assistant post surgeon. McGillycuddy claimed he and Crazy Horse became friends after he treated Crazy Horse's wife, Black Shawl, who suffered from tuberculosis. But when McGillycuddy suggested a photograph at the log cabin studio, Crazy Horse supposedly replied, "My friend, why should you wish to shorten my life by taking from me my shadow?"
Billy Garnett, a mixed-blood interpreter employed by the army at Camp Robinson, also had bad news for those looking for a Crazy Horse photo. Garnett knew Crazy Horse well and was confident that the chief "never had a picture taken that I know of, and if there was one taken, someone sneaked up and took it, for he never would consent to be photographed. He was very peculiar about this, and was a very modest man." Incidentally, there was no "sneaking" with the big box cameras and glass plate negatives of that era.
In 1950, three years after the South Dakota Historical Society began its Crazy Horse quest, the Rapid City Journal announced the results thus far with the headline, "Lengthy Search for Crazy Horse Photo Proves Futile." The accompanying article related that a "spirit medium" had volunteered to contact Crazy Horse and settle the matter once and for all of whether or not the chief had ever sat for a photographer. The Society declined the medium's offer. When it came to Crazy Horse's visage, sculptor Ziolkowski would simply have to use his imagination, which he was happy to do.
In recent years, a tintype of a Native man purported to be Crazy Horse has been the source of lively debate. The tintype came from the family of Baptiste "Little Bat" Garnier, Chief of Scouts at Robinson. According to the Garnier family, Little Bat identified the subject as the great Crazy Horse. But the problem for this and any other photo offered as a portrait of the Lakota chief is that today we know quite a bit about what Crazy Horse looked like, and that includes a very pronounced scar on the left side of the chief's face. He'd been shot with a revolver by the enraged husband of a woman Crazy Horse had absconded with.
According to a white observer in 1877, the disfigurement caused by the wound gave the warrior's mouth "a drawn and somewhat fierce or brutal expression." So, no scar, no Crazy Horse. The man in the tintype handed down by the Garnier family bears no such disfigurement.
There does remain a sliver of hope, however, for those still on the hunt for a portrait of the famed chief. A short time after photographer James Hamilton returned to his Sioux City home and studio, he published a simple catalog of the stereoscopic views he offered for sale, which included several images of Lakotas he'd photographed at Camp Robinson. View number 104 in Hamilton's catalog is titled "Crazy Horse." Whether this photo pictures the chief is impossible to know, for no example of view number 104 has surfaced to date. If and when it does, though, you can bet scholars will be looking for that scar.
In the end, the fact that we don't have a photograph of Crazy Horse makes his mystique that much greater. And it's fitting as well. Crazy Horse was a modest, often distant, and enigmatic man who spoke little. He seems only to have displayed real emotion on the battlefield. His essence was and is little understood. How could such qualities be fixed on a photographic plate?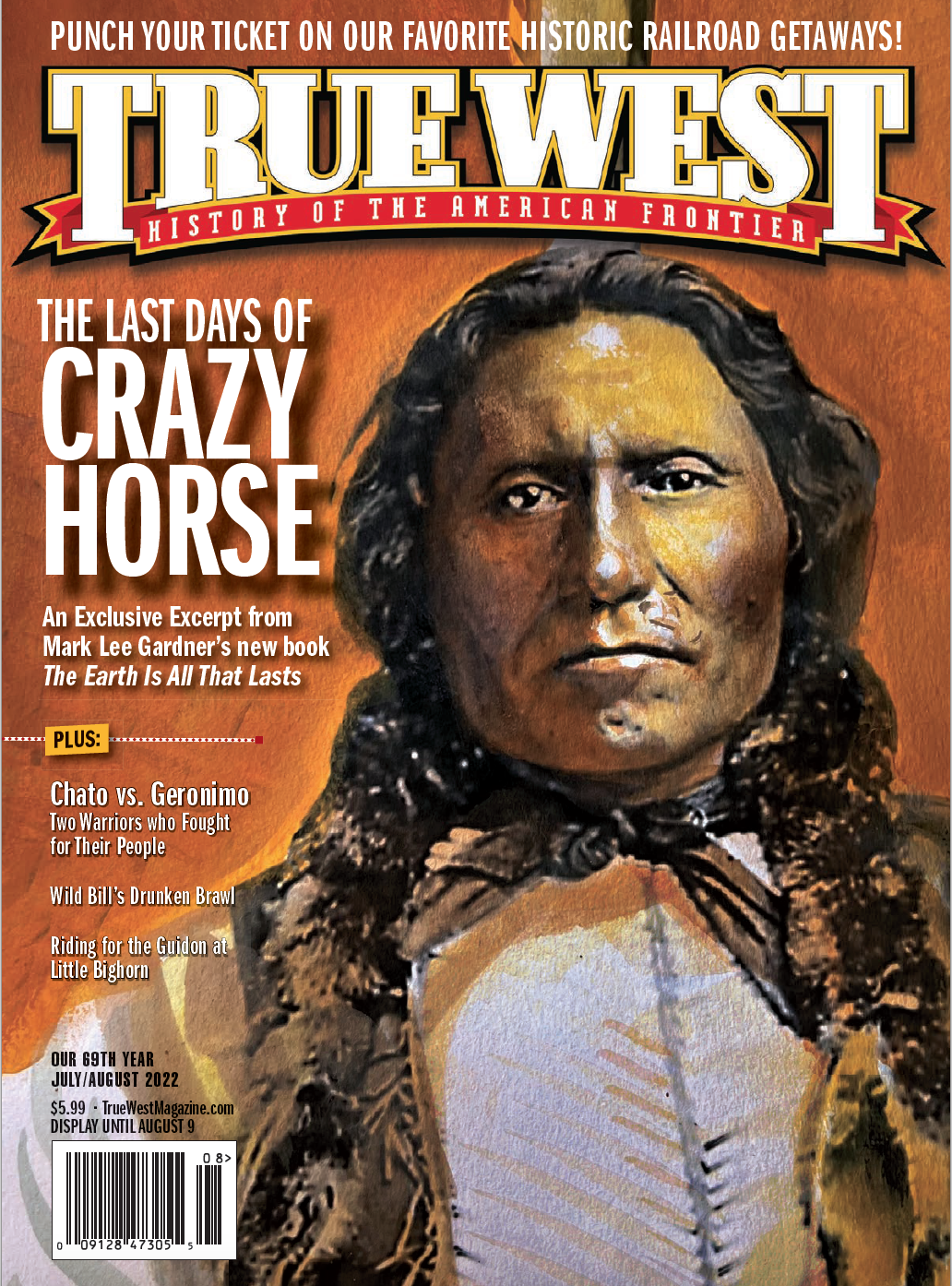 Find an exclusive excerpt from Mark Lee Gardner's new book The Earth Is All That Lasts in the July/August 2022 issue of True West!
Click HERE to purchase a physical copy or read online by clicking HERE.