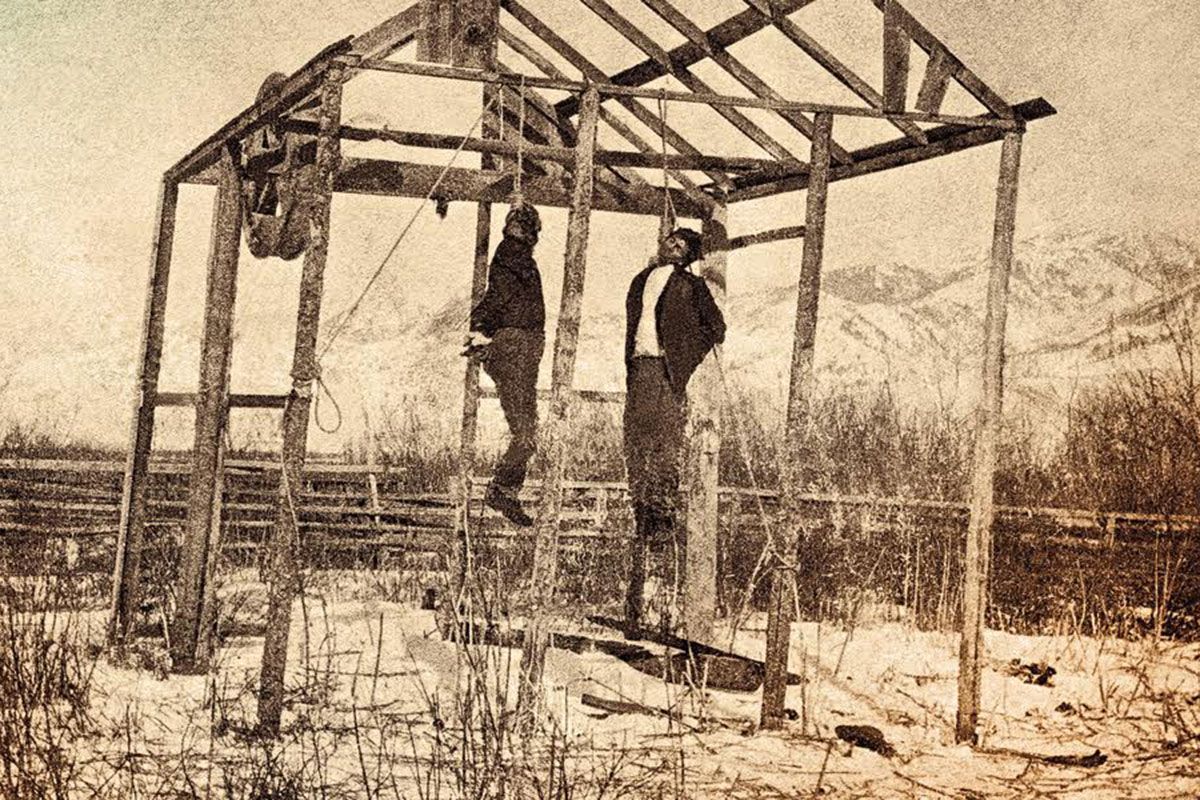 The richest Montana gold strikes included Bannack in 1862, Alder Gulch in 1863, which later became Virginia City; Last Chance Gulch in 1864, which became Helena.
In 1864, Confederate soldiers on parole during the Civil War made a small strike at Confederate Gulch (Diamond City) in the Big Belt Mountains but the big strike came a year later. This gulch contained more placer gold per acre than any other gold strike in the West. Between 1866 and 1869 it produced an estimated 19 to 30 million dollars. For a short time Confederate Gulch, with a population of some 28,000 was the largest community in Montana. The main boomtown was short-lived Diamond City. When the gold was gone, so were the citizens. By 1871 there were only about sixty residents.
These "flash in the pan" boom towns brought a lot of changes to Montana, attracting the wide gamut of frontier society, including Henry Plummer's gang, known as the "Innocents." This lawlessness led to the formation of the vigilantes and eventually gave rise to formation of a government in Montana.
Handsome Henry Plummer was a ladies man, lawman and politician in California during the Gold Rush. He was also crooked as a dog's hind leg and after ten years of escaping punishment he headed for Montana, arriving around 1862.
Henry was well-liked by Montanans. He settled in Bannack and was elected sheriff which gave him cover for his other occupation, leader of the notorious "Innocents" who spread terror throughout southern Montana, robbing and murdering more than a hundred people.
The settlers of Bannack and Virginia City organized the vigilantes who launched one of the most famous lynch-law campaigns in American history, hanging dozens of outlaws.
When the lynching of the Innocents began, one gang member "Whiskey Bill" Graves hightailed it for the Bitterroot Valley. The vigilantes caught up with him was given a most unique hanging. They sat him on a horse, riding double behind a vigilante. One end of the rope was wrapped around his neck and the other secured to a tree limb. While one vigilante shouted, "So long, Bill," another put his spurs to his horse and off they rode. Bill's ride was a short one. The slack came out of the rope leaving the unrepentant Whiskey Bill hanging from a tree limb.
Vigilantes wound up lynching twenty-two outlaws including the sheriff. On January 10th, 1864, Plummer was hanged from the gallows he'd built several months earlier.
Marshall Trimble is Arizona's official historian and vice president of the Wild West History Association. His latest book is Arizona Outlaws and Lawmen; The History Press, 2015. If you have a question, write: Ask the Marshall, P.O. Box 8008, Cave Creek, AZ 85327 or email him at marshall.trimble@scottsdalecc.edu.