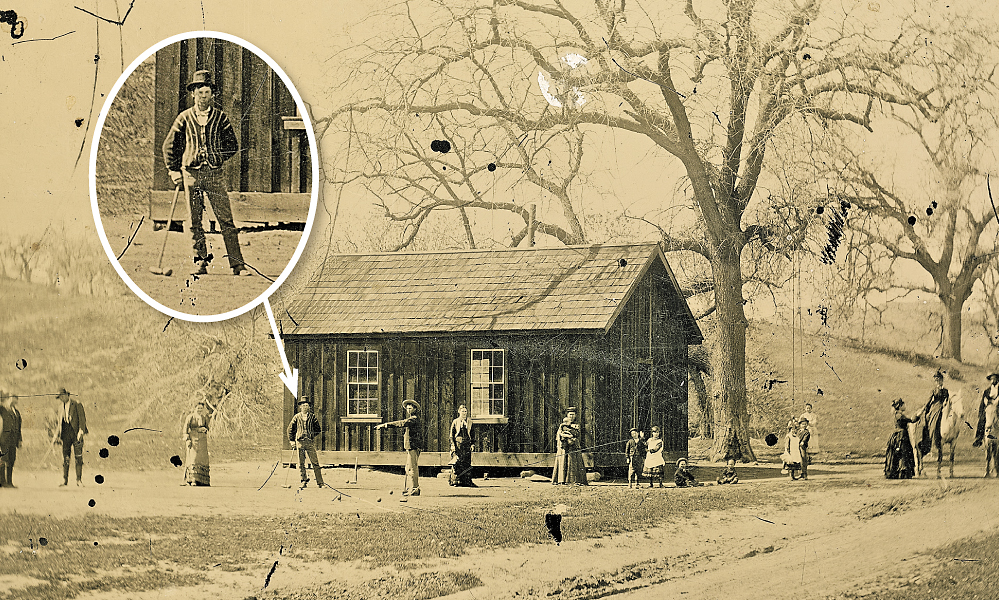 This photo, found in a shoebox of tintypes at an antique store in Fresno, California, has caused quite a stir. The owner believes it was taken near Roswell, New Mexico, to celebrate the marriage of Charlie and Manuela Bowdre (he identifies them as being on horseback). He also claims the picture includes William Bonney (inset), Tom Folliard, Sallie Chisum, Paulita Maxwell, Josiah "Doc" Scurlock, "Big Jim" French and Antonia Scurlock.
The owner states the photograph was taken in early September 1878, when several of the people in the photo were preparing to move to the Fort Sumner area. Let's be clear: history does not properly record the Bowdre move or marriage, although historians believe the couple moved from Lincoln County to Fort Sumner around September 1878 and that they got married in 1879. The 1880 census at Fort Sumner documents them as married and in the area.
The croquet photo and the efforts to authenticate it will be the subject of a National Geographic Channel documentary reportedly airing this fall.
For more True West coverage on Billy the Kid, follow the links below:
---
"What if everything we know about Billy the Kid is wrong?" by Frederick Nolan
Billy the Irish by Chuck Usmar
How Did Henry Get His Alias? by Mark Lee Gardner
"Hello, Bob" by Cameron Douglas
Seeking the Creation of the Kid's Death Record by Dr. Robert Stahl
 Billy Bonney's Bad Bucks by Steve Sederwall
How Did the Kid Get the Gun? by Frederick Nolan
---
What do you think?