The next morning Larcena awoke to the sounds of people talking. She crawled in that direction and made her way to the woodcutter's main camp in the canyon. The first person to see her was the camp cook, a black man from Texas named Hampton Brown. At first he thought the spooky apparition crawling towards him was the spirit of some poor dead soul back from the dead.
In voice, barely audible she said, "I'm Larcena Page."
He reached down, picked her up and carried her into camp. At first they didn't recognize her. Larcena was bloodied, sunburned and emaciated. The first thing she asked for was a chaw of tobacco.
A courier was sent to Tucson to fetch a doctor. Word of her miraculous survival reached her husband John just as he was planning his third expedition to find her. He'd followed the trail to the Rincon Mountains, east of Tucson to the Catalina's never giving up hope of finding her alive despite the fact he'd learned through the Apache grapevine that she was dead.
The doctor from Tucson arrived and believed she was going to die but John put her in a wagon and drove to Tucson where in time she made a full recovery.
Captain Ewell was able to negotiate the release of Mercedes in exchange for some Apache prisoners.
There was a huge celebration in the Old Pueblo when the little girl returned with Kirkland. The church bells at San Augustine were ringing and the citizens applauded as she was returned to her grateful mother. The citizens also hailed the tireless efforts of Captain Ewell and John Page for her safe return.
Many believed the older Apache who spoke broken Spanish was Eskiminzin, a Pinal Apache who married into the Aravaipa and later became their chief. Their village was located where Aravaipa Creek joined the San Pedro River northwest of Tucson. He was well-known to struggle with the truth but he played an important role in the ransom and return of Mercedes. The trail led directly to his camp but he denied having the little girl. He could, however, secure her release from those who had her, if Captain Ewell would exchange the twenty Pinal Apache captured in an earlier skirmish with the Dragoons. Ewell agreed to the lop-sided prisoner exchange for the child's safe return was far more important. Bill Kirkland was present and Ewell loaned him his horse to take the youngster back to Tucson.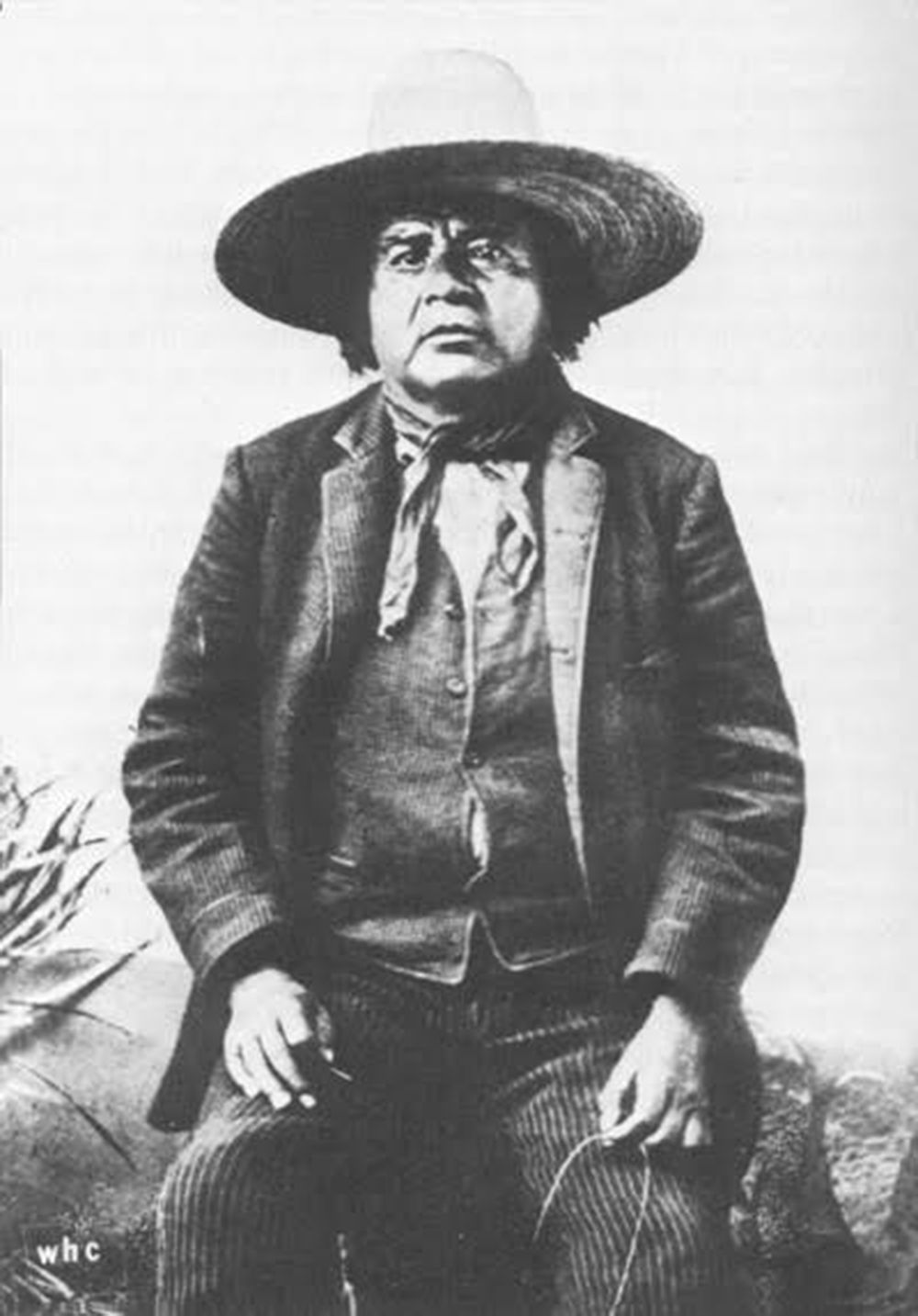 Several years later on April 30th, 1871 a punitive expedition made up of Tohono O'odham Indians and Tucsonians raided Eskiminzin's village in the infamous Camp Grant Massacre.
The Pennington family was living on a small ranch near the old town of Calabasas, just a few miles from the storied Pete Kitchen's fortress ranch. Their farm came under attack from bands of Apache many times and the girls often had to help their father and brothers fight off the raiders. Eli Pennington stubbornly refused to abandon his ranch, declaring he had as much right to the land as the Apache. If they wanted to cross his place on their traditional plundering forays into Mexico so be it but like his neighbor Pete Kitchen he was going to fight to protect his family and his property.
Frequently in his absence, it was said his brave daughters were left to fight the raiders on their own.
With the exception of Tucson, southern Arizona was virtually abandoned by Americans in 1861 when the military posts were abandoned and the Army was withdrawn due to the Civil War. With no soldiers to police the region, Apache war parties roamed the hills and mountains raiding at will. It was dangerous to travel outside the walls of the Old Pueblo.
Larcena and John had tried to put their lives back together but tragedy struck again. In 1861, he was ambushed and killed near Canyon del Oro by a band of Apache. He was buried where he fell and she never got a chance to view his body. She was three months pregnant at the time. She was given a handkerchief, his wallet, and a lock of his hair.
Larcena went back to live with her father at his ranch on the Santa Cruz River, but because of the frequency of Apache attacks they were forced to live in a mine shaft near Patagonia. That coincided with an epidemic of small pox. In all this mayhem, Larcena gave birth to her baby, whom she named Mary Ann.
The Pennington's continued to move often. In 1864 they were living in the abandoned town of Tubac. Tragedy continued to plague the family. Three years later her sister Ann died of malaria. Tragedy struck again in June, 1869 when Eli and his son Green were killed by Apache warriors while working in their fields at the ranch on Sonoita Creek. Her father was killed instantly but her brother lingered on for eight days before succumbing to his wounds. A year earlier another of Larcena's brothers, Jim, was killed in an Apache ambush in the hills west of Tucson.
The remaining members of the family moved to Tucson and planned to go on to California when another sister, Ellen fell ill and died of pneumonia.
In 1870, another brother, Jack, rounded up his unmarried sisters and herded them back to Texas, away from Arizona's dark and bloody ground. Larcena remained in Tucson and that same year married William F. Scott. She bore him two children and lived the rest of her life in Tucson passing away in Tucson on March 31st, 1913, at the age of seventy six.
Pennington Street in Tucson is named for Larcena's family.
Mercedes grew up to be a beautiful woman and in 1868 married Charlie Shibell, who was sheriff of Pima County during the turbulent times of Wyatt Earp and the "Gunfight at OK Corral." Sadly, she died in 1875 of complications following the birth of her fourth child at the age of twenty-six.
The story of Larcena Pennington Page is one of raw, undaunted courage and perseverance. Western writer Louis L'Amour used to say it "took men with bark on" to survive the rigorous life in the Old West. The story of Larcena Pennington Page clearly shows the same could be said of those hardy frontier women.
Marshall Trimble is Arizona's official historian and vice president of the Wild West History Association. His latest book is Arizona Outlaws and Lawmen; The History Press, 2015. If you have a question, write: Ask the Marshall, P.O. Box 8008, Cave Creek, AZ 85327 or email him at marshall.trimble@scottsdalecc.edu.