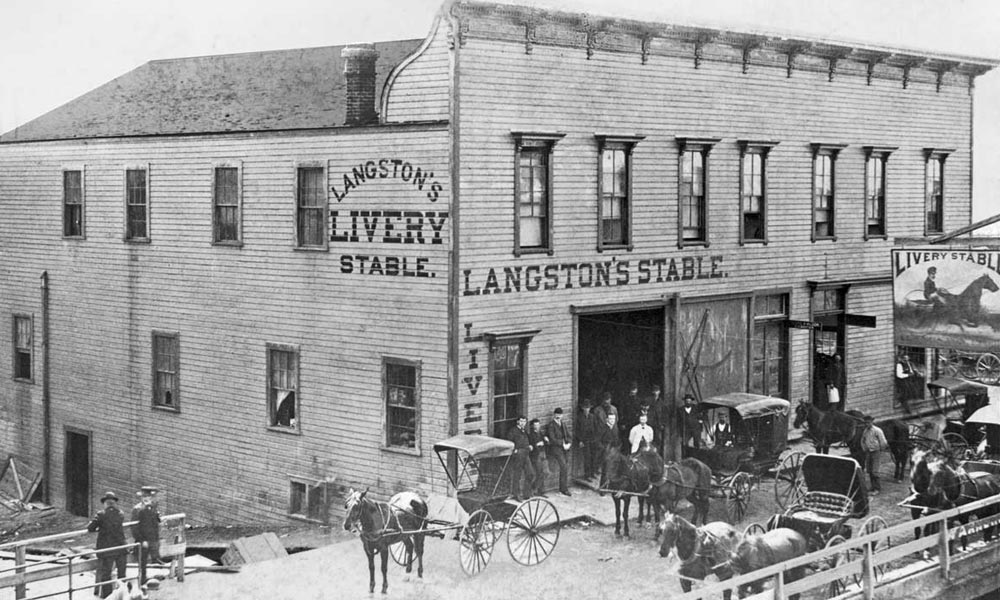 The other day I received an e-mail from a True West reader asking several questions about how livery stables operated. For example if a person rented a horse in Tombstone and wanted to make a one-way trip to Tucson, how does the livery stable get its horse back? Unlike U-Haul and car rentals today livery stables didn't rent one-way.
Would the customer be required to post an amount equal to the value of the horse? What happened if the customer didn't return the horse? And what were the rates by the day and by the week?
All good questions but a few turned out to be tough to run down. I wrote a well-known wagon maker and he replied he had some of the same questions. He asked me to send him anything I found. We all know the livery stable was a necessary institution in every town and city. In addition to providing vital transportation service it was a source for hay, grain, coal and wood. Because of the smell, noise, flies and vermin cities and towns tried to control their locations and activities.
With the advent of the horseless carriage in the early part of the 20th century livery stables and blacksmith shops either switched to garages or quietly went the way of the mastodon. In twenty years of being the answer man on Ask the Marshall I've never had such a tough time gathering information. It just goes to show if some historian doesn't record these ordinary things can get lost with the passage of time.
Historically a livery stable was a place where horses, teams, buggies and wagons were for hire. Often attached to a hotel or boarding house, horses could be boarded for a short time.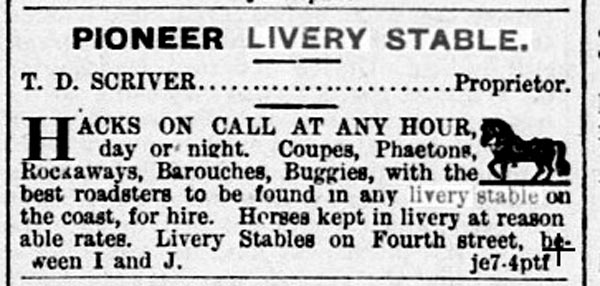 Livery stables in the West were less formal than those in large cities and could offer some options when it came to rentals. If you were a stranger you could be required to pay in advance an amount that could equal the value of horse and tack. If you were known to the owner to be an upstanding citizen you could pay the regular rental fee either in advance or upon your return. I contacted Ponderosa Stables in Phoenix and they agreed some kind of security would be required to insure the animal would be returned. And if the wasn't returned a warrant would be sworn out for his arrest.
As to the question, what happened if someone wanted to rent a horse in Tombstone and leave it in Tucson, author and authority on the Butterfield Overland Trail, Gerald T. Ahnert says "I checked over 100 livery stable ads in California newspapers for 1870-1885. If you rent a horse and buggy you would have to return them. The only way a one-way rental would work is if the livery stable owned a chain of them. None of the ads indicate this situation."
It's pretty hard to know the prices as that seemed to vary with different locations and towns. Most advertisements just said "Reasonable Prices." I found one ad from 1850 that said boarding a horse would set you back fifty cents a day. Pretty pricy for the time when an average worker earned less than eleven dollars a month but this was during the Gold Rush where "Ladies of the Evening" charged lonely prospectors sixteen dollars just for a few minutes of conversation. The prices would skyrocket if he wanted more than just conversation. Another ad, circa 1880 charged ten dollars a week to board a horse.
There were several options available for the customer board their horse including, full board, where the horse is provided shelter, water, stabling, and twice daily feedings of hay. This generally includes all food, water, stabling, stall-cleaning, and, sometimes, daily turnout for exercise. There was partial board the horse is provided shelter, water, stabling, and twice daily feedings of hay. Everything else is the responsibility of the owner.
And, self-board where stabling is provided but the owner is responsible for all care.
Pasture boarding was also common in the West. If there was sufficient grass the horse was in the pasture year around. If not hay, could either be provided or the owner was responsible for taking care of that.
The livery stable keeper usually had a lien on a horse, wagon or anything else left in his care include feed and storage to insure payment. They also had the right to detain horses, wagons, care, keep and board until the debt was settled.