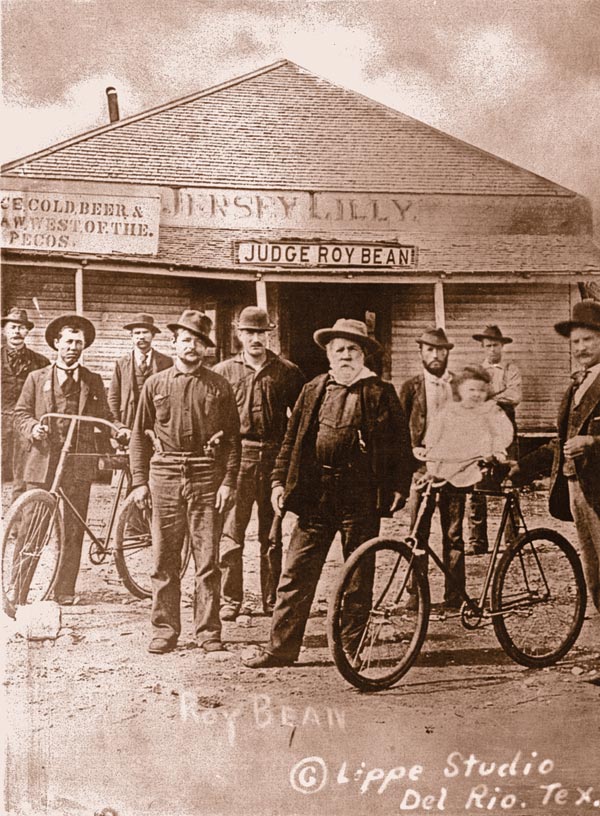 Roy Bean was looking for new opportunities in the summer of 1882.  He'd already carved a wide trail in the Southwest and in California, mostly as a conman and general ne'er do well. But at age 57 or so—his birth is not recorded but thought to be in 1825 in Kentucky—he was looking for some permanence in his life.
So he went to Eagle's Nest, a tiny settlement set up by the Texas Rangers on the last day of June, just a spot in the Big Bend Region north of the Rio Grande. The Rangers would maintain law and order, but they needed a justice of the peace to help out.  As it stood, they had to move prisoners 120 miles to Fort Stockton.
The Rangers were already hanging out at Bean's tent saloon, so when he offered to help enforce the law, they took him up on it.  The saloon doubled as a courtroom in the last week of July, although his official justice of the peace appointment didn't come through until the next week. 
His courtroom moved to the railroad town of Vinegaroon in Pecos County when the Rangers pulled up stakes in September.  Bean "flourished," as historian C.L. Sonnichsen recalled in his Roy Bean biography. "His tent saloon was a headquarters for gambling, drinking, and social gatherings."
Some of the legends are true.  That Bean served drinks during court recesses and whenever verdicts were rendered. That he found creative means of fining miscreants—and then kept the monies for himself. That he had prisoners chained to a stump outside the saloon as a makeshift jail. That he used one law book, 1879's The Revised Statutes of Texas, by sitting on it during proceedings. And between cases, Bean was the dealer for games of chance.
Even though Bean's meat-and-potatoes operation sounds a bit funny, locals credited the justice with bringing law to the area and cleaning up the violent crime. The self-titled "Law West of the Pecos" did his duty.
But the Vinegaroon period was short; the town began closing up by December 1882. Bean made his way back toward Eagle's Nest, choosing a site on some bluffs just above the town.  He never owned the land, just squatting on railroad right-of-way property.  He built a new, wooden courtroom saloon there. 
Sometime during 1883, he began calling his town Langtry, after his obsession, the English actress Lily Langtry, and he named his establishment the Jersey Lilly [sic]. 
After only one year to prepare the ground, the legend of Judge Roy Bean was fully formed before the rest of the world knew him as the "Law West of the Pecos."
What do you think?