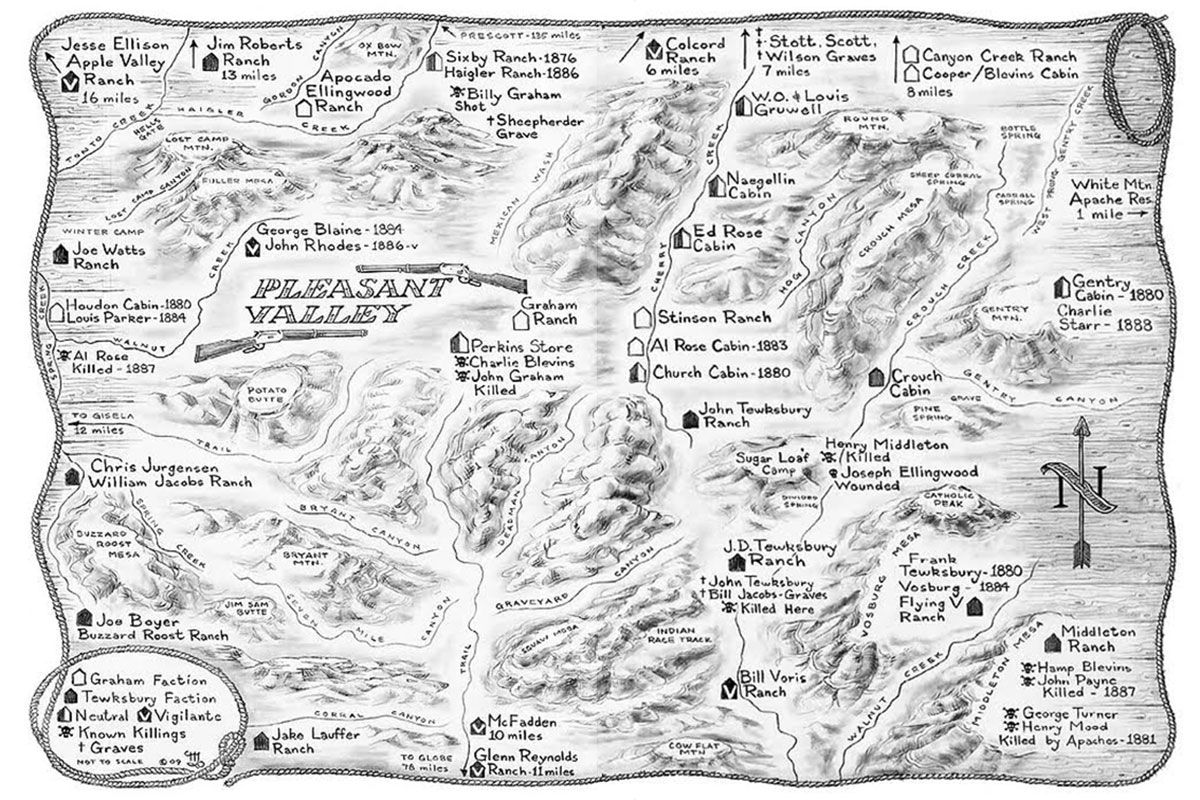 Following the fatal shootout with the Tewksbury's and Jim Roberts at the Middleton Ranch, John Blevins had some second thoughts about security at the ranch on Canyon Creek. The ranch had been a lair for horse thieves but with the killing of his brother Hamp and mysterious disappearance of his father Mart, he decided to relocate the family to a little cottage in Holbrook until things cooled off a bit. It would turn out to be a fateful decision.
Graham partisans struck again in the early dawn of August 17th, 1887.  While on their way back from Holbrook, several of the Tewksbury fighters including Ed, Jim and Jim Roberts were camped near the Tewksbury Cherry Creek ranch. Roberts had gone out on the camp horse to gather the rest of the horses that had been hobbled for the night. He'd climbed to a high spot and looking down, saw several Graham partisans edging towards the camp.
He called out to the others, "Look out down below boys."
Ed and Jim, who were just crawling out of their blankets, grabbed their rifles and opened fire, killing several. Harry Middleton was wounded as was Joe Ellenwood. Middleton was taken to the Graham ranch where he died. Ellenwood took a bullet in the rear.  Years later Ed recalled that during the gunfight Ellenwood had patted his rump in a defiant gesture so he obliged by putting a bullet where the man was indicating. "He jumped ten feet" laughed Ed.
That same day eighteen-year-old Billy Graham was allegedly shot by Tewksbury partisan, Jim Houck, who was also an Apache County deputy for Sheriff Owens. According to Houck the two met on the Payson Trail and Billy went for his gun and Houck had to shoot him.  Graham rode back to ranch, arriving with his intestines hanging out and died soon after.
Since Houck was a deputy and could not get in trouble for shooting Billy, he confessed to the shooting, but it's likely Ed Tewksbury shot Billy and Houck's confession was to save Tewksbury from a murder charge. On his death bed Billy identified Tewksbury as the man who shot him. Two men who testified at the inquest swore that Tewksbury was the shooter.
The coroner's inquest ruled Billy died at the hands of Ed Tewksbury but nothing came of it after Houck claimed he killed Billy.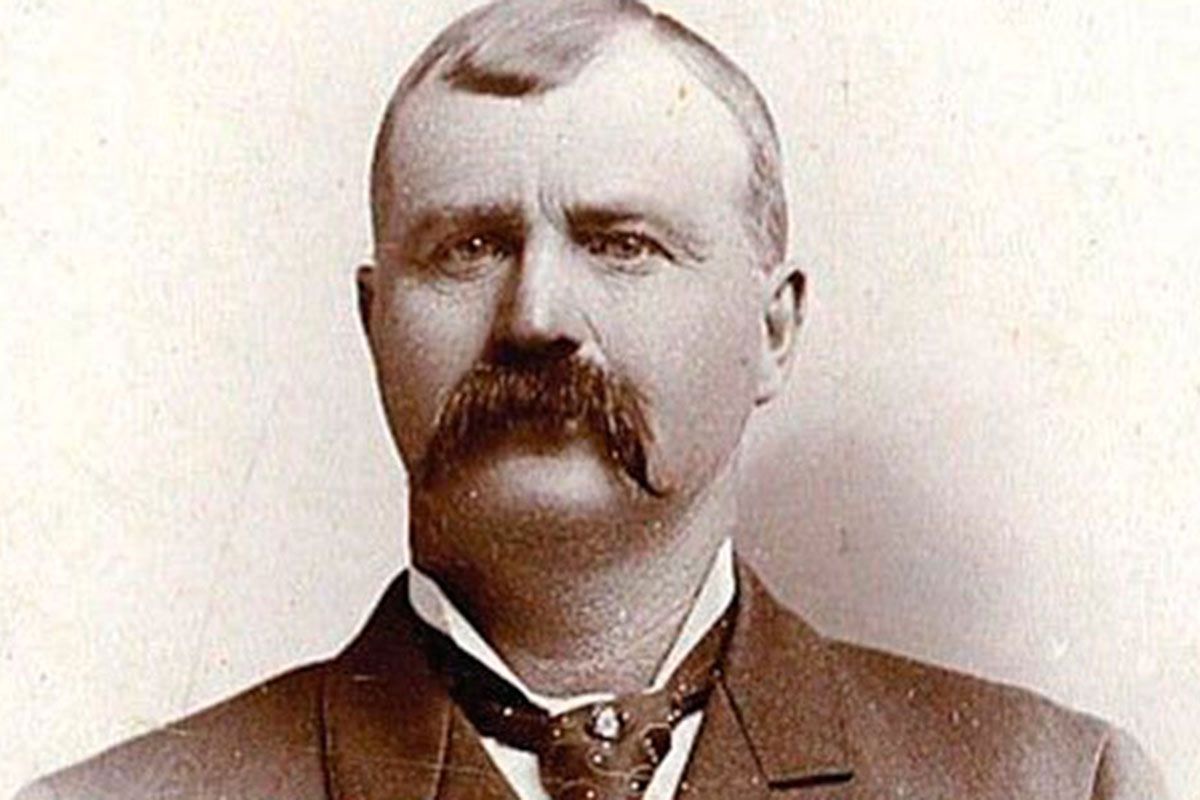 Yavapai County Sheriff Billy Mulvenon was under pressure to go to Pleasant Valley and put an end to the killing. He rode in with a four man posse but was visited by a lone rider one night who advised him to turn around and leave or he would be killed. Off in the distance were other riders. Mulvenon ignored the advice and rode on. The next day he met another group of armed men who gave him the same warning. He realized this group was the other faction in the feud. This time the sheriff heeded the advice and returned to Prescott.
On August 19th, 1887, Mulvenon left Prescott leading another posse into Pleasant Valley with warrants for the Tewksbury's after the Middleton Ranch fight. They trailed them into the Sierra Ancha Mountains with no luck so the sheriff and his posse returned to Pleasant Valley intending to watch the Tewksbury ranches and wait until they returned. They hid their horses in a thicket and scouted the area on foot. When they returned their horses were missing. On foot they were forced to walk to the Tewksbury ranch and sheepishly ask to borrow some horses and saddles. The message from the Tewksbury's came through loud and clear:
"If you sons of bitches will get out of this country and leave us alone you can have your own horses and saddles."
Once again, the sheriff was forced to leave Pleasant Valley with his tail between his legs. Next time he'd bring a small army.
Marshall Trimble is Arizona's official historian and vice president of the Wild West History Association. His latest book is Arizona Outlaws and Lawmen; The History Press, 2015. If you have a question, write: Ask the Marshall, P.O. Box 8008, Cave Creek, AZ 85327 or email him at marshall.trimble@scottsdalecc.edu.