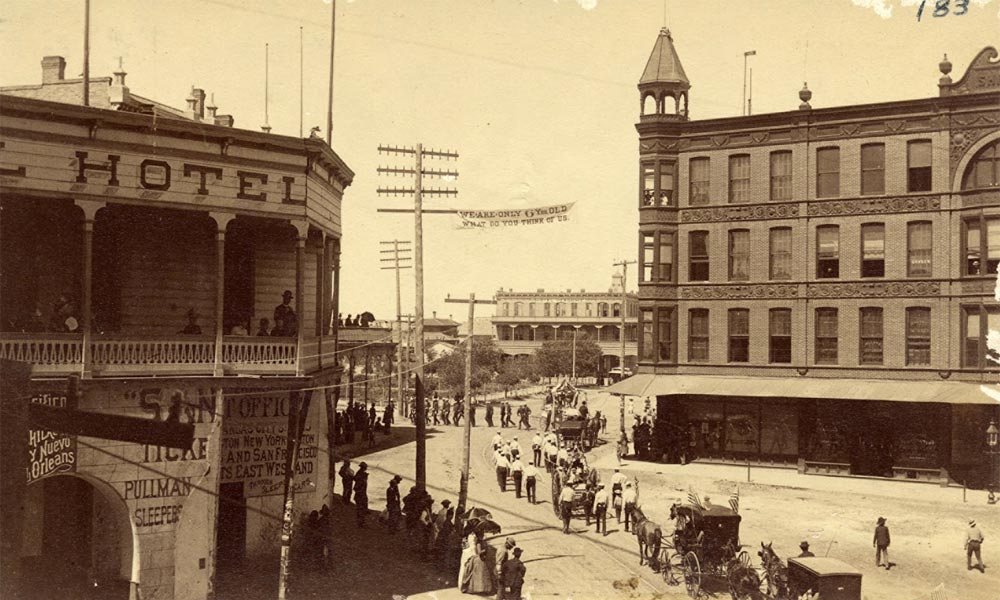 RACISM CAN GET YA KILLED: That's the message to misguided cowboys George Campbell and John Hale (who also was a drunken bully.)
It's all part of the legacy of the Battle of Keating's Saloon in El Paso in April of 1881. It started with the Manning Brothers stealing a large head of Mexican cattle and driving them into Texas.
The rustlers were tracked by Texas Ranger Ed Finch and two Mexican officers named Sanchez and Juarique. The two Mexicans were ambushed and killed near the Manning Ranch, provoking a posse of more than 75 Mexicans demanding justice. They wanted an inquest into the deaths of their friends, and that was held on April 15, 1881, with Constable Gus Krempkau acting as interpreter.
At noon, Krempkau left the courtroom and went into Keating's Saloon where he got a rifle. As he walked through the doors, he was accosted by George Campbell, who was a friend of the Mannings, and berated him about the inquest. At one point Campbell shouted, ""Any American who befriends Mexicans should be hanged!"
Krempkau ignored Campbell's remarks and walked to his horse, putting the rifle in its holster. Meanwhile, John Hale, a friend of Campbell's, rushed to Krempkau and jammed a six-gun in his ribs, shooting the lawman in the lungs. Then Hale ran behind a post in front of the saloon.
Meanwhile, nearby at the Globe Restaurant, one of the most respected lawmen in the area, Dallas Stoudenmire, was eating a bowl of stew. He heard the commotion outside and walked out about the moment Hale was shooting Krempkau.
With two six-guns in his hand, Stoudenmire saw Hale hiding behind the post and fired two shots on the run. The first wounded a bystander emerging from the saloon, while the second struck Hale in the center of his forehead, killing him instantly.
Krempkau ,with his last ounce of strength, pulled his six-gun and fired all six shots from a prone position, striking Campbell in the wrist and the toe. Then he fell against the steps of the saloon and died.
Campbell, whose six-gun had been shot out of his hand, picked it up with his uninjured hand and shot into the already dead Krempkau. About that instant, Stoudenmire put three bullets into Campbell, ending his life.