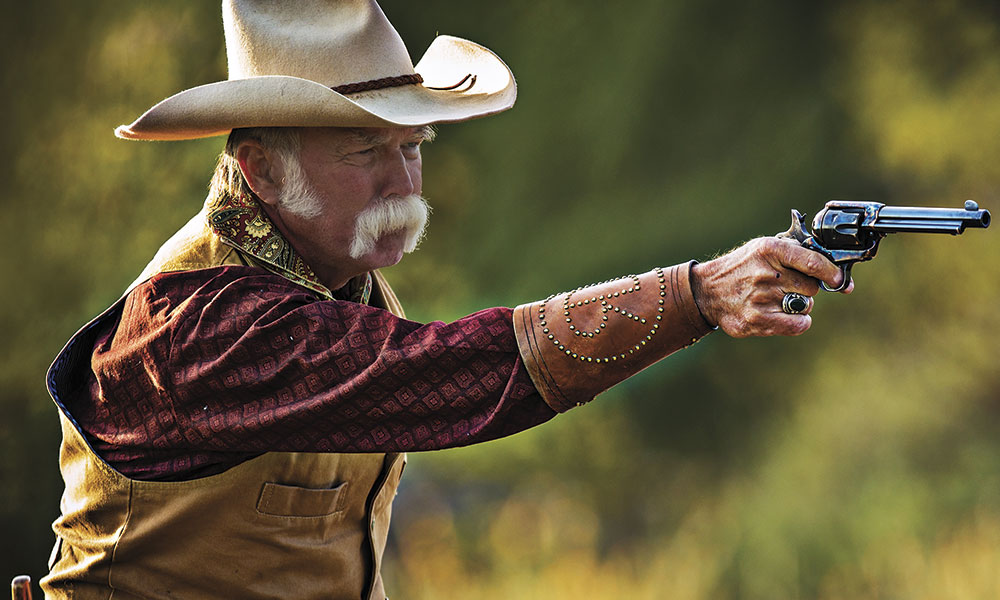 No two firearms in Old West history stand out more than the Colt Single Action Army and the Winchester lever action rifle. These were the quintessential tools of what our generation remembers as the guns that tamed the Wild West in movies and literature. Many firearms played a role in the settling of this great country out West in the late 1800s and early 1900s—from Samuel Colt's introductions of the cap and ball Navy and Army revolvers, to the ingenious Paterson and Walker 47, and the workhorse 1911—but the iconic and ever-popular Colt Single Action Army and Winchester lever action repeating rifles are very much in service today.
The world of reproduction firearms has come a long way in meticulously re-creating these standard bearers of American history with precision down to the last screw. The designers and manufacturers, having gotten to the point of perfection in their custom and unique designs, have more than satisfied collectors and everyday users of these incredibly reliable reproductions.
It all started with the "Godfather" of the Colt clone, Aldo Uberti. Seeing a need for a low-cost reproduction of the famous gun that tamed the American West, Uberti sought to create an exact replica of the Colt. And he was successful. He frequently supplied his new guns to filmmaker Sergio Lione for the early Spaghetti Westerns. The company, now owned by Beretta, produces an incredible copy of the Colt Single Action Army. Companies like Uberti USA, Cimarron Firearms, EMF Company, and Taylors & Company import these guns—but, if you think they are all the same, think again. Guns imported to these fine American companies have different finishes and features exclusive to the individual importers. Hold a Taylors Smoke Wagon next to a Cimarron Model P and you will see a difference. Not that one pistol is better than the other, but one will certainly catch your eye and feel.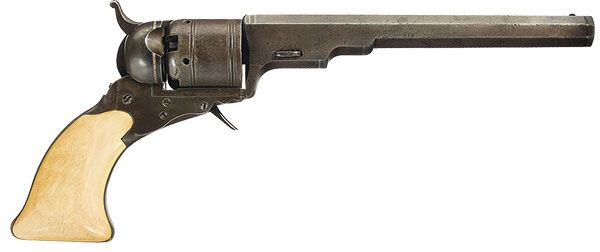 The 1836 Colt Paterson 5-shot revolver was the first commercial repeating firearm employing a revolving cylinder with multiple chambers aligned with a single, stationary barrel. Its design was patented by Samuel Colt on February 25, 1836.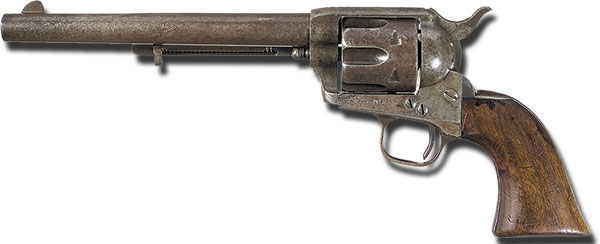 In 1872, Colt began to manufacture the gun that became known as the Single Action Army Model 1873, and it was designed to use metallic ammunition that contained its own primer. No Colt revolver has earned greater acclaim than the 1873 Single Action Army.

Samuel H. Walker
In the early days of reproduction firearms manufacturing, one could say the products were rough replicas of the early originals. Today that is not the case. The current crops of replicas have been perfected so that they are not only considered by many to be just as accurate and functional as the originals, but even better in some cases.
With the onslaught of Cowboy Action Shooting born of the Single Action Shooting Society (SASS) from the early 1990s to this day, tens of thousands of Old West aficionados overwhelmed the market, forcing manufacturers to step up their games. As the competition continued to grow, not only among the shooters themselves but between the companies bringing the firearms to the market, so has this industry of quality replica firearms to satisfy even the most particular gun collectors.
On the following pages we have featured only a handful of the current crop of replica firearms from the most prominent manufacturers representing this highly tuned and meticulously groomed gang of single action revolvers and lever action rifles. To even attempt to show all of the guns in the replica reproduction industry would require a book of its own. Here we narrow our focus to a subset of the most popular guns in the Colt and Winchester category widely used and collected today.

Samuel Colt designed the Colt Revolving Belt Pistol of Naval Caliber, later known
as the Colt 1851 Navy, between 1847 and 1850. The cylinder was engraved with a scene of the victory of the Second Texas Navy at the Battle of Campeche on May 16, 1843. Famous "Navy" users included Wild Bill Hickok, John Henry "Doc" Holliday, Richard Francis Burton, Ned Kelly and Robert E. Lee.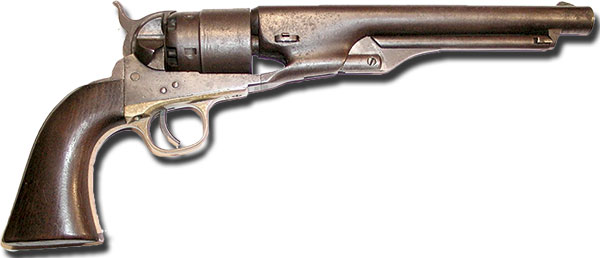 The Colt .44-caliber "Army" Model was one of the most widely used revolvers of the Civil War. It was favored as a side arm by cavalry, infantry and artillery troops. More than 200,000 were manufactured from 1860 through 1873. Colt's biggest customer was the U.S. government, with over 127,000 units being purchased and issued to the troops.

1866 Yellowboy Taylor's & Company
When Nelson King patented his new loading system, he could not have known that his 1866 model would play a prominent part in the winning of the West. The 1866, or "Yellowboy," as it was famously known because of its shiny brass frame, was the successor to the Henry. Production began in 1866 and continued through 1898, a period when both rifles and carbines were introduced. Taylor's produces an honest and meticulous reproduction of the famed long gun.

The Smoke Wagon Taylor's & Company
Exclusively from Taylor's & Co., The Smoke Wagon is a second-generation, stagecoach-style, single-action revolver. It boasts a low-sitting hammer and wider-style sights that allow for faster sight acquisition. It also features a blue finish with a case-hardened frame, and a thin, richly detailed, checkered grip for comfort and improved aim. All of the previous features are available on both the standard and Taylor Tuned version of The Smoke Wagon. The Taylor Tuned model also includes hand-polishing, custom hammer and trigger springs, trigger pull set at three pounds, jig-cut, positive angles on all triggers and sears for a crisp, reliable action. The Taylor Tuned Smoke Wagon features one of the smoothest hammer and trigger pulls on the market.

Centennial 1873 Winchester Presentation Model Navy Arms
To celebrate the Buffalo Bill Center of the West's Centennial in 2017, Navy Arms got together with Winchester to create a replica reminiscent of those high-quality hand-finished Winchesters so proudly given by Buffalo Bill and to his many amazingly talented performers. The Presentation Model features a stock and forend carved from Grade 1 American walnut, checkered at the wrist and forend, following the original Winchester patterns. The dust cover and trigger are bright blue finished and the crescent buttplate, receiver, nosecap, hammer and lever are color case-hardened using the original bone charcoal process, all done by Turnbull Restorations, pioneers in the rebirth of this centuries-old technology. The barrel is a 24 ¼-inch full octagonal, chambered in .44-40, and beautifully embellished with a nickel-silver muzzle ring.
Using a unique, patented system of 360-degree roll marking and deep-laser techniques to achieve near-hand-engraving quality and appearance, Baron Technology has expertly embellished each rifle. The pattern follows the Winchester Custom Shop style—made famous by engravers like Herman Ulrich—of engraving on the receiver with further embellishments on the buttplate, lever, tang, lifter, dust cover and nose cap. The barrel bears scrollwork with the "Centennial Rifle" marking, similar in style to the famed "One of One Thousand" rifles marking.

A Wyoming bison is engraved on the left sideplate, while a representation of Gertrude Vanderbilt Whitney's monumental sculpture, the timeless classic The Scout, depicting Buffalo Bill Cody on horseback, is on the rifle's right sideplate. Created in Bulino bank-note style, both images pay homage to the Center's namesake and to the organization's century-long effort to preserve and promote the "Spirit of
the West."

1873 Great Western II EMF Company
In 2002, Boyd Davis, CEO/president of EMF Company, turned to Knight Giuseppe Pietta to manufacture EMF's Great Western II single action revolvers. The joint efforts of the two companies resulted in single action revolvers that remain in robust demand.
EMF's 1873 Great Western II "Californian" guns feature hammer forged steel barrels and frames that are drop forged and then CNC machined. Additionally, they have wider rear and larger front sights for faster sight acquisition, aimed to please the competitive shooter. Just like the original Colts, these "period correct" revolvers have a floating firing pin in the hammer and
case-hardened frames. This combination of traditional aesthetics with advanced modern technology makes the Great Western II a sought-after, durable and reliable single action revolver.

1873 Cattleman El Patron Uberti
The Uberti 1873 Cattleman El Patron revolver is specifically designed for Cowboy Action and Mounted Shooting competition and is a well-designed replica that adheres to the needs of today's competitive shooter. The El Patron features the choice of barrel lengths from 3 ½ to 5 ½ inches. It is also fitted with high-grade, U.S.-manufactured Wolff springs and tested and certified for fit and function by Uberti gunsmiths.
All new models feature color case-hardened or stainless steel frames, steel backstraps, steel trigger guards, new checkered walnut grips and wide, easy-view front and rear sights.
Calibers offered include .45 Colt and .357 Mag.

1860 Henry Repeating Rifle Cimarron Firearms
The Cimarron Firearms 1860 Henry Repeating Rifle is unique among the replicas. Like many of Cimarron's replicas, the basis of its design is an actual antique in the Cimarron collection. Using an authentic Henry rifle as the platform for the new replica, Cimarron utilizes modern technologies and machining, combined with Old World craftsmanship and an astute attention to historic details, such as the original-type sling swivels and the C.G.C. inspector's stampings. Out of all reproductions and replicas available today, the Uberti-produced Cimarron Firearms Henry Repeating Rifle is the closest to the original Henry 1860 Model chambered in .44 Winchester or .45 Colt. Available as either the brass-framed model or the early-type Henry with a beautifully colored case-hardened frame, sporting an authentically styled 24-inch octagonal barrel with the distinctive front-loaded tubular magazine integrated into the shrouded barrel. It's truly a museum-quality replica of a pivotal American firearms design for those who want to experience authenticity unlike anything else available today.

F.A.P. F.LLI Pietta Alchimista II EMF Company
Pietta Firearms is one of the most prominent Single Action firearms manufacturers in Italy. Well known in the Cowboy Action Shooting circle, Pietta takes pride in precision-made cowboy guns. The Alchimista II, imported by EMF Company, is a cowboy action and mounted shooter's dream.
Based on EMF's popular Great Western II, Pietta's Italian craftsmen in Brescia took a page out of history and reintroduced the 1873, paired with the 1860 Army grip frame. He added a competition trigger that is wider and set back, allowing for a larger finger in the trigger guard. The 1860 grip is longer and slimmer than the traditional 1873 Single Action Army grip. The laid back hammer is perfect for mounted shooting and the gun comes with colored case hardening in 5 ½-inch and 4 ¾-inch barrel lengths.

New Original Henry Henry USA
In the late 1850s, metallic cartridges were the coming wave of firearms technology, and besides the difficulties inherent in developing reliable and effective self-contained rounds, the new ammunition demanded equally new gun designs capable of taking full advantage of what the quick-loading cartridge offered. Cartridges that revolutionized a field of slow-loading, slow-firing, and slow-reloading powder and ball single-shots freed designers to create a rifle that could keep up, and the very talented Benjamin Tyler Henry quickly stepped to the front in both areas. The result was the legendary repeating rifle that became known as the 1860 Henry, in .44 Henry Rimfire.
A pioneering design in a reliable and practical lever action repeater, and adopted in limited numbers during the Civil War, the Henry was the 16-shot rifle referred
to as "the rifle you could load on Sunday and shoot all week long."
Henry, the manufacturer, has brought back the Original Henry Rifle, made entirely on U.S. soil. As the company states, this Henry Original is true to its 1860 patterns and patents, and virtually identical, aside from concessions necessary to adapt to the .44-40 and .45 Colt centerfire rounds that replaced the long-obsolete rimfires. Their models H011 and H011C use a specially formulated hardened brass receiver with the same tensile strength as steel and they are fitted with a one-piece octagonal barrel and magazine, fancy grade American walnut stocks, a classic folding ladder rear sight and blade front, traditional half-cock safety hammer notch, and no modernized manual safeties. Both calibers share a
24 ½-inch barrel with a 13-round capacity.
Cimarron Firearms Company   
105 Winding Oak Road
Fredericksburg, TX 78624
830-997-9090
CimarronFirearms.com
E.M.F. Company
1900 Warner Avenue, Suite 1-D
Santa Ana, CA 92705
949-261-6611
EMF-Company.com
Henry Repeating Arms
59 East 1st Street
Bayonne, NJ 07002
201-858-4400
HenryUSA.com
Navy Arms
54 Dupont Road
Martinsburg, WV 25404
304-274-0004
NavyArms.com
F.A.P. di PIETTA
1900 Warner Avenue, Suite 1-D
Santa Ana, CA 92705
949-261-6611
Pietta.it
Taylor's & Company
304 Lenoir Drive
Winchester, VA 22603
540-722-2017
TaylorsFirearms.com
Uberti USA
901 Eighth Street
Pocomoke, MD 21851
301-283-6981
Uberti-USA.com
What do you think?