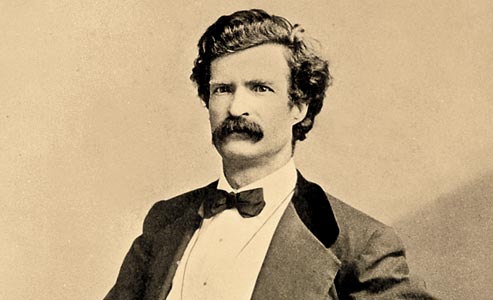 Samuel Clemens rode into Virginia City, Nevada Territory, in late 1862 with the idea of writing for the Territorial Enterprise, while Mark Twain rode out in May 1864, having formulated a writing style and an identity that would last a lifetime.
Two schools of scholarship debate the question of how and why Clemens took his famous nom de plume, Mark Twain, 150 years ago. Did it come from his early riverboat years or his saloon days?
In the early 1870s, Twain declared the pen name came from his Mississippi riverboat years. A reading of mark twain meant two fathoms of water, barely safe, but the boat could continue toward deeper water. Twain supplied a reasonable explanation; he said he "laid violent hands upon" the pen name after the death of riverboat Capt. Isaiah Sellers, who had used it in writing up riverboat news. However, Sellers was still alive in early 1863 (he died on March 6, 1864), when Clemens pilfered the name. The first recorded usage of it appeared in a letter Clemens had written to the editors of the Territorial Enterprise, which was published on February 3, 1863.
The Sellers story was accepted and published in Twain's biography by Albert Bigelow Paine in 1912. In 1938, in Mark Twain's Western Years, historian Ivan Benson questioned the story, stating "…there was 'no original Mark Twain' other than Samuel Clemens himself…." He added, "Neither the name Mark Twain nor any single reference to Samuel Clemens occurs in the Sellers Journal…."
Ernest Leisy, writing in 1942 for American Literature, added to the case. He researched New Orleans newspapers and found no use of the alias "Mark Twain." Both Leisy, from examining relevant newspapers, and Benson, from reading the Sellers log book, reached the same conclusion; the name Mark Twain was not in use during Clemens's riverboat years.
But Clemens loved pen names. He had burlesqued a Sellers letter in the New Orleans Daily Crescent in 1859, signing it Sergeant Fathom. Leisy ended his article with the idea that Clemens's "choice of the name 'Fathom' gave rise in his mind to the term used for the water sounding Mark Twain, and that only in this remote, indirect way was he indebted to the redoubtable Isaiah Sellers."
Effie Mona Mack, in 1947, brought scholarly attention to a curious memory from Nevada's Eureka Daily Sentinel. In 1877, the Sentinel's editor, George Cassidy, had characterized Clemens as a bohemian during his Virginia City days. He and other lesser-known writers had frequented John Piper's B Street one-bit saloon. Recalling Clemens's habit of having Piper mark drink orders on a chalkboard behind the bar, the editor said the writer ordered two drinks at a time, which inspired the name Mark Twain, from mark in two. Cassidy was a well-respected newspaperman whose stated reason for making the comment was to elaborate on Twain crediting the nom de plume to his riverboat days. Cassidy found Twain's story "too thin," or incomplete. Within weeks of Cassidy's claim, the Daily Alta California printed Clemens's strong rebuke of the story, which affirmed his debt to Sellers for the pen name.
Cassidy did live in the Virginia City area during the time Twain wrote for the Territorial Enterprise. Paul Fatout, in Mark Twain in Virginia City, believed Cassidy's story to be true and found additional support for a saloon origin in another newspaper.
An 1866 Nevada City, California, Transcript article stated Clemens took his "regular drinks" at Johnny Doyle's saloon. "Well, 'Mark,' that is Sam, d'ye see, used to run his face, bein' short of legal tenders." He "…used to take two horns consecutive, one right after the other, and when he come in there and took them on tick, Johnny used to sing out to the barkeep, who carried a lump of chalk in his pocket and kept the score, 'mark twain,' whereupon the barkeep would score two drinks to Sam's account—and so it was, d'ye see, that he came to be called 'Mark Twain.'"
Although Fatout placed a different Johnny Doyle in Dayton, Nevada Territory, in 1863 and placed this John E. "Johnny" Doyle in a Virginia City saloon in 1864, the Sacramento newspapers of the time help untangle the confusion as to which Doyle is being discussed in the Transcript article.
In 1865, John E. Doyle killed a man in self-defense at his own Doyle and Goodman's saloon on C Street, Virginia City, which the Sacramento Daily Union reported on March 14, 1865. The article reminded readers that Doyle was the same well-known barkeep, previously from Sacramento's Magnolia, which Doyle had owned in early 1863. Doyle probably fled Sacramento for Virginia City in 1863, where Doyle's time on the Comstock overlapped that of Clemens's. In all likelihood, the newspaper reports of the Doyle saloon shooting may have stimulated the memory of the "Washoe genius" in the 1866 Transcript.
Another story of Twain's idiosyncrasies of drink came from Thomas Sawyer of San Francisco, a crony of Twain's during his early years in that city. In Black Fire, Robert Graysmith effectively argues that Sawyer was a credible source for his memories of Twain's brief 1860s stay in San Francisco. In an 1898 interview, Sawyer recalled visiting Twain in Virginia City, where the pair frequented Tom Peasley's saloon. One night, barkeep Larry Ryan served them two cocktails. "'Give us two cocktails, Larry'—and such cocktails as them were! U-m, I can taste 'em yet." Ryan mixed them and handed them over the bar, expecting Twain to "ante up." Instead, he stood there and held up two fingers, pointed to the slate and said, "Larry, mark twain." When Ryan told owner Tom Peasley about it in the morning, Sawyer recalled, "Peasley thought it such a good joke that he told all the boys, and after that Sam wuz dubbed 'Mark Twain.'"
What is questionable about Sawyer's recollection is the list of acquaintances he claimed to have met while visiting Twain in Virginia City: "There wuz a set of high rollers there in Virginia City at that time, I can tell you—Bret Harte, Pat Lynch, Sam Davis, Holland of the Enterprise, Tom Fox, Doc Cole and Sam."
"Doc Cole" was a well-known druggist with a long Comstock career beginning in the early 1860s. Pat Lynch was the proprietor of the Niagara Saloon and Dance Hall in 1863 and Tom Peasley, who arrived in Virginia City in early 1860s, owned the Sazerac saloon on C Street until his untimely death in 1866. Of the men listed by Sawyer, Davis didn't arrive in Virginia City until 1874; although, while working as a Carson City newspaper editor, Davis did meet Twain in later years. Also, Twain did not meet Harte until 1864, after he had made his way to California.
That Virginia City is the likely birthplace of the pen name is further illustrated by the Virginia City Daily Union in January 1864, which referred to Twain as "Mark Two." Margaret Sanborn, in Mark Twain; The Bachelor Years, wrote: "Clement T. Rice, the Unreliable, reported the affair for the Daily Union. 'Last night a large and fashionable audience was called out to hear a message delivered by the Mark Two—otherwise called Twain…the levities spread spontaneously….'"
The contemporary notation of "Mark Two" for Twain in the Daily Union, plus Sawyer's recollections, the Doyle saloon story and ultimately the Cassidy column may all have flaws as substantiation of the saloon story for the origin of Clemens's nom de plume, but they are surprisingly consistent. Taken together, these accounts imply a widespread proliferation of the same story—that the pen name derived from mark two, for an order of two drinks at a time. The truth in all of the versions may be Twain's drinking pattern.
Why would Twain not only fabricate the origin of his pen name, but then repeat the Sellers story more than 3,000 times, according to his count? His motivation might have been his respectable life on the East Coast. The Sellers story saved him embarrassment over his wild West years. An association as a patron of Piper's bar may have also meant an association with Piper's brothels, as Piper was also the largest brothel owner in 1863 Virginia City. Similarly, Peasley was the paramour of courtesan Julia Bulette.
Twain's courtship of Olivia "Livy" Langdon during the fall and winter of 1868 was based, in large part, upon his determination to reform. In a letter to Livy's father, he admitted his embarrassment about his past out West: "I think that much of my conduct on the Pacific Coast was not of a character to recommend me to the respectful regard of a high eastern civilization…," author Jeffrey Steinbrink notes in Getting to Be Mark Twain. Twain's marriage to Langdon required a solid story upon which to hang his choice of nom de plume. The fact that Sellers was alive when Twain "laid violent hands" upon the pen name was of no concern. What mattered was distancing his respectable East Coast life from his freewheeling days in the West.
Clemens wrote to Livy prior to their formal engagement: "I have been, in times past, that which would be hateful in your eyes…. I say that what I have been I am not now; that I am striving & shall strive to reach the highest altitude of worth, the highest Christian excellence…."
Territorial Enterprise editor Joseph Goodman visited the newlyweds in Buffalo, New York, shortly after their wedding. Goodman recalled Twain sneaking in a bottle of whiskey into his room, as Langdon had banished liquor from their home. Goodman exploded with laughter when Twain said grace before dinner. As soon as they were alone, he prodded Twain on his change of heart.
"It isn't my notion at all," Goodman reported Twain said. "I don't take any stock in it, but Livy does; she has been brought up that way, and I try to go through with it as soberly as I can, just to please her."
Twain's reformation continued during the early years of their marriage, even as the writer's ability to draw on his Western experiences while advancing his career remained the backbone of early literary successes, including The Jumping Frog of Calaveras County and Roughin' It. Twain furthered the Sellers account in Life on the Mississippi, published with disastrous results, the year before Adventures of Huckleberry Finn would rescue his legacy. Twain might have abandoned his Sellers story, under threat of his Western acquaintances bringing up his past, but he chose not to open that can of worms during his life. As for Livy, Twain noted in an 1875 letter to his sister, that he had at last taught her to drink a beer every night. He hoped to also encourage the children in the habit.
Carolyn Eichin owns a bed and breakfast in Virginia City, Nevada, with her husband. She has been published in The Las Vegas Review-Journal's Nevadan and Nevada In The West Magazine.
Photo Gallery