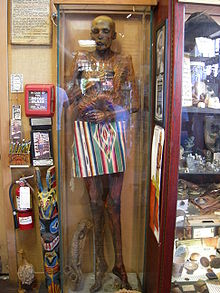 The Ye Old Curiosity Shoppe in Seattle rates him as their number one single attraction. But little is known about him as a living person. Two cowboys found him in the desert near Gila Bend in 1895. It looked like he had a bullet wound in his left side archaeologist determined he was about 45 years old and tall. The dry heat had mummified him in about 24 hours leaving him preserved, blue eyes, mustache, teeth and nails. His body had shrunk from about 235 pounds to 135. His skin had acquired a deep mahogany hue. He was displayed briefly in a secondhand store in Yuma and he was quickly acquired by a carnival in Texas, put in sideshows around the Midwest. For a time he was owned by the famous con man "Soapy" Smith who named him McGinty. In 1909 he appeared at Seattle's Alaska-Yukon Exposition and San Francisco's Panama-Pacific Exposition in 1915. McGinty had become a star.
During the Great Depression in the 1930s Americans didn't have the money to spend on freak shows and McGinty was sold to a medical doctor in San Jose for $35. The doctor had a macabre wit and built a false bottom in his living room couch. He added a display case and placed the mummy inside it. He then placed cushions over the case. When entertaining guests he would invite them to remove the cushions and gaze upon where they'd been sitting.
When the doctor passed on, McGinty went back on the carnival circuit. Barkers came up with a number of identities including he was a cowboy who got drunk in the Arizona desert, passed out and became mummified before he could sober up. Or, he was actually the remains of John Wilkes Booth. Arizonans even tried to open his murder case, but that went nowhere.
In 1955 he was acquired by the Ye Old Curiosity Shoppe, renamed Sylvester, partnered with a female mummy from Mexico named Sylvia and there he remains.