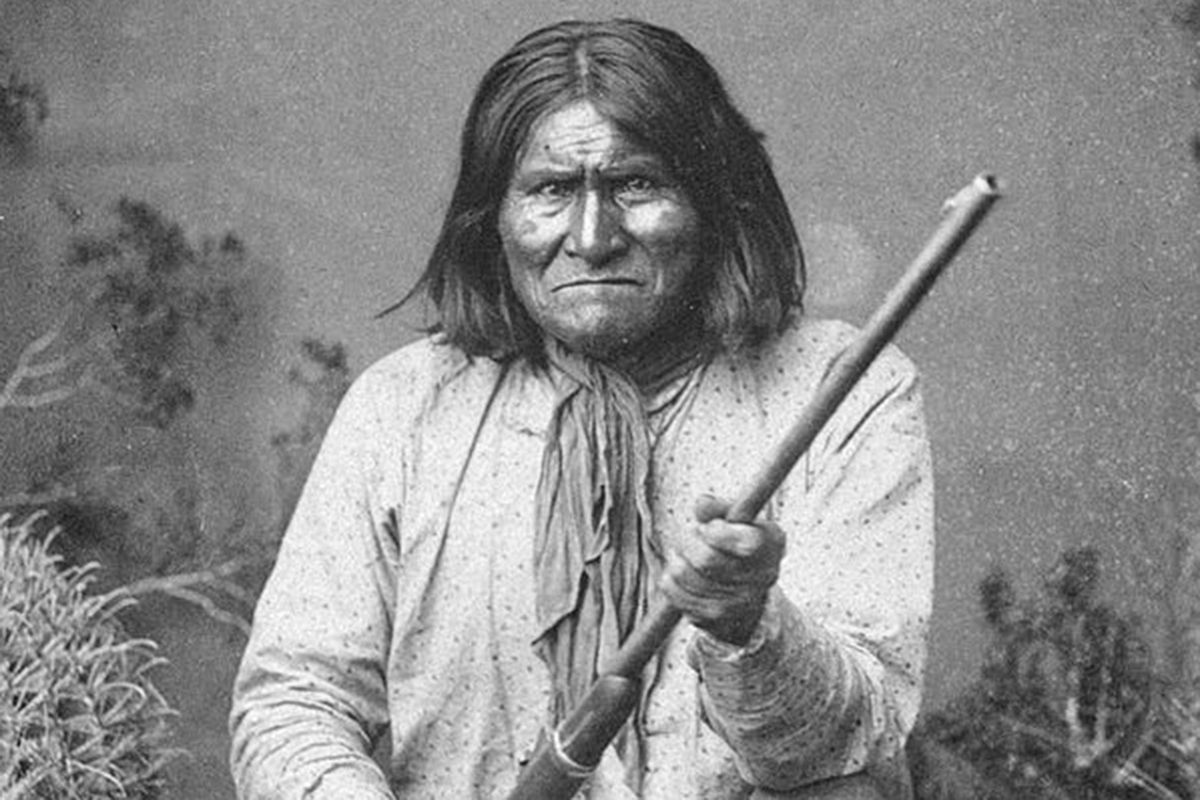 It was the waning days of the so-called Geronimo Campaign. These were the last holdouts of a long war that began in early 1861. The great chiefs, Mangas Colorados, Cochise and Victorio were gone and no other leader had risen who could being the different factions together.
In early October the bands of Geronimo, Naiche, Nana and Chihuahua slipped past the soldiers guarding the border and made their way into Mexico's Sierra Nevada. Over the next few weeks the Apache bands continued raiding the Mexican settlements.
An American force commanded by Captain Emmett Crawford, and Apache scouts had crossed into Mexico and had been in constant pursuit. Months of hard campaigning paid off on the morning of January 10th, 1886 when the scouts surprised Geronimo's camp and after a short battle the old shaman had enough and threw in the towel. He could elude the Army but the Apache scouts had found his most formidable sanctuary. He was ready to meet with General Crook to discuss surrendering.
Everything was going well and it looked like the Geronimo Campaign was coming to a successful end when early on the morning of January 11th a force of 128 Tahrahumari militia under the leadership of Major Mauricio Corredor approached. The major was known far and wide as the man who killed Victorio at Tres Castillos in 1880.
Without warning, Major Corredor and his militia opened fire on the soldiers and scouts. Crawford in full military uniform believing the firing was a misunderstanding, ordered chief of scouts Tom Horn and two officers to investigate. He followed waving a white handkerchief. They identified themselves as Americans and soon the shooting ended. The soldiers and scouts had restrained their firing causing Corredor to believe they were short on ammo. The Americans didn't know it at the time but he had treacherous intentions. The two sides met in an open area. Crawford's chief of scouts, Horn was about a hundred feet in front of the two officers.
Horn also waving a white flag, was ignored by Corredor who brushed past him and when he was just a few feet from the officers he paused and looked around nervously. Standing behind the officers on both sides were the Apache scouts. The two groups were mortal enemies. There was much "trash talk" going on between them causing the officers on both sides to call for restraint. Crawford jumped up on a tall rock and waved his white flag again. One of Corredor's "peace party" who'd been designated to shoot Crawford, aimed his rifle and fired, hitting the captain in the forehead. He would die a painful death several days later.
Corredor smiled at Horn then fired, hitting him in the arm. All the American peace party were fired upon but none of the others were hit.  Corredor tried to flee for safety but Crawford's Apache orderly, Dutchy, fired striking him in the heart. The scouts poured it on and killing nine of Corredor's treacherous ten-man "peace party." The Chiricahua Apache scouts bore most of the fighting that day and bravely held their ground. Their heroism would be told around Chiricahua campfires for many years to come.
On the morning of January 15th all the chiefs, Naiche, Chihuahua and Nana agreed to meet with General Crook to surrender in one month at a place called Canon de los Embudos. The meeting took place on March 25th, 1886.
The talks seemed to be going well until the evening of March 28th some local whiskey peddlers, fearing an end of the war would seriously hamper their business, got Geronimo and his warriors drunk and warned them they would be killed upon their arrival in Arizona. That night Geronimo broke his word and bolted once again.
The other chiefs kept their word and were taken to Fort Bowie and then on to their new home in Florida. Despite their loyalty and service, the Apache scouts were also sent to the prison camps. Their only crime was they were Chiricahua.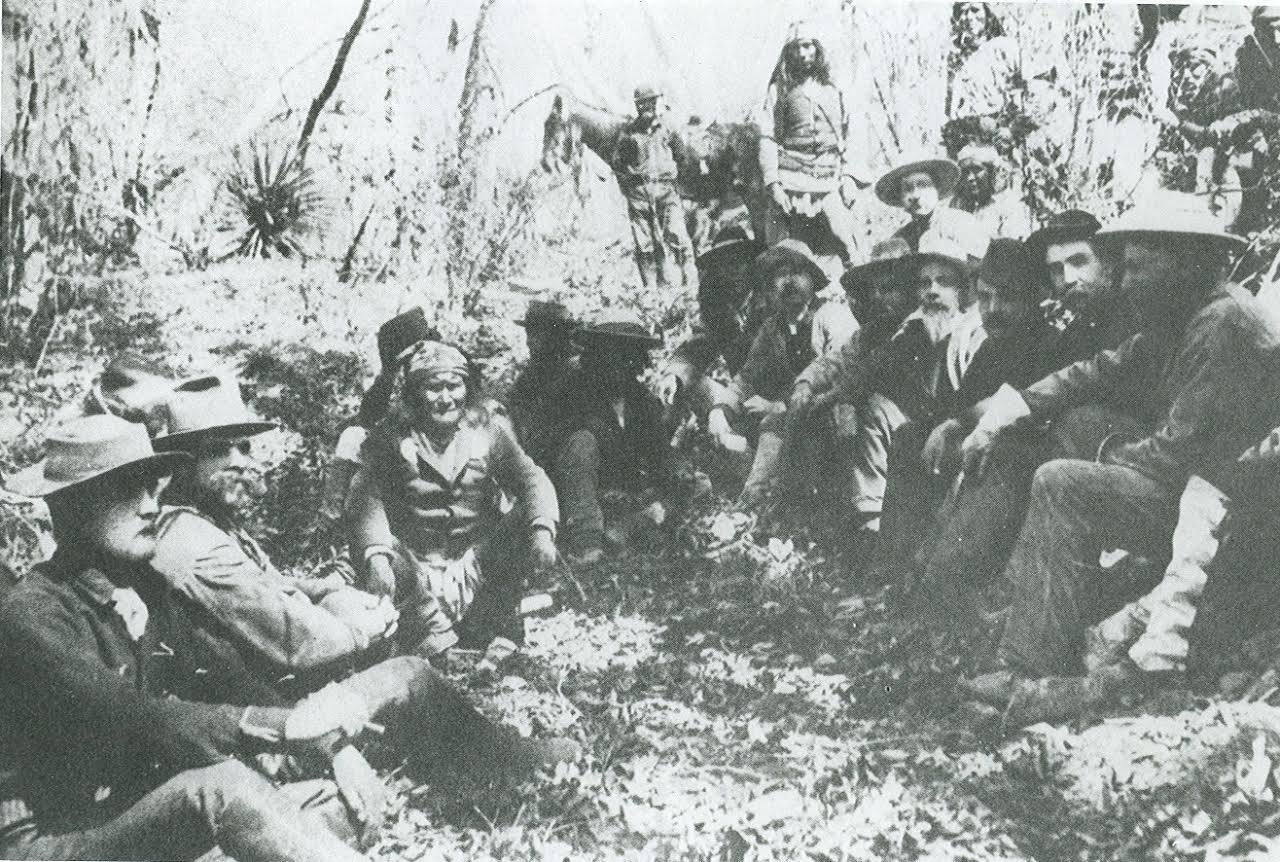 General George Crook was relieved of his command after Geronimo bolted. He was replaced by the vainglorious General Nelson Miles who continued Crook's relentless pursuit. The Geronimo Campaign continued until September 5th when the wily shaman and his small band surrendered and joined the other Chiricahua in Florida.
Geronimo went to Fort Pickens and the others to Fort Marion. For the Chiricahua this was the beginning of 27 years as prisoners of war. Florida turned out to be an unhealthy climate for the Apache. In 1888 the prisoners at Marion were sent to Mt. Vernon Barracks in Alabama. Crook continued to lobby on their behalf and a year later the unrepentant Geronimo was taken to join the others. Crook wanted them moved to Fort Sill, Oklahoma but he died on March 21st, 1890. Finally, in October, 1894, the Chiricahua were transferred to Fort Sill.
On a cold, winter night in 1909 a drunken Geronimo fell off his horse into a stream and contracted pneumonia. He died on February 17th and was buried in a cemetery near Fort Sill.
Marshall Trimble is Arizona's official historian and the Wild West History Association's vice president. His latest book is 2018's Arizona Oddities: A Land of Anomalies and Tamales. Send your question, with your city/state of residence, to marshall.trimble@scottsdalecc.edu or Ask the Marshall, P.O. Box 8008, Cave Creek, AZ 85327.