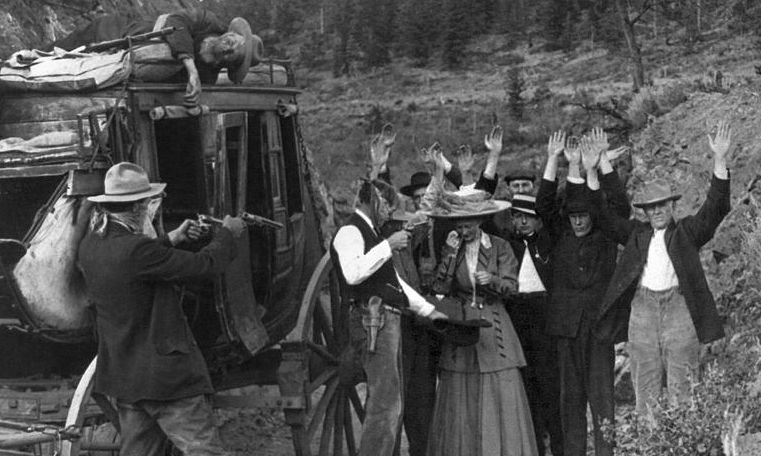 Some books claim Pearl Hart and her cohort Joe Boot held up the
last stagecoach in America in 1899 in Arizona but historians agree the
last one occurred seven years later on December 5th , 1916 just outside
Jarbidge, Nevada. A heavy snow had fallen that day and when the
horse drawn payroll wagon didn't arrive on schedule a search party
went looking and found the driver dead and some $4,000 in gold coin
missing.
Amazingly, a dog helped round up the culprits. While searching
for evidence a stray dog dug up one of the mail pouches. The miners
noticed the dog's prints matched those found at the robbery scene.
The dog was known to hang out with a notorious character with a
long criminal record named Ben Kuhl. Kuhl and two friends, Ed Beck,
Bill McGraw and were rounded up and arrested and eventually
convicted. A bloody palm print on an envelope was traced to Kuhl. It
marked the first time in American history a palm print had been used
to convict a killer. He was sentenced to death but it was later
commuted to life in prison.
The driver, Fred Searcy, might have been in on the robbery and
was murdered by Kuhl in a fight over dividing the loot.
The gold was supposed to have been buried somewhere in
Jarbidge Canyon and never found. It's considered one of the most
authentic lost treasure stories in Nevada history.
Marshall Trimble is Arizona's official historian and vice president of the Wild West History Association. His latest book is Arizona Outlaws and Lawmen; The History Press, 2015. If you have a question, write: Ask the Marshall, P.O. Box 8008, Cave Creek, AZ 85327 or email him at marshall.trimble@scottsdalecc.edu.