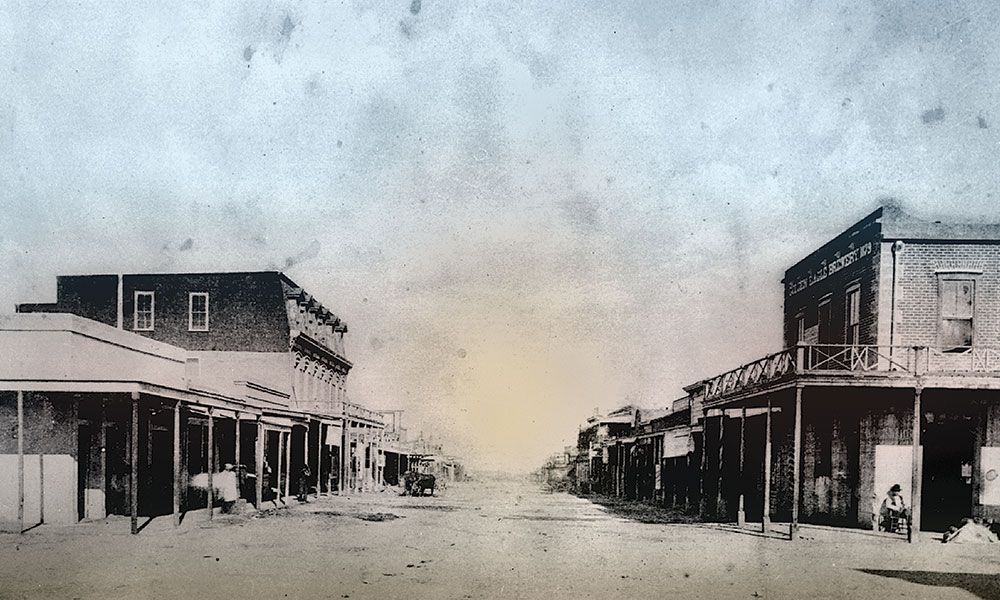 We get a kick out of those who talk about the Western myth. What myth? The frontier was as real as a sawed-off shotgun and wilder than anyone could make up.
The same goes for the towns where our unique American story unfolded.
They're still out there, working hard in the 21st century to preserve the saloons, hotels, Victorian mansions, bordellos, jails, courthouses, railroad depots and mining camps that have filled our imaginations for more than 150 years.
We salute their efforts here.
Now it's time for history lovers to pull on their boots, hop in their cars and rediscover
the Old West.
It's still out there, folks, waiting for you!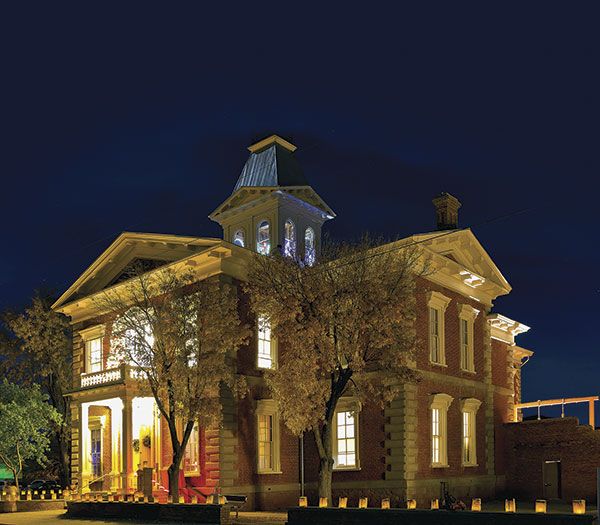 Tombstone, Arizona
Tombstone owes its fame to Wyatt Earp. But for the man himself, it was a place of broken dreams. Brother Morgan was murdered there, older brother Virgil badly wounded, and Wyatt galloped away with the law at his back.
But we all should thank history for this one-time silver boomtown, for it exemplifies what we love about the Wild West.
We happily name Tombstone our top Western town for 2019.
The 1882 Victorian courthouse, shaped like a Roman cross, has a museum full of interpretive exhibits and a courtroom furnished in frontier style.
The replica gallows are especially popular. Five hangings occurred there between 1884 and 1900. "People come to Tombstone for a gunfight, why not a hanging?" says Erika Way, manager at Tombstone Courthouse State Historic Park.
Don't miss the O.K. Corral Historic Complex, which hosts three daily re-enactments of the gunfight. The Bird Cage Theatre, wickedly entertaining in the 1880s, has many original furnishings, including a Faro table and an 1882 painting of an interestingly half-dressed dancer named Fatima.
The 1879 Crystal Palace Saloon still serves good whiskey and tolerable water. At the Tombstone Epitaph office, read the story of the 1881 gunfight and see how the paper was printed on the original Washington hand press.
Visitors to Boothill Graveyard will enjoy reading the wooden markers of historic residents as well as humorous markers of fictitious characters put up by city leaders in the 1930s such as:
"Here lies George Johnson, hanged by mistake in 1882. He was right, we was wrong, but we strung him up and now he's gone."
To see Tombstone's civilized side, visit St. Paul's Episcopal Church. The stately 1882 Gothic Revival structure is the oldest Protestant church building in Arizona.
Chamber President Susan Wallace touts numerous annual events, including historic home tours, and Old Time Christmas at the Courthouse Luminarias.
Miner Ed Schieffelin ignored a warning that he'd only find his tombstone on land known, in 1877, as Goose Flats. Instead, he found deep veins of silver.
Today, history-minded tourists travel in his footsteps to Tombstone and find a fortune of a different kind.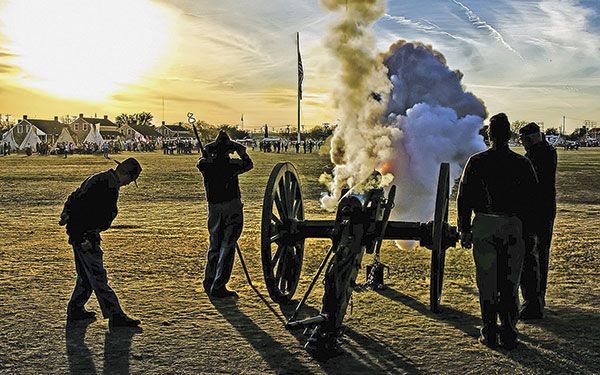 San Angelo, Texas
San Angelo offers visitors lots of Western-themed fun at Fort Concho National Historic Landmark. Founded in 1867, the fort had forty buildings and covered some 1,600 acres.
Today, the fort has 23 original and restored structures, and offers tours to see period furnishings, artillery, exhibits and artifacts from frontier life.
San Angelo's Western heritage comes alive during National Cowboy Day, held at the fort in July, and through downtown's historic murals. Using your cell phone, take a guided tour to see these beautiful pieces depicting cowboy, ranching and railroad life.
Visitors love strolling past flowing water on the Concho River Walk, which loops downtown. A dizzying light display brightens the river walk at Christmas.
See first-class paintings, ceramics and sculptures at the San Angelo Museum of Fine Arts, the building with the distinctive covered wagon roof.
The San Angelo Stock and Rodeo Show is February's bust-out party, ongoing since 1932. The folks who put it on also host a Cinch Roping Fiesta in October, a jackpot livestock show in November and a quarter horse show in January.
Train buffs should stop at the Santa Fe Depot and Railway Museum. In June the city will celebrate the 150th anniversary of the Buffalo Soldiers stationed at Fort Concho.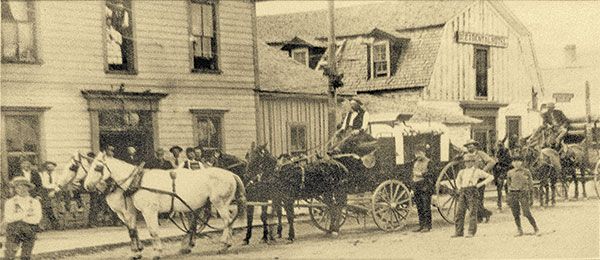 Buffalo, Wyoming
Any town of 4,800 souls that draws close to 200,000 tourists a year to the remote Big Horn Mountains has something going for it. Buffalo certainly does.
The settlement is often considered the birthplace of the Western novel, thanks to Owen Wister, who used what he saw there in his groundbreaking 1902 book, The Virginian.
Wister reportedly spent time at the Occidental Hotel. Founded in 1880, it hosted such luminaries as Buffalo Bill Cody, Butch and Sundance, and Tom Horn.
The hotel, celebrating its 140th year, has been beautifully restored. "When you call me that, smile," was The Virginian's most famous line, and we do.
The Jim Gatchell Memorial Museum, built from the collection of a history-loving pharmacist, keeps Wyoming's story alive through its expansive collections and exhibits.
The museum's Living History Days offers a Wild West show, Basque dancers, blacksmith demonstrations and exhibitions of gold-panning and tomahawk-throwing.
The Johnson County Cattle War marks its 127th anniversary this year. See the barn at TD Ranch where the factions fought a seminal battle.
Walk alongside modern-day cowboys, ranchers and outfitters in Buffalo's charming downtown. See the 1884 Johnson County Courthouse, built in the Italianate style and listed on the National Register of Historic Places.
Founded in 1879, Buffalo is planning a September Heritage Festival to celebrate its 140th anniversary.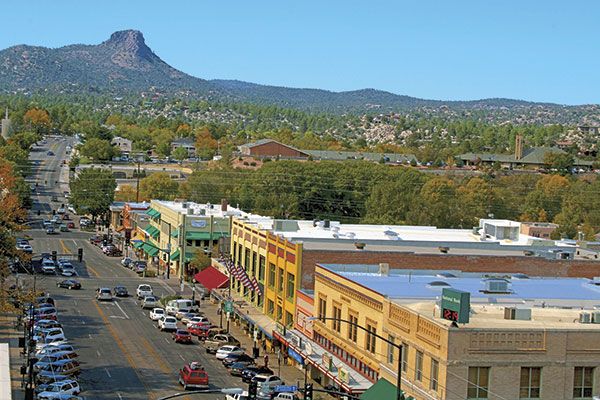 Prescott, Arizona
Set in the juniper country of central Arizona, Prescott has the unmistakable look of a town that understands its Western history and showcases it.
Courthouse Square in downtown sets the tone with a sidewalk timeline featuring prominent dates in the region's development. It mixes nicely with the historical plaques along Whiskey Row across the street.
That famous strip of saloons includes the Palace, which adorns its walls with wonderful historical photos. Doc Holliday gambled there in 1879, prior to leaving for Tombstone.
At Sharlot Hall Museum, see Arizona Territory's first governor's residence, a log cabin restored to its original look. The Smoki Museum showcases American Indian art and culture in a pueblo-style building, built in 1935 of native stone and wood.
The Fort Whipple Museum tells of frontier life through its vintage 1909 military officers' quarters, and artifacts such as Army weaponry, photographs and military maps.
The Phippen Museum, headquarters for quality Western art, has 17 bronze sculptures and paintings by Solon Borglum.
To combine old and new, stay at the 1927 Hassayampa Inn. It offers elegantly styled rooms with antique furnishings and an art deco lobby featuring hand-painted ceiling beams, wall murals and stained-glass doors and windows.
Prescott's first rodeo took place in 1888 and Prescott Frontier Days rodeo still turns the town upside down with eight days of wild fun over the Fourth of July.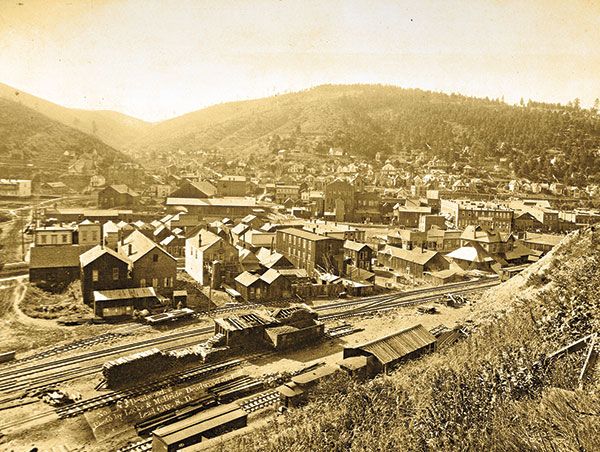 Deadwood, South Dakota
The little town of 1,300, named for a gulch full of dead trees where miners found gold, gives Western history travelers all they could ask for.
The Days of '76 Rodeo began in 1924 and still attracts thousands of cowboys and their fans for five days of fun, including a parade down Main Street.
The theme continues at Days of '76 Museum, with its collection of more than 50 horse-drawn wagons, stagecoaches and carriages. The firearms exhibit features nearly 100 long arms and 20 handguns, each accompanied by background information and photographs.
Visit Historic Adams House, a Queen Anne-style home built in 1892, to see its beautiful oak interiors and hand-painted canvas wall coverings.
Wild Bill Hickok met his end in Deadwood and is buried at Mount Moriah Cemetery, right next to another legend, Calamity Jane.
Wild Bill Days celebrates the long-haired lawman with a raucous party on Main Street, featuring live music, great food and demonstrations of gold-panning.
Book a room or stop for a drink at the nicely restored Bullock Hotel, built in 1894. Don't miss The Trial of Jack McCall, re-created regularly by the talented performing group, Deadwood Alive.
Outdoors lovers should drive to Spearfish Canyon, one of the most beautiful spots anywhere. Scenes from Dances with Wolves were filmed there.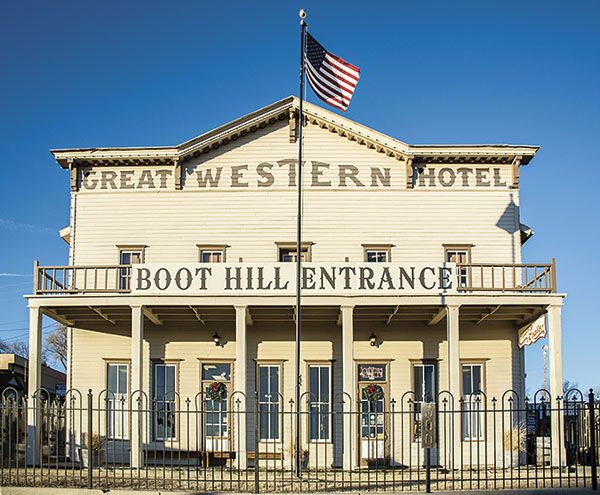 Dodge City, Kansas
Wyatt Earp and Bat Masterson walked the streets of Dodge when it was a whiskey-soaked cattle town, a hell on the plains. Now it's just plain fun.
Re-imagine those times during Dodge City Days, a ten-day festival that includes a PRCA rodeo, Western Art show, gunfights and more. Watch as cowboys drive longhorn cattle down Wyatt Earp Boulevard to the rodeo arena. Yahoo!
Boothill Museum, named one of the eight wonders of Kansas, is a first-class repository of Old West artifacts and exhibits. Its Native American exhibit includes moccasins and a peace pipe, as well as photos of chiefs and buffalo herds.
The Trail of Fame Walking Tour takes visitors past statues of Wyatt Earp, Doc Holliday and El Capitan, a huge bronze of a Texas Longhorn. Visitors can still get a snort at the famous Long Branch Saloon on Front Street, which has been reconstructed to resemble its 1876 look.
The tour passes 31 medallions, commemorating a real or fictional person, such as actors from TV's Gunsmoke, which ran from 1955 to 1975 on CBS and did much to reintroduce Dodge to America.
The town's 1898 Santa Fe Depot is the largest still standing in Kansas. It has been renovated to its original Harvey House days. Tour the Mueller Schmidt House, built from area limestone in 1881 and Dodge's oldest building still in its original location.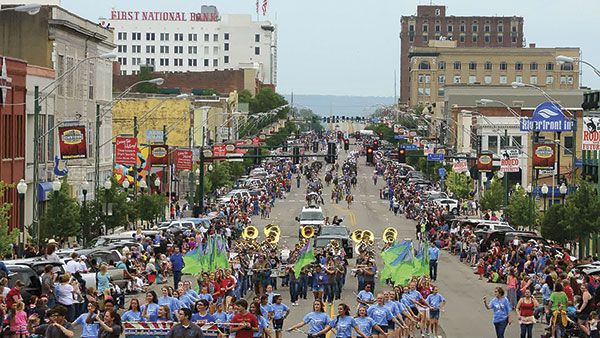 Fort Smith, Arkansas
This town on the Arkansas River was a gateway for frontier-bound travelers of true grit. That same character shows today in Fort Smith's determination to showcase its place in Old West history.
The Fort Smith National Historic Site tells of legendary federal Judge Isaac Parker. See a re-creation of the courtroom from which the hanging judge sent 79 men to the gallows between 1875 and 1896.
The Clayton House, an ornate mansion owned by Parker's prosecuting attorney, has 19th-century furnishings and the original coal-burning fireplaces. The Fort Smith Museum of History showcases 40,000 artifacts documenting the region's development, beginning with a fort founded in 1817.
Stop at the town visitors' center, located in a former bordello. Tours give visitors a peek at the girls' bedrooms, decorated as they were when things were jumping.
Take a living history walking tour narrated by actors portraying Western characters, or a trolley tour to hear true stories of crime and villainy. Try not to be frightened!
Big news comes to Fort Smith in the fall with the opening of the long-awaited U.S. Marshals Museum. The 53,000-square-foot museum, built in a modified star shape, like the badge, will house five large galleries and numerous exhibits.
Learn about Bass Reeves, an escaped slave who became a crack detective. He arrested thousands of dangerous men as a deputy U.S. Marshal.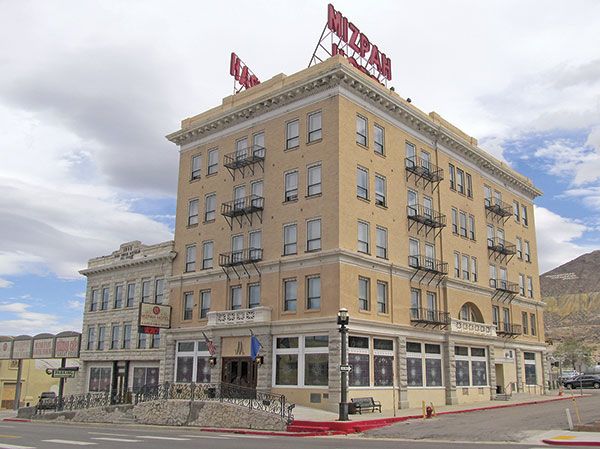 Tonopah, Nevada
If the story is true, this town was founded by happy accident in 1900 when Jim Butler, hunting for his burro, found an outcropping that eventually produced five million tons of silver ore.
Halfway between Las Vegas and Reno, Tonopah remembers its founder every year with its Jim Butler Days Celebration, a week of fun that includes a parade, gold-panning, live music and a street dance.
At the Nevada State Mining Championships, men compete in events like single and double jack-drilling,  just as early miners did.
The 113-acre Tonopah Historic Mining Park is an outdoor museum that encompasses Butler's original claims. Go underground in the Burro Tunnel to a viewing cage over a 500-foot stope.
Voted best rural museum in Nevada five years running, the park has a gift shop, an extensive mineral collection and a short film on Tonopah's history.
For a meal or a drink, stop at the Mizpah Hotel, the height of luxury at its opening in 1907. The luxury is back, thanks to a renovation that includes period appointments and gaming in the lobby.
The Central Nevada Museum has an Old West town with miners' cabins, a saloon and blacksmith shop. Walk through the Old Tonopah Cemetery with a map that tells about the 300 souls buried there.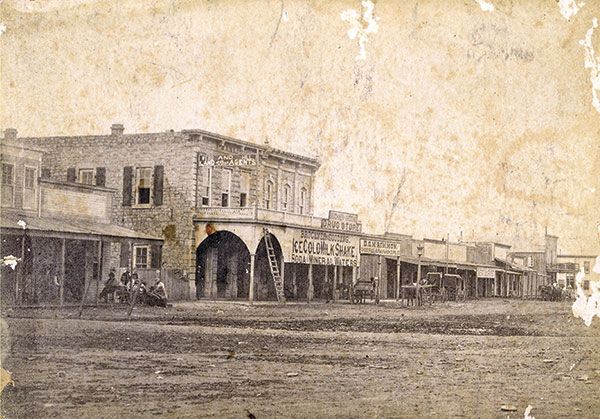 Albany, Texas
History keeps a strong hold on this town of 2,000 in north Texas. Its earliest public buildings—a stone jail and the stately Shackleford County Courthouse—still stand.
Built of native limestone in 1883, the courthouse has been painstakingly restored, down to the pattern of the courtroom carpeting that matches the original carpet from 1883.
The stone jail is now the Old Jail Art Center featuring more than 2,000 drawings, prints and paintings by Thomas Hart Benton and many others. The center also showcases the work of young Texas artists.
Tour the ruins of old Fort Griffin, established in 1867 to defend the southern plains, at Fort Griffin State Historic Site. These include a mess hall, barracks, first sergeant's quarters and powder magazine. The site is home to the state's official Longhorn herd.
Every June, the town celebrates Texas's story through the Fort Griffin Fandangle. With singing, dancing and humor in an outdoor Prairie Theatre setting, some 250 performers use covered wagons and other props to re-create scenes from the frontier's settlement.
See historic homes on a downtown walking tour and vintage cars at the Flying A Car Museum. The Texas Forts Trail runs through Albany on its way from Fort Griffin to Fort Phantom Hill.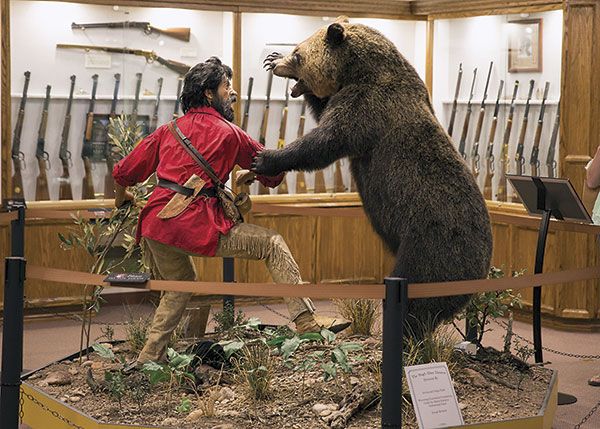 Pinedale, Wyoming
No place in the West is more closely associated with mountain men than this town beneath the Wind River Mountains. The Green River Rendezvous, held over four days in July, commemorates the days when explorers, fur trappers and Indians met near here to trade, barter and socialize.
The streets of Pinedale fill with live music, food from a hundred vendors and parades. Visitors love watching nightly rodeos from the bed of their pickups.
The Museum of the Mountain Man tells of the fur trade era through items like Jim Bridger's rifle, a Winchester firearms display, and a Shoshone bow made from the horns of a bighorn sheep.
Walk Pinedale's charming historic district to the Cowboy Shop, opened in 1947. Cowboys from all over Wyoming still buy supplies there.
At the Sommers Homestead Living History Museum, walk through a restored, 100-year-old log house, complete with items from early pioneer families. The Green River Valley Museum displays prehistoric Indian artifacts, ranch brands, old photos, historic coaches and more.
Hike a walking trail through a 100-acre park located where the Lander Trail, once a major route to California and Oregon, crossed the New Fork River. See the cottonwood grove where emigrants rested and read interpretive signs describing the dangerous journey.
Towns to Know
Abilene, Texas
Visit Frontier Texas! in the historic downtown. The museum uses interactive technology to reimagine the frontier. Learn how the Comanches mastered fighting on horseback to dominate huge swaths of land. The Spanish called the region Comancheria—the Comanche Empire.
Cedar City, Utah
At Frontier Homestead State Park, climb aboard a Union Pacific caboose or into a 250,000-pound steam shovel used in the early days of iron mining in southern Utah. See stagecoaches and wagons, peruse Western art exhibits, or tour several preserved historic structures.
Cheyenne, Wyoming
The renowned Nelson Museum of the West has exhibits on firearms, outlaws and lawmen, cowboys, cattle barons, the art of Pueblo Indians and more. In the art of the Plain Indians exhibit, see a Sioux eagle feather headdress with a beaded browband.
El Paso, Texas
The El Paso Museum of History has a digital wall with touch-sensitive TV screens that show interactive, three-dimensional images and videos of the history of the U.S.-Mexico border region. The Concordia Cemetery holds the grave of the gunfighter John Wesley Hardin.
Eureka, Nevada
The magnificent Eureka Opera House hosted its first event in late 1880, the same year the 50-foot-high, red brick Eureka Courthouse was completed. The Eureka Sentinel Museum, housed in the 1879 Eureka Sentinel newspaper building, has a complete pressroom from the 1800s.
Georgetown, Colorado
Walk a thousand feet into a mountain at the still-active Capital Prize Gold Mine to see gold veins and tunnels up close. Visitors can retrieve a gold specimen from the mine and break it open to see the gold and silver.
Wickenburg, Arizona
The Desert Caballeros Western Museum is a jewel in the desert, featuring the best displays of Western art anywhere. Tour Vulture Mine, once the most successful gold mine in Arizona Territory. Abandoned Vulture City, established in 1866, boasted thousands of residents.
Towns to Watch
Ada, Oklahoma
The Pontotoc County Courthouse was built in 1926 and is on the National Register. Ada is headquarters of the Chickasaw Nation.
Coloma, California
Relive James Marshall's historic 1848 gold discovery on the South Fork of the American River at Marshal Gold Discovery State Historic Park.
Carson City, Nevada
Old West history is on every corner of the state capital of Nevada; don't miss a tour of the Nevada State Museum, Nevada State Railroad Museum and the historic State Capitol.
Jackson, Wyoming
The Wort Hotel, built in 1941, has thousands of Morgan silver dollars inlaid throughout the building, including in the original Silver Dollar Bar.
Miles City, Montana
At the Range Riders Museum, see exhibits about Indians and soldiers, including Gen. Nelson Miles, for whom the town is named.
Oatman, Arizona
Watch actors stage Western shootouts and feed the wild burros that roam the board sidewalks of this former gold town.
Scottsbluff/Gering, Nebraska
Scotts Bluff National Monument commemorates the journey of settlers on the Oregon, California and Mormon trails. The 800-foot bluff above the North Platte River served as a landmark.
The Dalles, Oregon
The Columbia Gorge Discovery Center & Museum has a unique exhibit on the why and how of the 30 tons of cargo carried by explorers Lewis and Clark.
Vega, Texas
The Milburn-Price Museum displays items detailing the history of Oldham County, including a 22-foot-long, 3,000-pound branding iron, the world's largest.
Wichita, Kansas
See the iconic Keeper of the Plains sculpture at the confluence of the Big and Little Arkansas rivers. It stands 44-foot high and weighs five tons.
Where History Lives
Abilene, Kansas
The Dwight D. Eisenhower Presidential Library & Museum, a first-class repository of all things Ike, has been named one of the eight wonders of Kansas.
Bandera, Texas
See cowboy-themed displays at Town Mountain Miniatures Museum. The so-called Cowboy Capital of the World also hosts the Frontier Times Museum, loaded with Old West and pioneer artifacts.
Cave Creek, Arizona
Take in the Wednesday and Friday bull-riding sessions at the famous Buffalo Chip Saloon, or take off your hat and enjoy a steak dinner.
Hill City, South Dakota
The South Dakota State Railroad Museum, located next to the 1880 Black Hills Central Railroad depot, uses interactive exhibits and displays to explain the area's railroad history.
Grass Valley, California
Set at one of California's richest gold mines, Empire Mine State Historic Park oversees the mine's buildings, the owner's home and the entrance to 367 miles of abandoned shafts.
Kearney, Missouri
The Kearney Historic Museum has the safe in which Frank James's ashes were stored at Kearney Trust Bank, from 1915 until his wife's death in 1944.
Laramie, Wyoming
The Wyoming Territorial Prison State Historic Park has restored buildings, exhibits and a gift shop. Built in 1872, the prison's most famous inmate was Butch Cassidy.
Las Vegas, New Mexico
The City of Las Vegas Museum has a collection of Rough Rider memorabilia from the Teddy Roosevelt's Cuba campaign of 1898, during the Spanish-American War.
Medicine Lodge, Kansas
At the Medicine Lodge Stockade Museum, see an 1877 log cabin and the peace pipe used in the 1867 treaty between the government and the southern Plains tribes.
Northfield, Minnesota
Step inside the same First National Bank building that Jesse James and his gang robbed on Sept. 7, 1876. See the actual bank vault behind a replica teller's cage.
Pecos, Texas
The West of the Pecos Museum, housed in the 1904 Orient Hotel, has period items in the lobby, the original 1896 saloon and a second-floor saddle room.
Placerville, California
See a five-stamp mill used to crush rock and other items from Placerville's fabulous gold rush days, all at the El Dorado County Historical Museum.
St. Joseph, Missouri
An epicenter of Old West frontier history,  don't miss St. Joseph's historic district's Pony Express Museum, the Patee House Museum, Jesse James Home Museum and the Glore Psychiatric Museum.
Taos, New Mexico
The Kit Carson Home & Museum holds the famed explorer's Civil War saber. See his grave at the Kit Carson Cemetery and that of his wife, Josepha.
Virginia City, Montana
The former capital of Montana had 10,000 residents in 1864. It now has 132, but the fun hasn't stopped. Don't miss the Virginia City Players at the opera house.
Virginia City, Nevada
Piper's Opera House, first built in 1863, has hosted many of the West's most famous acts, including the Jersey Lily, Lillie Langtry. John Philip Sousa also performed there.
Leo W. Banks is a writer based in Tucson. His mystery, Double Wide, won two
Spur Awards from the Western Writers of America for Best First Novel and Best Western Contemporary Novel.