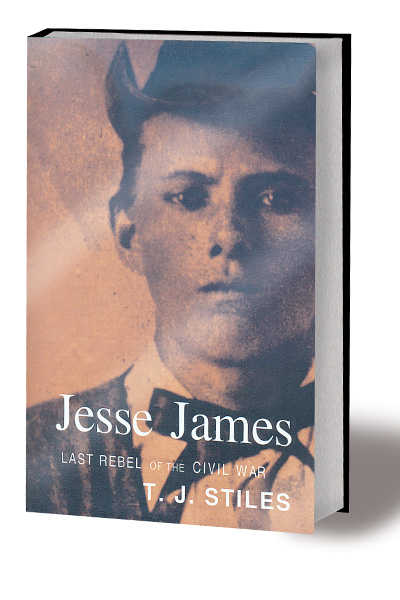 The new biography Jesse James: Last Rebel of the Civil War, recently published by Alfred A. Knoph, will no doubt cause some waves. Author T.J. Stiles makes a compelling case: "had Jesse James existed a century later, he would have been called a terrorist." Stiles, originally from St. Cloud, Minnesota, stops short, however, of aligning the James Gang with Al Queda.
Stiles clarifies, "The term [terrorist] hardly fits with the traditional image of him as a Wild West outlaw, yippin' and yellin' and shooting it out with the county sheriff. But he saw himself as a Southerner, a Confederate, a vindicator of the rebel cause, and so he must be seen in the context of Southern 'outlaws'—particularly the Klan and other highly political paramilitary forces."
Stiles reasons: "Was [Jesse] a criminal? Yes. Was he in it for the money? Yes. Did he choose all his targets for political effect? No. He cannot be confused with the Red Brigades, the Tamil Tigers, Osama bin Laden, or other groups that now shape our image of terrorism. But he was a political partisan in a hotly partisan era, and he eagerly offered himself up as a polarizing symbol of the Confederate project for postwar Missouri."
While some may argue against the pejorative "terrorist" tag, everyone agrees that the James and Younger brothers were "guerrillas." On that point, Stiles convincingly writes, "they had no lines, no objectives, no strategy, no command structure. Theirs was purely a tactical war, a war to inflict pain, to punish, to kill and destroy. . . . Jesse James entered a race to find and kill as many enemies as he could."
While there are trifle details that can be argued (Stiles believes Frank, Jesse and Charlie Pitts went into the Northfield bank—see Classic Gunfights, Aug/Sept 2002), the book is a fresh look at an old subject.
Stiles modestly makes the claim, "This book cannot make the dead man speak, but it can take all the masks away, pull a syllable or two from his lips, and set them amid the chorus of his contemporaries." In that regard, his book handily succeeds.
…
What Others Are Saying…
Clay Reynolds (a professor at the University of Texas)  wrote in the Houston Chronicle that Stiles simply tried to "shoehorn" Jesse James into his political theory that the outlaw was really a Confederate terrorist caught up in the turbulence of his times. "But his argument sinks under the weight of strained reasoning supported mostly by supposition and conjecture." Reynolds criticizes the author for his "scholarly naivete" and for overusing cheating words like "apparently" and "perhaps," which Reynolds calls "the pockmark of prose." Readers wanting to learn something new about Jesse James will be "disappointed."
Richard E. Nicholls wrote in the New York Times that the book "is so carefully researched, persuasive and illuminating that it is likely to reshape permanently our understanding of its subject's life and times. Stiles has a large and very dramatic story to tell, and he does so with energy and conviction. But James often seems to get lost in a narrative crowded with outsize figures and events . . . . James himself remains a violent enigma."
John Koblas (author of Faithful Unto Death among other Jesse James books) stated, "Mr. Stiles has produced a new volume destined to stand beside those of Ted Yeatman, Marley Brant, and Dr. Settle. While I do not agree with his statement regarding Jesse's political status, . . . with his placing Jesse inside the Northfield Bank instead of Frank, and his contention that the gang was never in Mankato prior to the robbery, I must admit the author has done his homework."
Paul Saeli (an author who is writing a book on guerrilla and bandit George Shepherd) stated, "What bugs me is his coverage of the Huntington, West Virginia heist. For starters, it's much too short."
Marley Brant (author of The Outlaw Youngers and Jesse James: The Man and the Myth) stated, "Good thing the people who made American Outlaw didn't have this to work in. Imagine."
Ted Yeatman (guest editor of the True West Jesse James issue, Aug/Sept 2002, and author of Frank and Jesse James: The Story Behind the Legend) stated, "Stiles is trying to unmask popular history as 'scholarly history.' His presumption to be better than Dr. Settle is a matter that galls me. Stiles has only a Masters degree in history while Settle had a Ph.d."
What do you think?