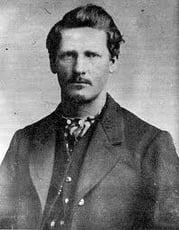 Earp and the city money.
Wyatt Earp's time as a Wichita, Kansas policeman was short and not so sweet. Pinning on the star in April 1875, he was let go a year later after beating up a political opponent. He soon left for Dodge City—but he also left behind some legal problems. Earp was accused of keeping some city fees for himself; he had faced similar charges in Lamar, Missouri a few years earlier.
It's not clear what happened in the latter case. It's likely that officials just let the matter drop.