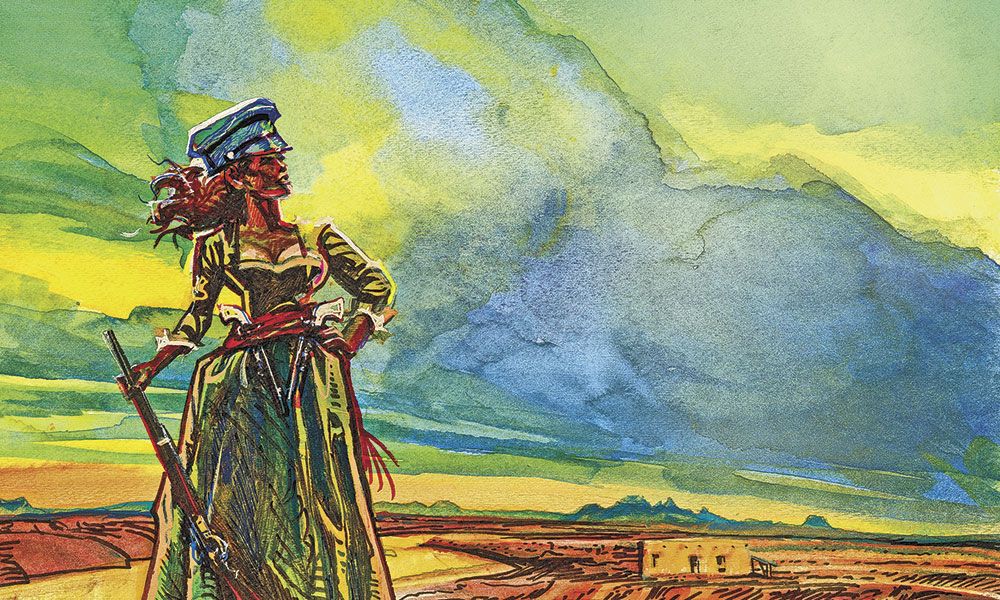 Western roundup of events where you can experience the Old West this October.
ADVENTURE
Gold Rush Bandits Autumn Train Robbery
Elgin, OR, October 7 & 14: Bring the kids to experience a staged train robbery, while you enjoy the fall colors, on this Eagle Cap Train ride.
541-963-1001 • EagleCapTrainRides.com
Fall Photographer's Weekend 
Baker City, OR, October 14-15: Photography and history fans take a ride on a vintage steam locomotive to capture the fall scenery.
541-894-2268 • SumpterValleyRailroad.org
Georgetown Loop Railroad Oktoberfest
Georgetown, CO, Weekends October 14-29: Chug away on a scenic train trip that offers microbrew beer tasting for adults and root beer for kids.
888-456-6777 • GeorgetownLoopRR.com
ART SHOWS
Western Trappings on the Llano 
Llano, TX, October 13-28: Art lovers convene for this celebration of cowboy gear and Western art at the Llano County Historical Museum.
512-557-2229 • WesternTrappings.com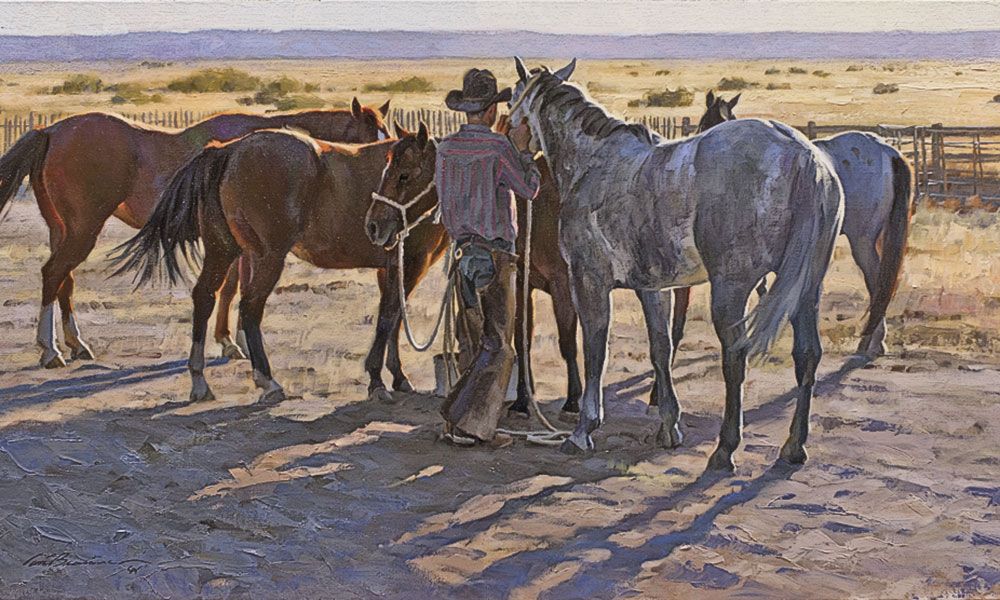 Cowboy Crossings
Oklahoma City, OK, October 7-11: Discover fine art by two dozen cowboy artists who celebrate the West through paintings and sculptures.
405-478-2250 • NationalCowboyMuseum.org
Fort Concho's Plein Air Art Show
San Angelo, TX, October 26-29: The San Angelo Museum of Fine Arts hosts 30 nationally and internationally recognized plein air artists who paint, exhibit and sell their artworks.
325-481-2646 •  FortConcho.com
AUCTION
Cowboy & American Indian Artifacts Auction
Ann Arbor, MI, Sept. 29-Oct. 1: Bid on cowboy and American Indian collectibles, including artifacts collected by Brad and Mary Watts.
951-453-2415 • ShowtimeAuctions.com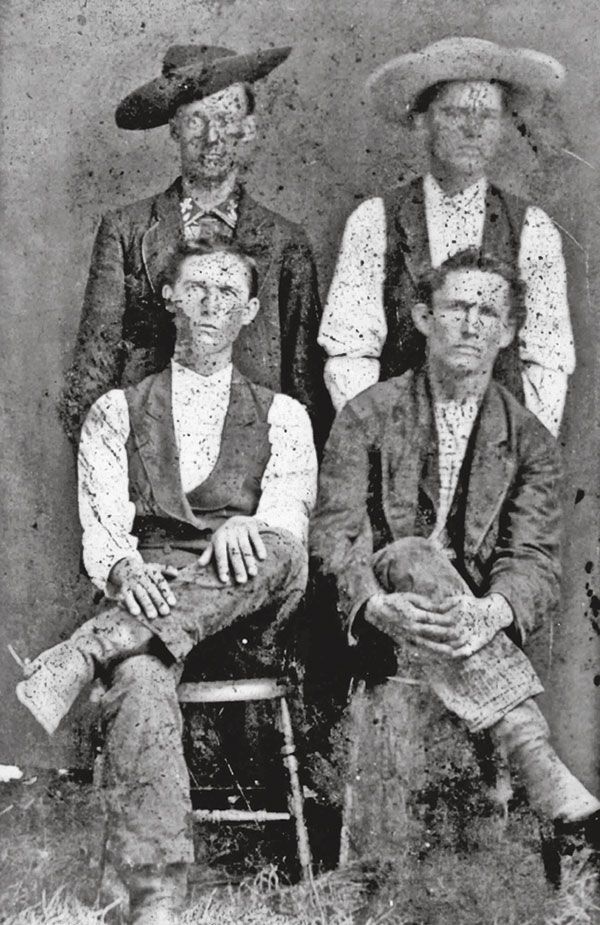 Billy the Kid Auction
Online, October 6-16: Bid on antiques from the Old Fort Sumner Museum.
806-376-1121 • AuctionSouthwest.com
FILM FESTIVALS
Lone Pine Film Festival
Lone Pine, CA, October 6-8: Held since 1989, this Western film festival offers movie site tours, Western movie screenings and celebrity guests.
760-876-9909 • LonePineFilmFestival.org
GUN SHOW
Texas Gun Collectors Assn. Show
Waco, TX, October 20-22: Held at A&S Antique Auction Co., this collectors showcase offers historical firearms and edged weapons.
210-323-9519 • TGCA.org
HERITAGE FESTIVALS
Hotel De Paris Museum Tours
Georgetown, CO, Oct. 1-Dec. 11: Experience the showplace hotel where Georgetown's silver and gold millionaires slept and dined since 1875.
303-569-2311 • HotelDeParisMuseum.org
The Great Western Festival
Yuma, AZ, October 13-14:Head to the Colorado River State Historic Park museum to learn the true adventures of a frontier Wonder Woman and Yuma's first citizen, Sarah "Great Western" Bowman, told in both story and artwork by True West's Executive Editor Bob Boze Bell and Western historian Paul Hutton.
928-376-0100 • VisitYuma.com
Trailing of the Sheep Festival
Ketchum/Hailey, ID, October 4-8: Celebrates the colorful history of sheep ranchers and herders with a sheep parade, lamb feast and cowboy music.
208-720-0585 • TrailingOfTheSheep.org
Rex Allen Days
Willcox, AZ, October 5-8: Held since 1951, the singing cowboy's hometown rodeo also boasts a parade, tractor pulls, a carnival and music.
520-384-4626 • RexAllenDays.org
Oktoberfest
Fargo, ND, October 6-7: Make a toast to this 1871 steamboat and railroad town in this festival that offers a pub crawl and wiener dog races.
701-237-4500 • NDTourism.com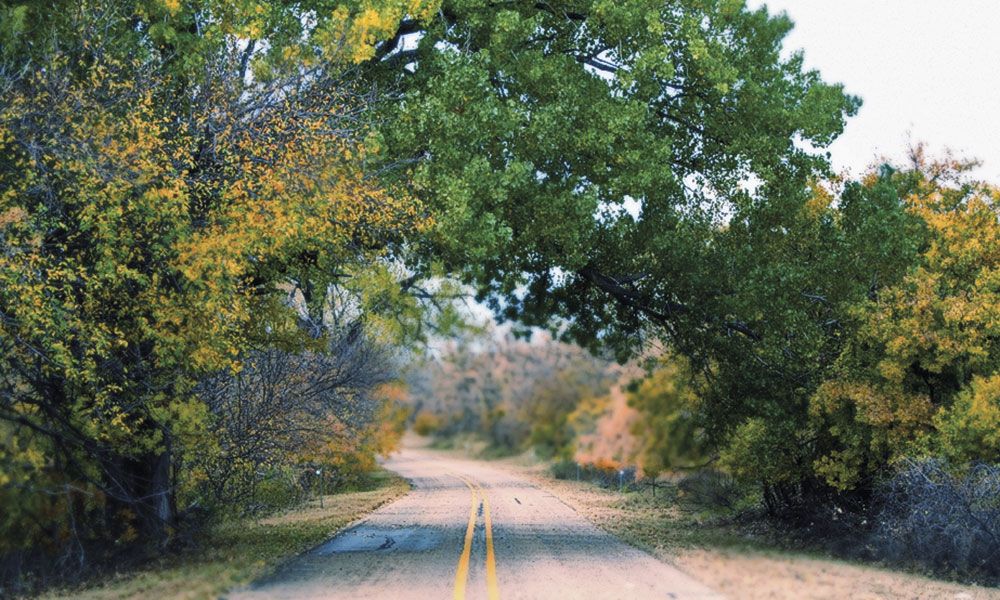 Texas Panhandle Fall Foliage Tour
Canadian, TX, October 21-22: Canadian's river trails are older than recorded history,  and you can experience their beauty in an autumn tour, along with a quilt show.
806-323-6548 • RiverValleyMuseum.org
Fall for History
Wallace, ID, October 6-8: Take guided tours of the 1884 silver mining town's historic mansions, churches, mining railroad and bordello museums.
208-753-7151 • WallaceIdahoChamber.com
Albuquerque International Balloon Fiesta
Albuquerque, NM, October 7-15: Festivalgoers walk among hundreds of balloons and take in the Special Shape Rodeo and night-time Balloon Glow.
505-821-1000 • BalloonFiesta.com
Oktoberfest Pendleton
Pendleton, OR, October 14: Craft beer lovers head to this 1851 commercial center to take in German food, live music and family-friendly activities.
541-276-7411 • PendletonChamber.com
Walk Through History
El Paso, TX, October 15: Walk through the 1872 cemetery to learn history of John Wesley Hardin, Buffalo Soldiers and other permanent residents.
915-842-8200 • ConcordiaCemetery.org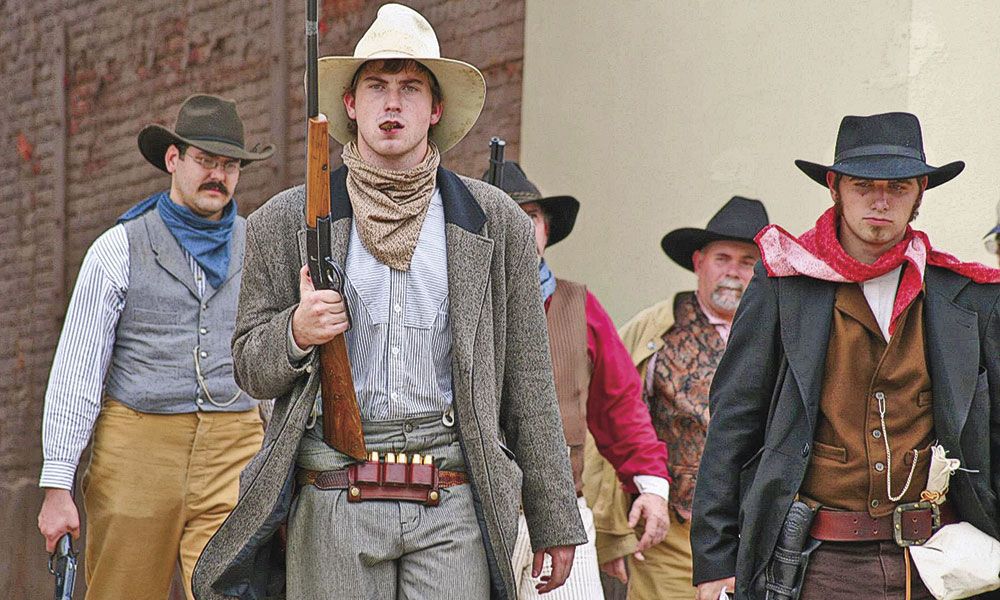 Dalton Defender Days 125th Anniversary
Coffeyville, KS, October 5-8: Re-enactment celebrates the 125th anniversary of the 1892 bank robbery that ended with the deaths of four members of the outlaw Dalton Gang.
800-626-3357 • Coffeyville.com 
Llano River Chuckwagon Cook-Off
Llano, TX, October 19-21: Head to the banks of the Llano River for a traditional chuckwagon cook-off, plus a heritage festival and cowboy church.
325-247-5354 • LlanoChuckwagonCookOff.com
Helldorado Days
Tombstone, AZ, October 20-22: Tombstone's oldest festival venerates the 1880s lifestyle with gunfight re-enactments, music, dancing and a parade.
520-266-5266 • TombstoneHelldoradoDays.com
Art in Architecture Walking Tour
Amarillo, TX, October 21: Discover the people who made Amarillo great in Dr. Amy Von Lintel's lecture on city's architecture and history, from 1890-1940.
806-651-2244 • PanhandlePlains.org
Cedar Livestock Heritage Festival
Cedar City, UT, October 26-29: Honor the city's farming heritage with a sheep parade, tractor pull and Dutch oven cook-off.
405-586-8132 • CedarLivestockFest.com
Kerr County Fair
Kerrville, TX, October 27-29: Head to this 1857 Texas Hill Country town for a prospect show, cook-off, bull rides, downtown parade and dances.
830-257-6833 • KerrCountyFair.com
Bridging the Chisholm Trail through Indian Territory
Kingfisher, OK, Oct. 31-Nov. 4: Exhibits the history of the Chisholm Trail as it relates to Indian Territory and what is now north-central Oklahoma.
405-375-5176 • CTOKMuseum.org
MUSIC FESTIVALS
Prescott's Folk Music Festival
Prescott, AZ, October 7-8: Sharlot Hall hosts Arizona's oldest folk music festival, with four stages and jam sessions around the grounds.
928-830-8236 • Prescott-AZ.gov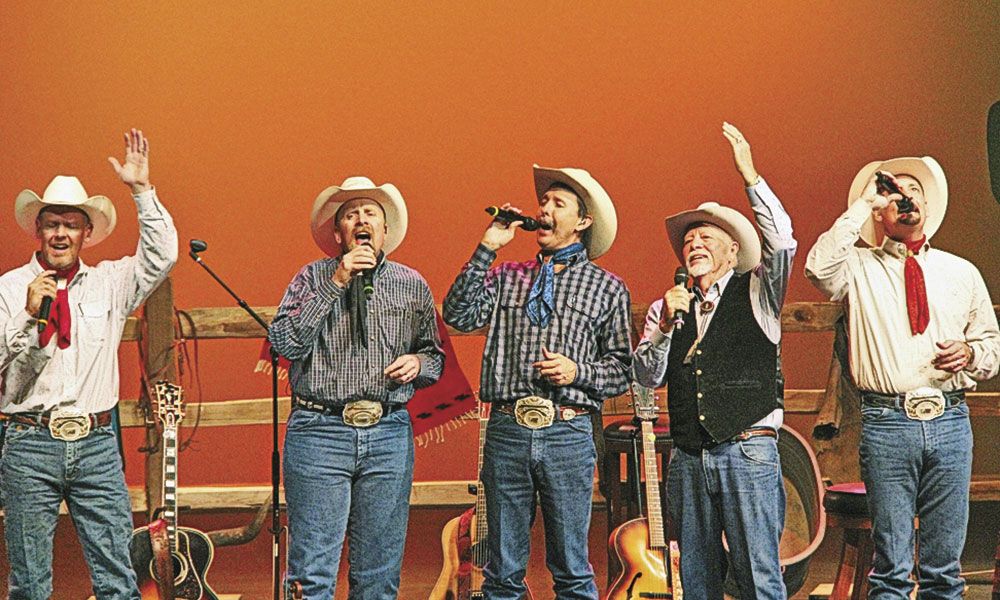 Heber Valley Western Music and Cowboy Poetry Gathering
Heber, UT, October 25-29: Western musicians and poets share their stories at this cowboy culture gala with a traders camp.
435-654-3666 • GoHeberValley.com
Red Steagall Cowboy Gathering & Western Swing Festival
Fort Worth, TX, October 27-29: Enjoy Western Swing music, cowboy poetry, a chuckwagon cook-off and a rodeo—all at Fort Worth Stockyards.
817-444-5502 • RedSteagallCowboyGathering.com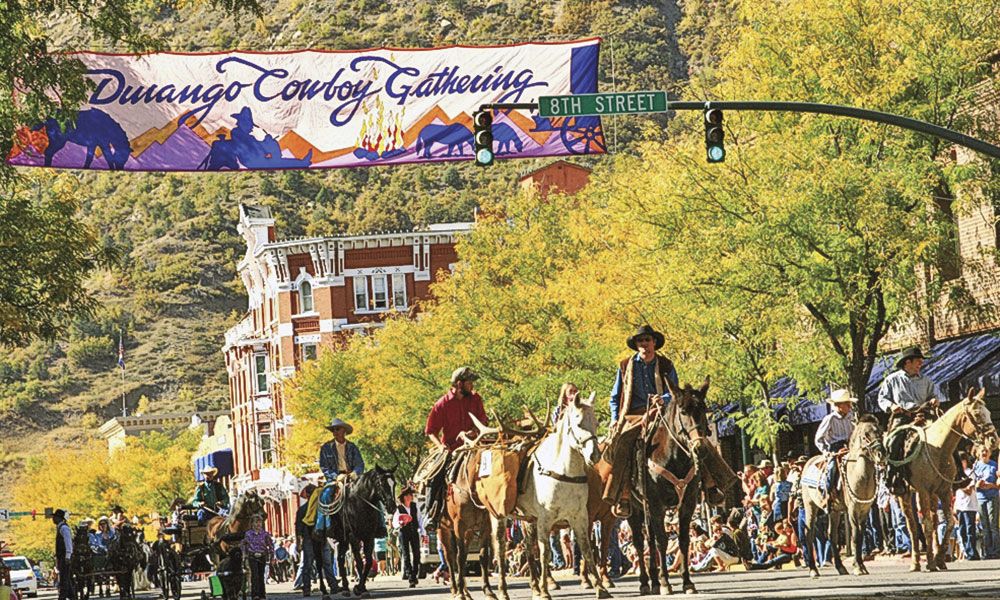 Durango Cowboy Poetry Gathering
Durango, CO, October 5-8: Poets and musicians from throughout the country grace the intimate Henry Strater Theatre stage, performing classic and contemporary poems and songs.
970-749-2995 • DurangoCowboyGathering.org
POWWOW
Black hills PowWow
Rapid City, SD, October 6-8: This celebration of American Indian culture includes dances, a parade, gold tournament and youth symposium.
605-341-0925 • BlackHillsPowwow.com
RE-ENACTMENT  
Billy the Kid Breakout Show
San Elizario, TX, October 15: In front of the only jail Billy the Kid broke into, you can watch the outlaw's legendary 1876 jail rescue of a pal.
915-851-0093 • SanElizarioHistoricDistrict.org
RODEO
Industry Hills Pro Rodeo
City of Industry, CA, October 8-9: This PRCA-sanctioned rodeo benefits special children in need in the greater San Gabriel Valley area.
626-961-6892 • IndustryHillsProRodeo.org
TRADE SHOW
Whiskey Summit Trade Show
Estes Park, CO, October 7: Remember saloon pioneers while enjoying whiskey tastings provided by distillers from around the world.
970-231-1738 • EstesParkEventComplex.com
TWMag.com: View Western events on our website.