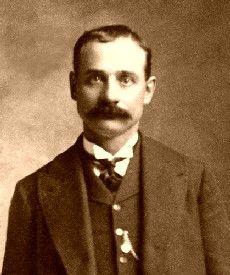 Kid Curry is supposedly buried in the Linwood Cemetery Potter's Field in Glenwood Springs, but on some report's, it states he is buried in Rosebud, the other town cemetery. So, which is it? Harvey Logan aka Kid Curry was regarded as the "wildest of the Wild Bunch." It's claimed he killed more than fifteen men, but the number is closer to nine. He used a number of alias's including Kid Curry, so the number could be higher. William Pinkerton, head of the Pinkerton Detective Agency wrote, "He is the only criminal I know of who does not have one single good point."
On June 7th, 1904, Logan and two others robbed a Denver and Rio Grande train near Parachute, Colorado. Two days later a posse ran them down. In the ensuing gunfight Logan was wounded and rather than be captured, he took his own life. His two cohorts managed to escape.
There is conflicting information regarding the location and which cemetery in Glenwood Springs, Colorado where Harvey Logan's grave is located. I spoke with Bill Kight of the Frontier Historical Museum in Glenwood Springs and verified that Logan is buried in the Linwood Pioneer Cemetery but the exact location of his grave, like that of Doc Holliday, is unknown.