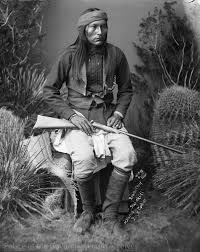 When was the most dangerous period in Arizona history during the Apache Wars?
The most dangerous period began in 1861 and the years immediately following. The Bascom Affair at Apache Pass had set the Chiricahua Apache on the warpath.  The Yavapai and Tonto Apache in the rugged central mountains were already resisting white encroachments into central Arizona.
Under the skilled leadership of Mangas Colorados and Cochise, the Apache were a formidable fighting force. It was, to use the old Kentucky phrase, "a dark and bloody ground." All this coincided with the Civil War which caused the military posts to be abandoned as troops were withdrawn to fight the war in the East. Arizona was a dangerous place to prospect or travel until 1874 after Cochise made peace and General George Crook subjugated the Yavapai and Tonto Apache in the central mountains and Tonto Basin. Most of the trouble after that occurred when bands would bolt the reservations.
This lasted until the surrender of Naiche and Geronimo in September, 1886. That doesn't mean there weren't "incidents" between Indians and whites. That would continue along the Mexican border into the 1930s.