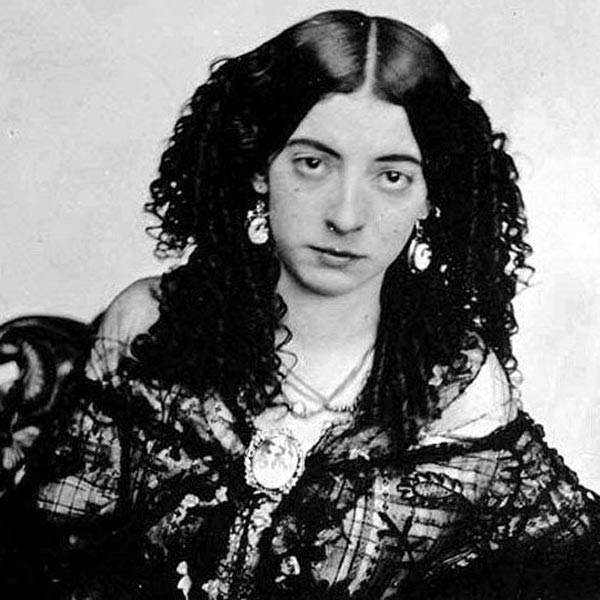 The women who played the frontier theaters—singers, dancers and actresses—had a head start on the road to success simply because they were women; in much of the West that alone was enough to attract a crowd. There were other ways of getting rich off the earnings of the Forty-Niners.  One was acting on stage.  In those early days of San Francisco when money flowed as if it came out of a tap, Lola Montez arrived to get her share of the windfall.  One of the most talked-about women of her time, she was at one time or another, the mistress of a composer, a writer and a king.  Ludwig I of Bavaria dubbed her, "The Countess of Landsfeldt," and she was the most widely known and discussed wicked woman of the times.  Tickets for one of the plays in which she was acting were in such demand they were sold by lottery and the best seats went for sixty-five dollars.
She was born Marie Delores Eliza Rosanna Gilbert in Limerick, Ireland in 1818. At the age of sixteen she eloped with a young soldier named Thomas James. She left him five years later, took the name Lola Montez and launched her career in show business.
The stage name fitted her perfectly.  She had the dark, sultry beauty and exquisitely molded features of the women of Spain.  She even invented a line of Spanish ancestors and a fraudulent girlhood spent in Seville.  Another whopper she told was that she was the illegitimate daughter of Lord Byron.
She attracted a number of wealthy men and living the life in European society as a courtesan or "kept woman."
While working as a dancer on the stage in Europe she met and had an affair with the romantic Hungarian composer Franz Liszt, who was quite smitten with her.  He took her to Paris where he introduced her to the brilliant art, music and literary circles of the city.  In Paris another man, a literary editor named Alexandre Dujarier fell madly in love with her but the affair ended when he fought a duel in defense of her honor and was killed.
Lola went into seclusion for a short period then she met King Ludwig I of Bavaria who like the others, fell in love with her. It was said they met when he asked her in public if her breasts were real. She responded by ripping off her garments to show they were.
To entice her into visiting his castle he presented her with a casket of jewels. The affair caused a scandal which helped lead to the Revolution of 1848.  Angry mobs gathered and shouted, "Down with the whore."  She escaped just in time to miss the revolution.  Ludwig was forced to abdicate and Lola headed for Switzerland. The publicity of course spread far and wide, making her appearances a huge financial success.
While in Switzerland she met and quickly married a young army officer named George Heald, who had just inherited a small fortune. However, the terms of her divorce from her first husband forbade either of them to remarry as long as the other was living. The two lovebirds had to flee the country lest she would be arrested for bigamy. They moved their love nest to France but soon there was trouble in paradise and George was rumored to have drowned.
With the discovery of gold in California she bought stock in a mine and settled in Grass Valley, California.  By the time she reached there in 1853, she was thirty-five years old and had already run through three marriages, a trial for bigamy and internationally scandalous liaisons with several European bigwigs.  In California, she married again, to a newspaperman named Patrick Hull.
There, she became best known for her Spider Dance, performed in a Spanish costume with full, short skirts and flesh-colored tights.  The dance began with Lola wandering on stage then becoming entangled in a spider's web.  Suddenly she discovered a spider, (made of rubber, cork and whalebone) on her petticoat.  Attempting to dislodge the bug, she shook her petticoat furiously.  On examining her skirts, she discovered other spiders and she shook her skirts with similar fury, revealing her tights.
During the 1850s this was daring enough to make the rowdy audiences shout "Higher! Higher," as Lola searched beneath her skirts for the evasive spiders.  She'd kick a leg high into the air as if to squash a spider on the ceiling, and then she'd kick the other.
Finally she succeeded in shaking off all the spiders and stamped them to death on the floor.  Thunderous applause greeted her as she took her bows.  She then stripped a silken garter off a shapely leg and tossed it into the audience.
In cultured circles, Lola was viewed as nothing more than a high-priced hurdy-gurdy dancer.  Lola's affected acting and inept dancing provided rich ammunition for the comic performers of the day who burlesqued her mercilessly.  Her fickled audiences soon grew tired of her, especially after she threatened a newspaper editor with a horsewhipping and challenged another to a duel.
In a huff she left San Francisco and headed for the mining towns but her tour was a flop.  She was repelled by the rough-hewn, woman-starved miners.  Miners would laugh during her serious performance and she'd scold them and walk off stage.  Once she was showered with fruits and vegetables and had to be escorted back to her hotel with an armed guard.
Her marriage to editor Hull was a disaster too. She divorced her man by pitching him down the hotel stairs and throwing his clothes out a window.
Deeply depressed, she returned to Grass Valley where the locals were delighted to have a star, albeit a declining one in their midst.  Always the Bohemian, she kept a bear cub as a pet.
Once a local minister inveighed against Lola from the pulpit, so she donned her stage costume and performed her Spider Dance on the preacher's front porch.  Later, the remorseful Lola sent the minister a large donation for his church.
In 1855 Lola went on tour in Australia. While performing her Spider Dance at the Royal Theater in Melbourne she was doing her high-kick routine the men in the audience were given a risqué peep shoe. Beneath her skirts Lola was wearing nothing at all.
In May, 1856 Lola returned to San Francisco and gave several farewell performances of the Spider Dance and then went to New York where she died destitute on January 17th, 1861.
Marie Delores Rosanna Gilbert lived fast, loved hard and died young. She was only thirty-nine.