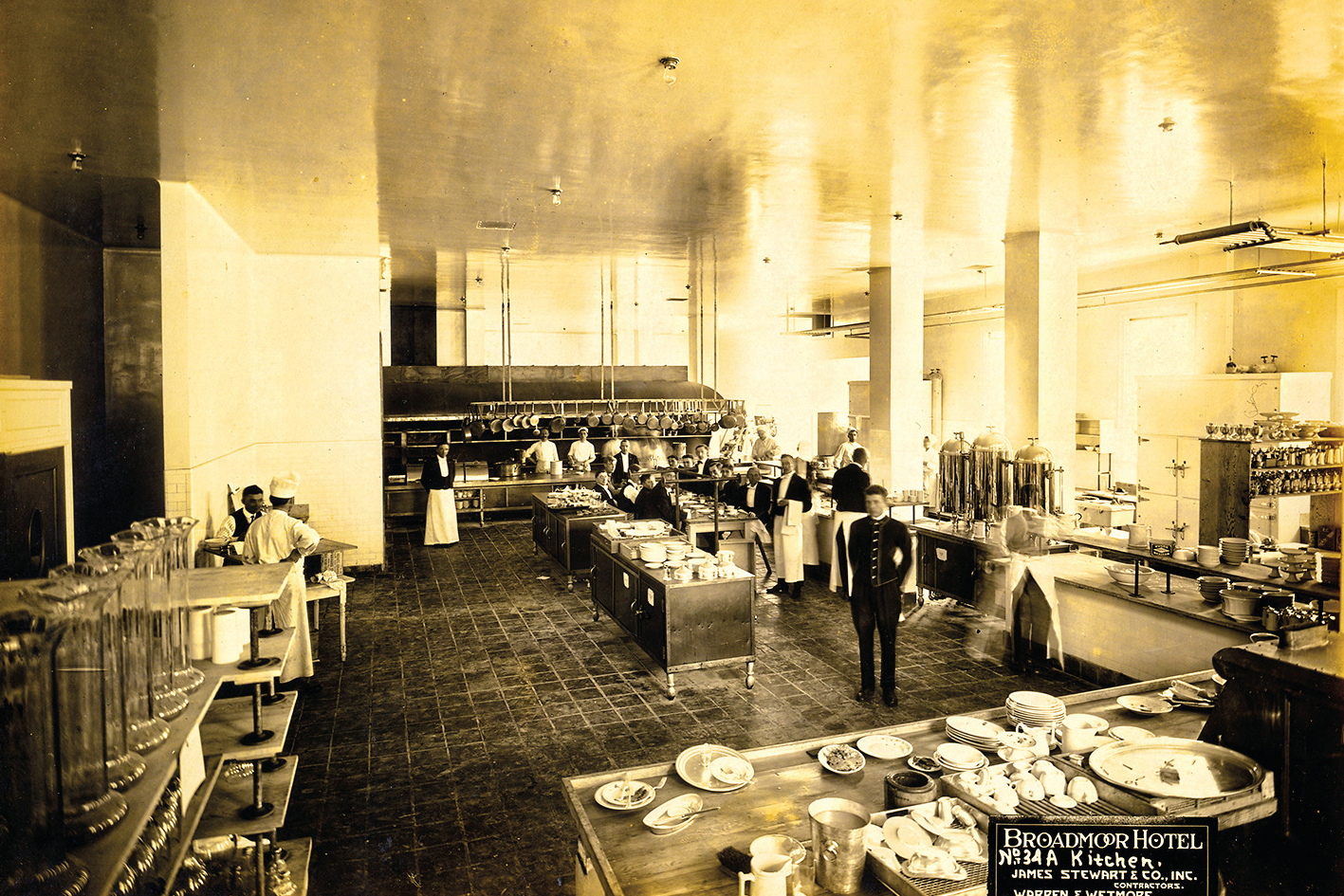 Before the Broadmoor Hotel was opened by Spencer Penrose in 1918, other grandes dames, like the Hotel del Coronado in California and the Lake Yellowstone Hotel in Wyoming, were offering upscale accommodations. Those hotels were considered lavish at the time and pampered their guests who often stayed for weeks. The del Coronado had the ocean, Yellowstone had the national park and Penrose the crisp clean air of Pikes Peak in Colorado.
It was in this idyllic setting where Penrose planned the Broadmoor. His goal was to operate the most luxurious hotel in the world and his destination property included something for everyone—who had money. He created a golf course and offered boating and polo. The hotel's interior decorator, Charles Westing of Philadelphia, emphatically stated in 1917, "the Broadmoor hotel will be one of the most remarkable in the world." By 1920, Penrose was the envy of hotel men across America. 
Penrose wanted nothing but the best, so he hired a 32-year-old Italian chef named Louis Stratta and ensured his waitstaff was trained to the European standards of the day. Stratta believed in food tasting good as well as being eye-appealing. He served as the Broadmoor's head chef and the pastry chef for decades. Of flavor he said, "Cookery in America is all going to the bad, since Prohibition has come in. How can one get the flavor, the dash, in the food, when there is no wine or brandy? You want to save American cookery? Get them to vote back the liquor, so then we have delicious food again." Penrose did hoard a cache of liquor during Prohibition, but it seems he didn't let his chef cook with it.
Resort guests chose from multiple magnificent dining rooms that included a banquet hall, two private rooms, the palm court, children's dining room, a grill for golfers and an enclosed lake terrace. The grand opening menu included cream of chicken soup, Broadmoor Trout au Bleu, sauce exquisite, Braised Sweetbreads with pearls of truffles, Boneless Royal Squab, roasted with guava jelly, Romaine Salad and Cherries, Souffle Glacé and Plain coffee. Today guests can choose epicurean delights from the Penrose Room, Ristorante Del Lago, Summit, Golden Bee and the historic La Taverne, The Grille or the Lake Terrace Dining Room. 
David Patterson, the Broadmoor's current executive chef, respects and honors the history of food at all the Broadmoor properties. Hotel information says, "Our all-inclusive Wilderness Experience menus were also conceived and executed by David and his team to have a unique take on the history of each location." Patterson is proud to be among the handful of men who were chefs in the Broadmoor's long history.
Guests staying at the Broadmoor's Wilderness Experiences properties have other options. Cloud Camp, which was built on Penrose's original 1926 site on Cheyenne Mountain, offers four tasty rotating options. Cloud Camp also pays tribute to Penrose's member-only cooking club he founded in 1912 with president Chester A. Arthur's son, also named Chester, by offering cooking and cocktail demos. The Ranch at Emerald Valley, another historic Penrose retreat, offers something similar, but also serves a cowboy-style cookout two nights a week. 
Sip this popular Prohibition cocktail in your own space or at one of the many Broadmoor watering holes and drift back to another era
Sherry Monahan kicked off her journey into Old West cuisine, spirits and places by authoring Taste of Tombstone. Visit SherryMonahan.com to learn more about her books, awards and TV appearances.