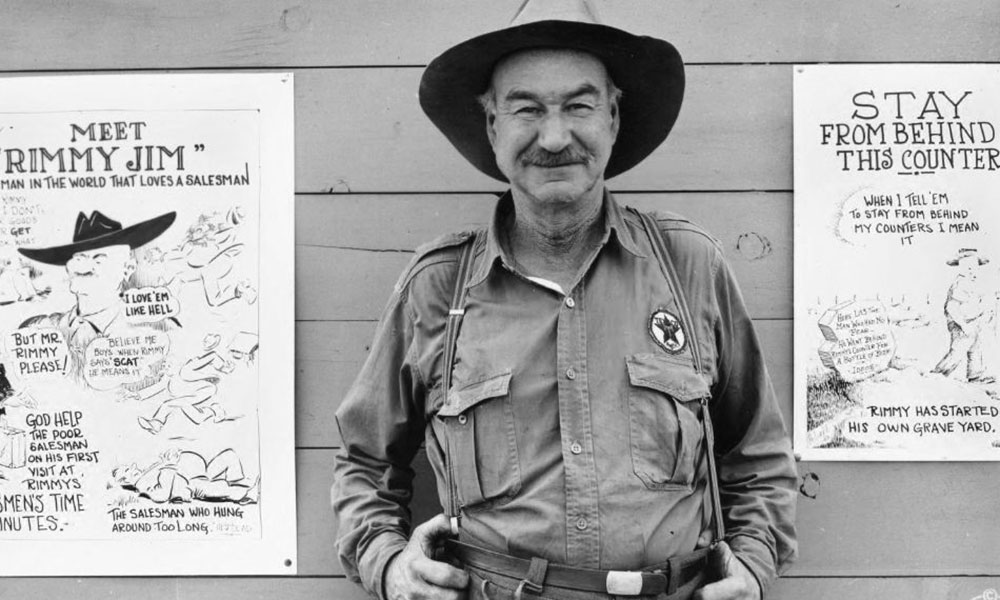 Route 66 had some colorful characters operating roadside stops in the first half of the twentieth century and one of the most colorful was Rimmy Jim Giddings. In 1925 he leased Texaco gas station-café at Canyon Lodge, located on the east side of Canyon Diablo. The name would soon become Two Guns for the notorious Two Gun Harry Miller, who operated zoo.
A year later the National Old Trails Road and ocean to ocean "highway," established in 1912, became Route 66.
Both Two Guns and Rimmy Jims were located near the site of an infamous massacre of forty-two Apache in 1878. The band had wiped out an encampment of Navajo living in Canyon Diablo and punitive party of twenty-five Navajo warriors caught up with them camped in a cave and killed them all. There are many who believe the sight is cursed and enough bad things have occurred there over the years, but that's another story.
Rimmy Jim could be a bit of a curmudgeon dealing with annoying visitors, especially pesky salesmen. To discourage them from overstaying their welcome, which was about one minute, he planted some fake headstones behind his café. The epitaphs on the grave markers read things like, "This salesman was a pest" or "This salesman took up more than one minute of my time." He loved to conduct business with traveling salesmen in his "cemetery."
Rimmy Jim was born in born in Cleburne, Texas in 1873 and in his younger days was a working cowboy. He preferred using a rim-fire saddle where the cinch is located far to the front as opposed to a center fire where the cinch is located in the center of the saddle. And that's how he acquired the nickname "Rimmy."
Rimmy must have had a charming side too because old timers say he had a number of "nieces" who were always willing to keep him warm in the wintertime.
In the early 1930s he opened his second road stop further east on Route 66, just east of the road into Meteor Crater and in 1938 he returned to Two Guns at Canyon Diablo.
He didn't care much for snooty women, especially eastern women.
Having grown up in a small town along Route 66 and working in a gas station when I was in high school I can attest that tired tourists can get pretty testy, especially Californians. I figured that after they've driven through Barstow, Needles, Kingman and Seligman that by the time they got to Ash Fork they were ready to kill somebody. This was only a few years after Rimmy Jim was operating his gas station in Two Guns.
Water is a precious commodity in northern Arizona that's why most small towns have more had more saloons than water fountains. And flushing toilets were scarce. Rimmy Jim had the same dilemma a few miles east at Two Guns. He constructed two outdoor privies in back of the station for customers needing to answer the call of nature. To further accommodate the women he built them a two-seater.
Many of his female customers had never used an outdoor toilet and weren't shy about saying so. His patience wore thin after so many took umbrage at having to use an outdoor facility so he decided to have a little fun with them. He rigged up a speaker under one of the seats and wired it to a microphone in the office. When a woman complained too vociferously he would wait until she got in, closed the door and had time to sit down he would turn on the microphone and say, "Excuse me ma'am but I'm painting underneath this hole, would you mind moving over to the other one?"
That outhouse door would come flying open and she would give that grinning cowboy holding a small microphone, a look that would turn sweet milk to clabber. With a few choice words aimed in his direction that would make a muleskinner blush, she'd head for the car, slam the door and vent the rest of her wrath on her poor husband.
Marshall Trimble is Arizona's official historian and vice president of the Wild West History Association. His latest book is Arizona Outlaws and Lawmen; The History Press, 2015. If you have a question, write: Ask the Marshall, P.O. Box 8008, Cave Creek, AZ 85327 or email him at marshall.trimble@scottsdalecc.edu.