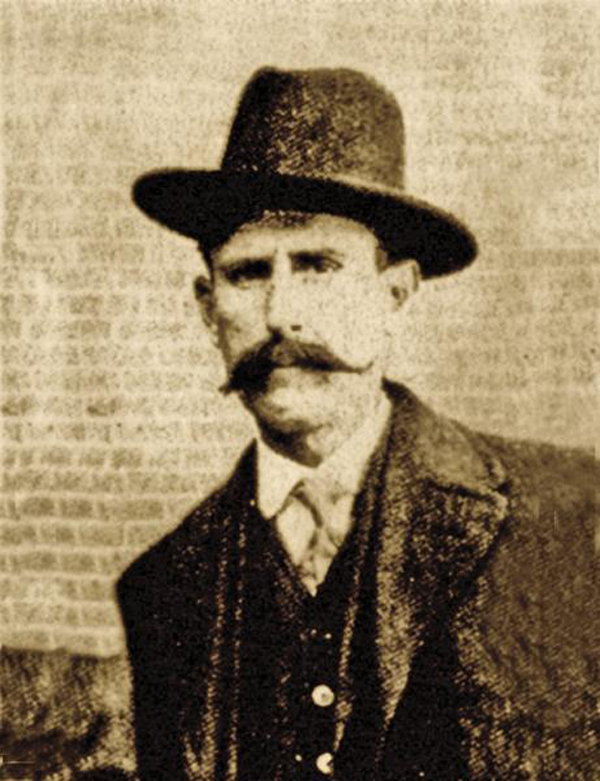 Oklahoma and the Indian Territory provided some of the West's wildest history including one of its deadliest gunfights. The battle occurred on September 1st, 1893 at Ingalls, Oklahoma.
The so-called "Battle of Ingalls" began when a large posse of United States Marshals invaded the town in an attempt to capture the Doolin-Dalton Gang. When the smoke cleared six men were dead including three U.S. Deputy Marshals and several others wounded.
The gang, which included Bill Doolin, Bill Dalton, "Bittercreek" Newcomb, Red Buck, Charlie Pierce, "Dynamite Dick" Clifton, "Tulsa Jack" Blake and "Arkansas Tom" Jones was holed up in a local hotel. Since the outlaws spent their money generously and behaved themselves in Ingalls, the townspeople enjoyed having them around.
When lawmen in Stillwater and Guthrie found out they were living it up in Ingalls they decided to attack the town and take them down.
One of the more interesting characters who accidentally happened to be in a strategic location that allowed everyone else to escape was Arkansas Tom. He was born Roy Daugherty in 1870 in Missouri. At the age of fourteen the rebellious young man ran away from his deeply religious family and headed for Oklahoma. He picked up the nickname when he used the alias Tom Jones and said he was from Arkansas. For a time he worked as a cowboy where he made the acquaintance of Bill Doolin. In 1892 he joined Doolin and his friends, participating in several robberies.
On the day of the battle Arkansas Tom had a bad headache and was upstairs lying down when the posse opened fire. His vantage point gave him an aerial view of the action. From a second-story window he reined gunfire down on the posse mortally wounding Deputy Marshal Tom Houston allowing the rest of the gang to escape.
Arkansas Tom found himself trapped on the second floor and when Deputy Marshal Jim Masterson threatened to blow up the hotel, he was faced with either surrendering or being blown up, he threw in the towel.
Charged with manslaughter Arkansas Tom was sentenced to fifty years. His two brothers, both preachers, began a campaign to get him out of prison and he was released in 1910 after serving less than twenty years.
Like several other Oklahoma outlaws and lawmen Arkansas Tom went to Hollywood to act in western movies. He appeared in "The Passing of the Oklahoma Outlaws" but apparently he preferred the real deal and soon returned to robbing banks.  After robbing a bank in Neosho, Missouri in 1917, he was caught and returned to prison.
Ironically, Arkansas Tom had been the first of the gang to be arrested after the Battle of Ingalls and he was also the last surviving member of the gang. By this time all his cohorts at the Ingalls fight had been run to the ground and killed. But time for him was also running out.
Released from prison in 1921, he robbed another bank in Asbury, Missouri. On August 16th, 1924, lawmen caught up with him at the home of a friend named Red Snow in Joplin, Missouri. A furious gunfight ensued and Arkansas Tom was shot and killed after his pistol jammed. Nearby was Snow's child, howling with fright. Many outlaws died in a hail of gunfire while robbing banks and trains but Arkansas Tom got his while babysitting.
However, his ending was not as embarrassing as that of another notorious Oklahoma outlaw and escape artist, Matt Kimes who was run over by a truckload of chickens.