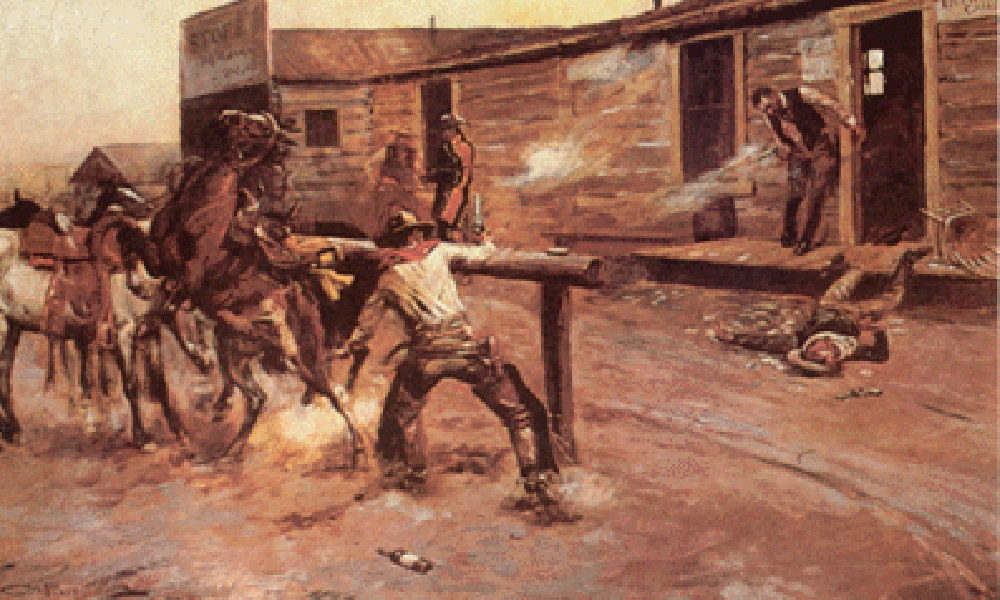 Western outlaws were the product of a lawless and violent era during the post-Civil War days and the lust for land and gold.  They their infancy emanated during the Mexican War and they spent their teen years during the California Gold Rush and the Kansas-Missouri Border War. During the Civil War they reached maturity as soldiers and guerilla fighters on both sides.  Their adulthood was spent on the long cattle drives; the railroad camps and mining boom towns. It was during this tempestuous period they came into their own and became a part of one of America's most enduring legends.
Today, we're fascinated by our perception of their free-spirited independence and defiance of authority while failing to realize that most died young either from a gunshot wound or a hangman's noose. Others spent their golden years behind prison bars.
The folk bandit was seen as one battling against the moneyed interests and that made them popular among the common folks. It was said they robbed from the rich and gave to the poor. It should be pointed out however, there was little profit to be made from robbing the poor. Outlaws felt justified in robbing banks and trains because during this age often referred to "as the era of good stealing," the money being pilfered by them paled when compared to the grand theft and larceny going on in Washington at the time.
Railroads were charging exorbitant fees to ranchers for shipping livestock and banks were gleefully foreclosing on farmers during hard times.
There has been speculation that Frank and Jesse James along with the Younger Brothers were western Robin Hood's, stealing from the rich and giving to the poor, but there is no evidence for that.
Working class folks cheered the James-Younger gang and the Wild Bunch for tweaking the noses on those two entities. The former had newspaper editor and former Confederate major John Newman Edwards for a de-facto propaganda minister. He was dubbed "the Victor Hugo of the West" for his florid use of the English language. The latter was generous with their spending, something that garnered support from many local ranchers along the Outlaw Trail from Wyoming to Arizona and New Mexico. The cool outlaws generously kept the money in circulation. Butch Cassidy's folk hero image actually exceeded his outlawry.  In 1898, a Chicago newspaper referred to him as the "King of the Bandits," and the "worst man" in Utah, Colorado, Wyoming and Idaho. The article also claimed he was the leader of a gang of 500 outlaws, "subdivided into five bands." Butch must have gotten a good laugh out of that.
https://truewestmagazine.com/who-was-the-greatest-of-the-bank-and-train-robbers/