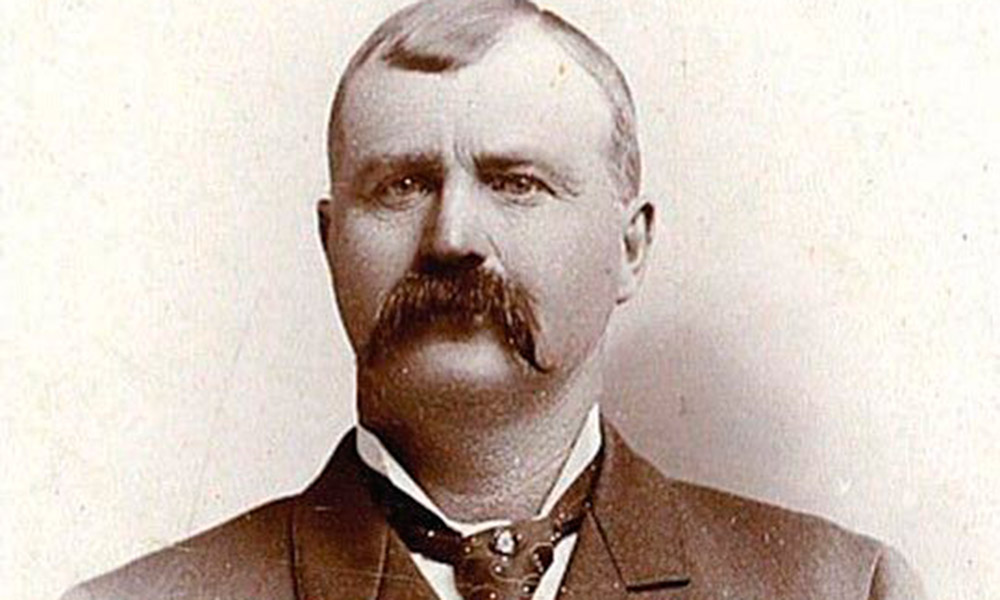 By mid-September Pleasant Valley War was making national news and lawmen from the Yavapai County seat at Prescott were moving through the area trying to arrest members of both factions.
On September 21st, 1887 Yavapai sheriff Billy Mulvenon and his joint posse consisting of deputies from Yavapai, Gila Apache and Maricopa Counties swept through Pleasant Valley and rode into Young again.
The sheriff was still smarting from an earlier visit to Pleasant Valley on August 17th, 1887. While he and his men were meeting with Graham partisans to arrange a truce between the opposing parties, someone stole all their horses. The sheriff unleashed a vitriolic attack on the Grahams and in short order the horses were returned.
That same day a herd of horses rustled another bunch from was taken from the Graham corral. Young Billy Graham foolishly took it upon himself to run down the horse thieves. Unfortunately he chanced to meet Apache County Deputy Sheriff, Jim Houck. Described as a reckless breed he was also a dangerous man killer who happened to be friendly with the Tewksbury's. There is a strong possibility that Houck stole the horses as bait, hoping to lure John Graham into an ambush.  Young Billy showed up instead.
Houck claimed he had a warrant for John Graham but not Billy and when the youngster showed up he told him to ride on. Instead Billy went for his gun and Houck fired, inflicting a mortal wound in the belly. Billy rode home with his intestines hanging almost to the ground. They did their best to dress the wound and sew him up but Billy died in excruciating pain two days later.
This time sheriff Mulvenon meant business. Territorial Governor had told him, "Kill them and no one will be hurt for it."
The Perkins Store in Young was about a mile south of the Graham ranch. Mulvenon posted his men behind the four-foot-high rock wall at the store then dispatched riders to circle around the valley to attract attention.
Signal shots were fired from the Graham house and that of a partisan, Al Rose. Strangers in the valley were always cause for curiosity. Charlie Blevins and John Graham rode cautiously down toward the store to check out the strangers. When they were near enough to see the danger, they spurred their horses and headed toward an arroyo north of the store. Lawmen opened fire and emptied their saddles. They also arrested two others, Al Rose and Miguel Apodaca.
Rose talked tough, saying, "If you want anything here come and get it." But when he saw the number of guns pointed at him, he meekly surrendered. Tom Graham, the leader, was able to escape the posse's of both Sheriff Mulvenon and Commodore Perry Owens and made his way to Phoenix.
Following those arrests, the posse rode into the lair of the Tewksburys. Their surrender had been prearranged; the Tewksburys and Roberts had said they'd come in peaceably once the Grahams were corralled and they did. Later, when it was learned Tom Graham had gotten away, the Tewksburys were livid.
The fighting men from both sides were taken to Payson to appear before Justice of the Peace John Meadows, and all were released for lack of evidence except Roberts, Joe Boyer and the Tewksbury brothers. They were held over for a grand jury in Prescott for the shootings at the Newton ranch. Bond was posted, and they all returned to Pleasant Valley and tried to pick up the pieces of their lives.
Jim Roberts days as a warrior in the Graham-Tewksbury Feud were over.  For the next forty-four years he would wear a badge and keep the peace in some of the toughest towns in Arizona.
In 1927, at age of 69, he took the job as special officer for the United Verde Copper Company with a deputy's commission from Yavapai County and was stationed at Clarkdale. Roberts had his last gunfight on June 21st, 1928, when two Oklahoma outlaws tried to rob the Bank of Arizona. In an exchange of gunfire he shot and killed one and the other one meekly surrendered. Roberts was nearly seventy years old. Jim Roberts died of a heart attack while making his rounds on the evening of January 8th, 1934.
https://truewestmagazine.com/shootout-middleton-ranch/