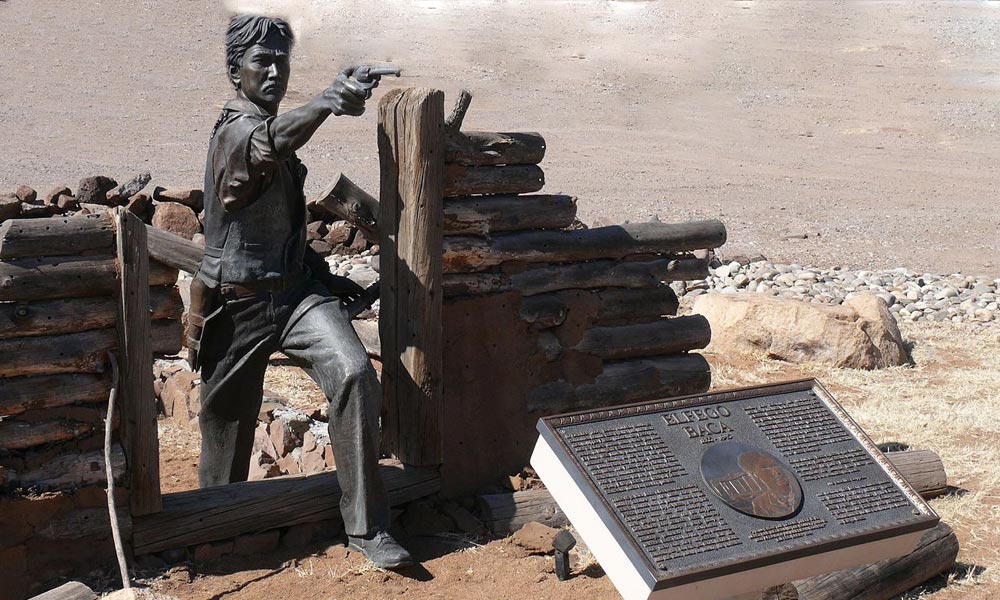 One of the most one-sided gun battles in the West was the one-man stand by Elfego Baca at Frisco, New Mexico on October 28th, 1884.
"I'll show the Texans there is at least one Mexican in the county who is not afraid of an American cowboy,'' he boasted.
He was only nineteen years old, packing a mail order badge when he rode into the little town of Frisco on a buggy in 1884.  In later years he claimed he was a self-appointed lawman and there is a suspicion he didn't have a deputy sheriff's commission when he decided to bring law and order to that part of Socorro County.  If he wasn't a sworn lawman it makes it even more remarkable that he'd stand up to some eighty vengeful cowboys.
Trouble began when he arrested a twenty-two-year-old Texas cowboy named Charlie McCarty for firing his pistol in Milligan's Saloon.  When Baca tried to make an arrest the cowboy shot the deputy's hat off his head and rode off.  Baca organized a posse, caught up with the drunken cowboy, brought him back to town and locked him up.   Shortly after McCarty's friends rode in and demanded his release.  When Baca tried to negotiate with the cowboys, McCarty got his hands on a pistol and fired at Baca but missed.  Ranch foreman, Young Parham, and his men retreated to regroup and  then returned.   Baca, his posse and the band of cowboys, squared off, both sides with pistols drawn and all hell broke loose.  During the firing Parham's horse was shot and fell crushing him.  He lived through the night but died the next day.
The cowboys put out the call to nearby ranches claiming the Mexicans had gone on the war path, killed several cowboys were threatening to kill all Americans.
Actually, McCarty was taken to a local justice of the peace, given a small fine and released but the Texans wanted revenge for the death of Parham.
By this time some 20 to 80 cowboys were in town and Baca was forced to hole up in a jacale for more than 33 hours.  They surrounded him and poured withering fire into the small room.  Baca was spared by a sunken floor.  When he returned fire, his aim was deadly.   Bert Hearne kicked on the door, saying, "I'll get that Mexican out!"
Baca fired two rounds through the cracks and hit Hearne in the stomach.  "Boys, I'm killed," he said as he staggered backwards and fell.
The cowboys strung blankets on rope between buildings so they could move in on the jacale.  One charged behind shield from cast iron stove but Baca creased his scalp.  Citizens gathered nearby to cheer him on.  During the fight Baca put his hat on bust of plaster saint as a target.  He later testified there were 367 holes in door and a broom handle was hit eight times.  Although thousands of shots were fired but only one man was killed and one wounded.
On the morning of October 31st the cowboys awoke to find Baca calmly cooking a breakfast of eggs and tortillas.  They kept up the barrage all day and even tried to set fire to the mud-walled jacale  .
By late in the day the cowboys were drowsy from too little sleep and too much whiskey when deputy sheriff Frank Rose rode into town and restored order.
Baca was persuaded to surrender but demanded he be allowed to keep his guns. The cowboys escorted him to Socorro but he rode in the rear with his guns trained on his captors.  He was tried twice for murder but acquitted both times.  Baca was so impressed with the attorneys who defended him at his trial that he went on to become a lawyer.