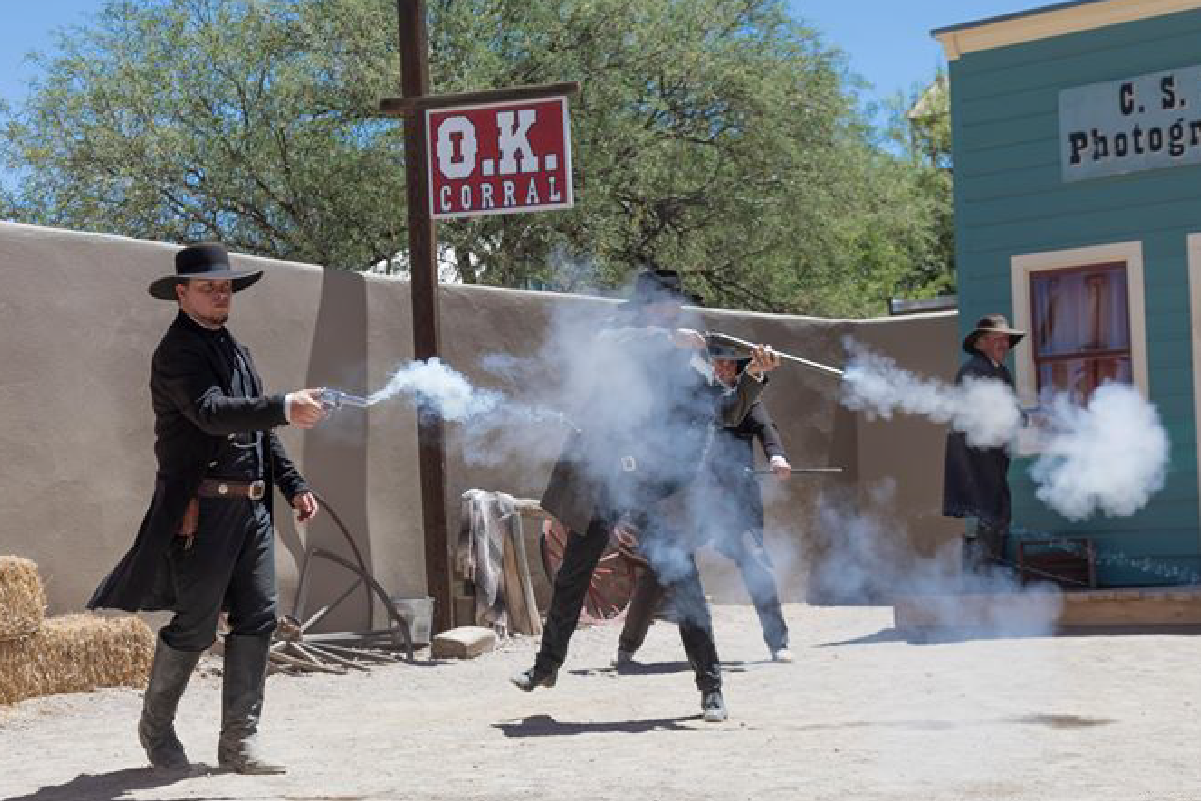 When did someone realize that the historic area of the gunfight was a good investment for tourism?
The Gunfight didn't occur at the OK Corral but thanks to the 1957 movie, Gunfight at the OK Corral, it was marketed as the site. It was originally owned by John Montgomery and Ed Benson. It was nearly destroyed by the big fire on May 26th, 1882. It was re-built afterwards and gained attention following the release of Stuart Lake's book in 1931. Harold Love purchased the property in 1964 and his family still runs it.
The "Street Fight" didn't create much of a sensation until the early 1920s when citizens needed to do something to attract tourists and boost the economy. In 1929 the folks in Tombstone staged the first Helldorado Days. During those lean years storied Boot Hill had closed and the cemetery gone fallow. Former mayor John Clum couldn't even locate his wife's grave. So, the citizens proceeded to erect tombstones and restore the cemetery to what it looked like in the 1880s.
A few years ago I was being interviewed by a film company from the United Kingdom. I mentioned the restoration and missing tombstones and the producer said, "Do you mean this isn't Billy Clanton's grave?"
I replied, "It probably isn't but he's somewhere near here."
He and the crew all gave me a look that I hadn't seen since I told my little brother that Santa Claus wasn't real.
About a year later I saw the film on TV and couldn't help but notice that part had been edited.
"When legend becomes the fact, print the legend."
During the 1930s and 1940s, the heyday of the B-Westerns Hollywood brought a lot of attention to the gunfight and Tombstone. The Life and Legend of Wyatt Earp, from 1955 to 1961 starring Hugh O'Brian proved to be a boom for tourism in Tombstone.
WW II and the Great Depression were in the past. Americans were on the road and before freeways, U S 80, was a major highway that passed right through the town. All these created new opportunities for tourism to make Tombstone one of the top visited destinations in Arizona today, with some half-million visitors annually.
Several years ago I was standing outside the Longhorn Restaurant at 5th and Allen watching the tourists when a man and his family approached me. "The next gunfight isn't for 45 minutes, is there anything we can do here while we're waiting?"
I replied, "Sure, there's an underground mine tour that is amazing. The guilds really know their geology. The old Goodenough silver mine on Toughnut Street was the first big silver strike in Arizona."
He looked at me doubtfully and said, "Did they have mining here?"
I wanted to say, "No, they just had gunfights every 45 minutes!" But I resisted the temptation.