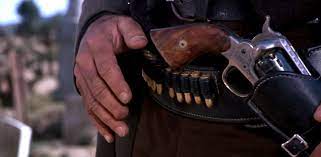 The cross draw was popular among cowboys of the Old West so their pistols wouldn't get in the way of their work around the ranch. It was also easier to pull on horseback.
The cross draw was also popular with men who spent a lot of time sitting at a poker table for the same reason. I put your question to my friend Jim Dunham, an expert gun handler. He agrees and adds, "The strong side carry with the butt to the rear and worn on the right side was, and is faster, and more accurate, and was preferred by Texas Rangers, lawmen, and shootists. All this predates the buscadaro rigs and the tied down holster that show up in the movies and TV."
Many carried their firearm in a high carry, cross draw position.
Some cowboys copied the military holster. The cavalry generally wore their revolvers butt forward on the right side. This was because the saber needed to hang on the left. Both weapons were drawn with the right hand. The revolver was pulled in a twist draw method and the sword was swept out of the scabbard. With a little practice one could get his smoke wagon in place quickly. This, by the way, is why we mount horses from the left, so that the sword hangs still along the side and not forced across the horse's bank clanging against the animal.
There are some disadvantages of the cross draw carry. It is easier to disarm somebody with the handgun facing forward. It also requires a longer and slower draw stroke to reach across the torso to access the handgun.