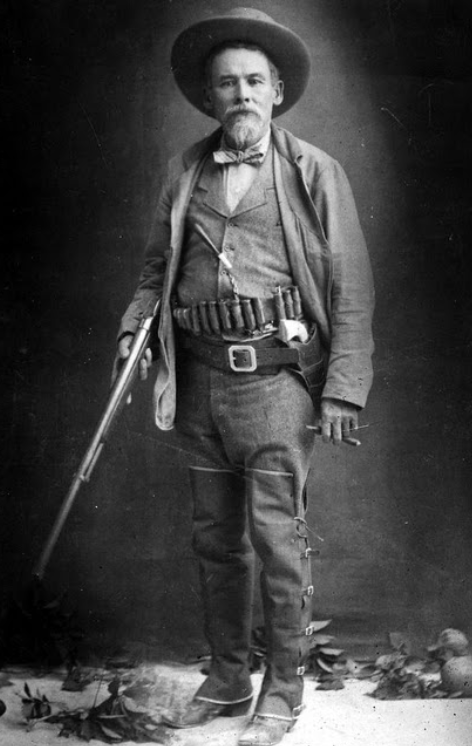 John Horton Slaughter typified the 19th century rawhide-tough breed who settled and tamed the wild Southwest border country. He was born in 1841 in Sabine Parish, Louisiana and brought as an infant to Texas. His father, Ben, was a cattleman engaged in rounding up wild longhorn cattle in the brush country of south Texas. When John was fourteen the family moved to Pleasanton, in the San Antonio area. During the Civil War he joined the Confederate Army but was mustered out in 1862 because of tuberculosis. He immediately enlisted in the Texas Rangers and spent the next few years fighting Indians.
In 1871 John and his two brothers, Charlie and Billy gathered some wild cattle and started the San Antonio Ranch but soon he went out on his own. It was said that on cattle drives he'd start out with 500 head and by the time he reached the market he'd have some 3,000 head wearing his brand. Old timers would later say Slaughter's cows were a biological phenomenon because each cow had eight or more calves a year.
He stood only 5'6" and had dark penetrating eyes. He always believed he was protected by a guardian angel and couldn't be killed. The many times he stared death in the eye seemed to bear that out. I'll die in bed," he declared, and he did, eventually.
Slaughter liked to smoke cigars, play poker and he had a hot temper. He was a product of frontier life, a lawless and violent post Civil War era. He had no problem killing a man if he believed the man needed killing. He packed a pearl-handled .44 and a shotgun. Some said he was a good man and some said he was not such a good man but there was no doubt, John Slaughter was all man.
Slaughter might have killed twenty men or more but he never said. One of his deputies described him as "a man of few words and he used them damn seldom."
After he became sheriff of Cochise County in 1887 he issued a warning to the rustler gangs, "get out or get shot." Most took his advice and left the country. Those who didn't usually wound up fertilizer for spring flowers. In running outlaws to the ground he frequently acted as judge, jury and executioner. Nobody asked questions but law-abiding citizens were glad the undesirables were gone and wouldn't return, "His name is Slaughter, alright," said one Tombstone observer, "but he wasn't in any way the sort of a man we used to call a 'killer.' He didn't like to shoot people. He did it simply because it was in the days work, was his duty, and it was for a good purpose."
When dealing with the lawless element John Slaughter was ruthless, but he had another side too. He met Eliza Adeline Harris, the beautiful daughter of a wealthy Texas rancher. John was 30 and ready to settle down but her mother opposed the marriage. However, love won out and the two were married in 1871 in San Antonio. Two of their four children died in infancy.
While traveling across Arizona in 1877 John decided Texas was too crowded and he began planning a move to Arizona. Eliza and the children would join him there. Sadly, she contracted small pox during her trip and died soon after she arrived in Phoenix. The two surviving children were stricken and quarantined by the dreaded disease but John tenderly nursed them back to health.
It was soon after this tragic event that one of John Slaughter's most famous gunfights occurred. His adversary was a New Mexico cattle rustler named Barney Gallagher, "the Man from Bitter Creek," in 1876. After warning Gallagher to stay away from his here during a drive the rustler returned and charged Slaughter with a shotgun and two blazing .45's. After Slaughter shot his horse out from under him, Gallagher got up and charged again. Slaughter coolly dropped him in his tracks.
Gallagher's last words were "I needed killin' twenty years ago anyway."
However, New Mexico governor, Lew Wallace, saw it differently and declared Slaughter number one on his wanted list. Also among those was number fourteen, William Bonney.
In 1879, he had Slaughter arrested for murder but the cowman was soon released for lack of evidence. Slaughter decided it was time to leave New Mexico.
After the death of Eliza, John Slaughter believed he'd never marry again but while driving cattle near the Pecos River, south of Roswell, cupid struck again, this time it was eighteen-year-old Cora Viola Howell, the beautiful daughter of cattleman Amazon Howell and his wife, Mary Ann. Her father was overjoyed at the prospect but his future mother-in-law went into hysterics. John was twice her daughters age and he had two small children that she'd have to raise. But Mary Ann soon gave in and eventually became one of his biggest fans.Their marriage lasted more than forty years.
The newlyweds settled first in the Sulphur Springs Valley but soon moved over the San Pedro River near Tombstone, then to Charleston where he opened a meat market.
At time, the Earp-Cowboy feud was going strong but Slaughter didn't take sides. He had no love, however, for his neighbors, the Clantons. He'd been missing cattle and one day caught Ike on his range. He warned Ike that he would kill him and his kin if it happened again. It didn't, and the rustling stopped.