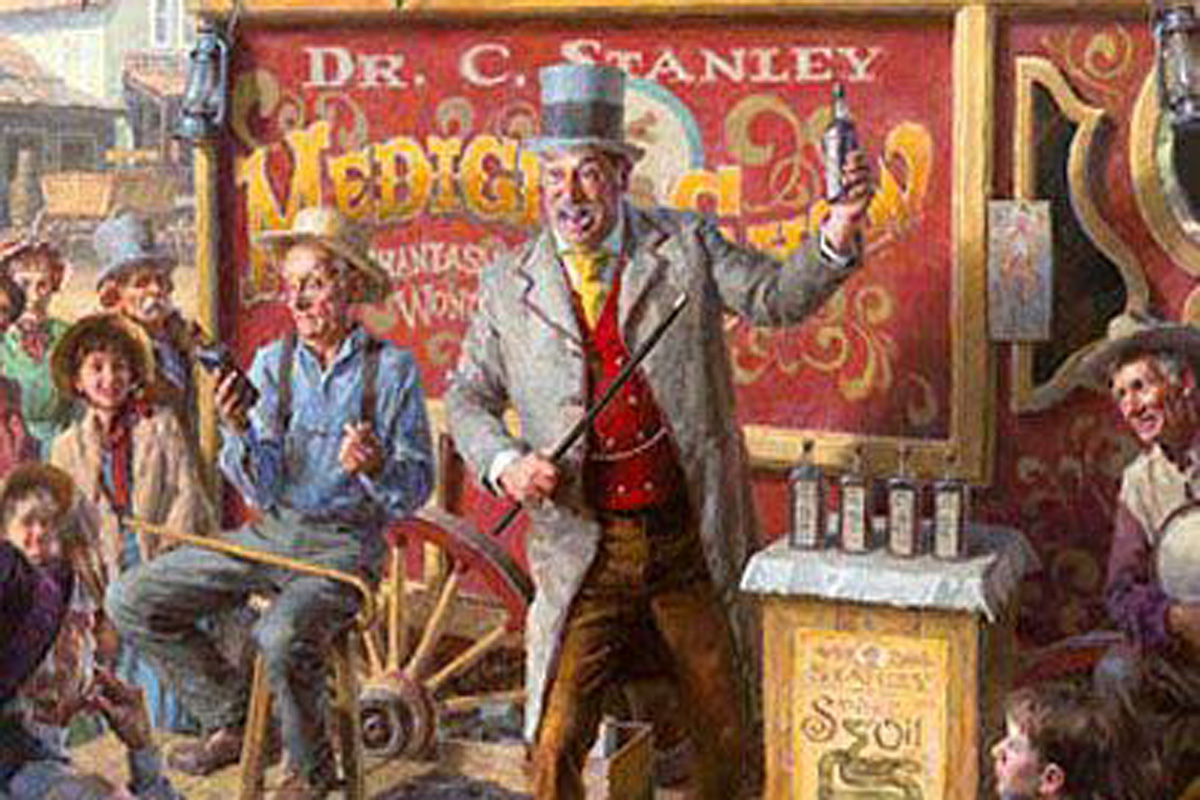 In the years before the Pure Food and Drug Act of 1906, medicine show's and wild curing ailments were popular. The contents of these miracle drugs were large doses of opium, alcohol. They usually cured nothing but made the user feel good. Many temperance women would load up on the stuff and would go out bashing saloons with their hatchets. Then they'd go home and drink another pint of 100 proof and be fired up to go out again the next day and bash some more.
Cures included high fluting names as Egyptian Regulator Tea. It helped girls who lacked sex appeal become sexy. Rengo Medicine would magically "turn fat into muscle." LaDores Bust Food promised women a "full, rounded bosom." There were also cures for "unmentionable female disorders." For men there were sure fire cures for baldness and incontinence and impotence.
Medicine shows traveled the West selling cure-all spirits in thick bottles that claimed to cure everything from rheumatism to gout.
They had names like "Kickapoo Indian" potions to "Bissell's Tonic Bitters." And there was "Dr. Foley's Kidney and Bladder Cures in the Friendly Brown Bottle."   And, "Bumstead's Worm Syrup," promising to kill a hundred worms a bottle.
They'd put a picture of an American Indian on the label and give it an Indian name as this conjured up in the consumer's mind thoughts of magical Native American cures.
Doctors rubbed opium or morphine into a cut to relax the patient. One, while patching up a drunken cowboy was less-patient, declared, "If they can get drunk and shoot one another up, they can be sewn up without drugs."
Whiskey was the king of what might be called "rough and ready medicine." It was also used as an antiseptic and perhaps more importantly, to give the doctor "courage."