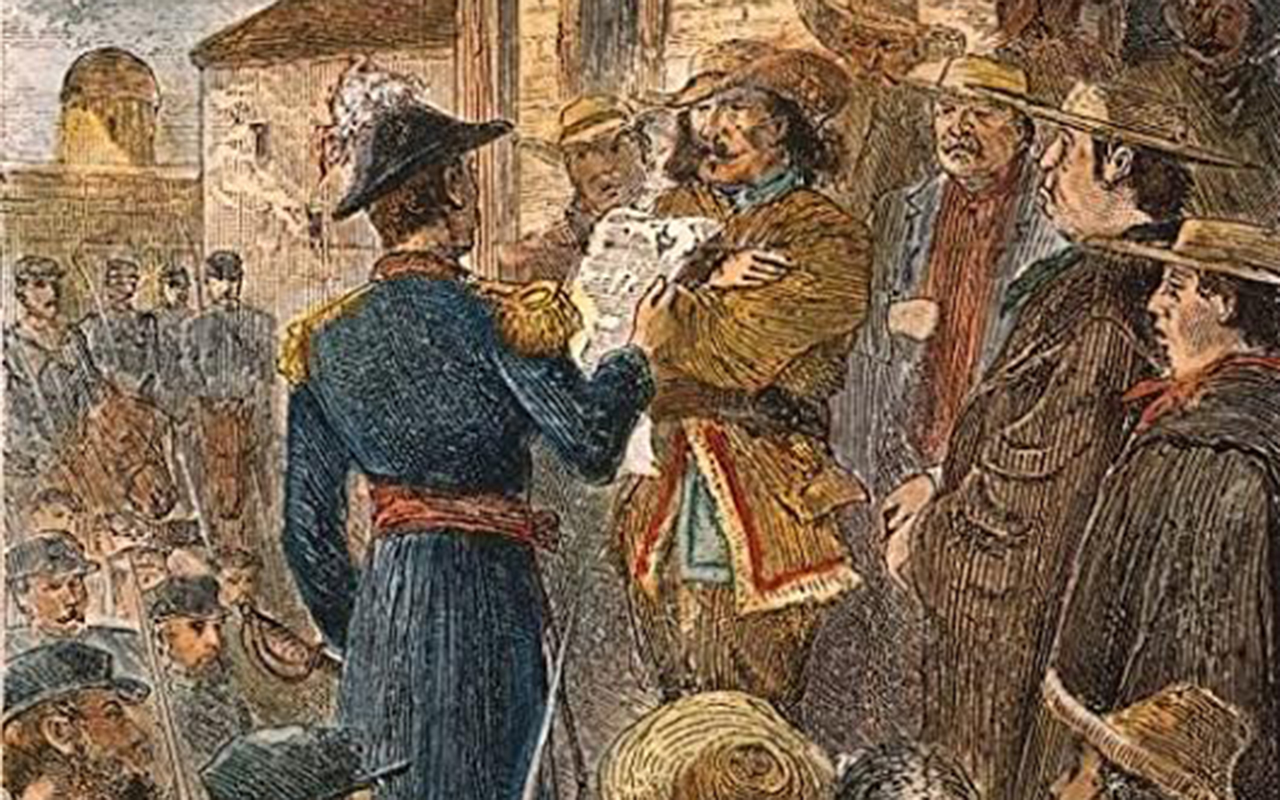 The Plains Indians called him the "Horse-chief of the Long Knives," and the whites have called him, the "Father of the U.S. Cavalry." The war between Mexico and the United States began in 1846. The overall U.S. strategy for fighting the war with Mexico consisted of three armies. The first, led by "Old Rough and Ready," General Zachery Taylor, would cross the Rio Grande and invade northern Mexico, while General Winfield Scott, "Old Fuss and Feathers," would attack Vera Cruz from the sea and go for the Mexican capital.
The "golden prize" for the United States was California and that was the primary mission of General Stephen Watts Kearny's Army of the West.
Leaving Fort Leavenworth on June 28th, 1846, with some 1,800 men, including Colonel Alexander Doniphan, his storied Missouri Volunteers and a large contingent of Mormons under the command of Colonel Phillip St. George Cooke, the Army of the West advanced to Bent's Fort on the Arkansas River. From the adobe bastion that served as the American Jumping off point into Mexican territory, Kearny's army entered Mexico ant took the capital city of Santa Fe without firing a shot.
This was done with the considerable assistance of Santa Fe trader James Magoffin and Col. Cooke, who rode into Santa Fe ahead of the army. Armed with a satchel full of cash, they enticed Governor Manuel Armijo, aka "His Obesity," who'd previously boasted that he would "fight to the death" defending Santa Fe from the Americanos del Norte. The bribery attempt was successful and after the unscrupulous governor left town. He was in such a hurry that he forgot to take his wife along. Santa Fe was left undefended and the Army of the West entered unopposed.
While in Santa Fe, Kearny proclaimed himself governor, during which time he pledged the native's protection from the hostile Indians, a code of laws and a bill of rights. He ordered Colonel Alexander Doniphan to delay his planned invasion of Chihuahua and deal with the Navajo, longtime adversaries of the New Mexicans.
On September 25th, 1846, Kearny's army of 300 dragoons, guided by famous mountain men Tom Fitzpatrick and Antoine Robidoux, started down the Rio Grande, headed for California.