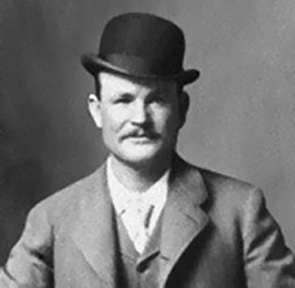 By the end of the nineteenth century the old ways of outlawry in the West were slowly dying out. The James-Younger Gang, the Daltons, Doolins, and the rest had all their day in the sun and had crossed over the divide. Before the curtain came down the last of the great outlaw gangs would ride outlaw trail. The popularly-known name "Wild Bunch," was applied the Pinkerton Detective Agency in the early 1900s after the gang was broken up.  In their heyday they were known as the Hole-in-the-Wall Gang.
Actually, there were several Hole in the Wall gangs that took their name from  an impregnable outlaw sanctuary in central Wyoming. The best known of these bands of desperadoes was led by a good-natured, outlaw named Robert LeRoy Parker, better-known as Butch Cassidy.
While other gang leaders boasted they were mean enough to eat off the same plate with a rattlesnake, Butch Cassidy is best-remembered as the smartest, most resourceful and likable of the outlaw chieftains. He loved horses and was a good judge of horse flesh.  He's credited by some with being the first to use relays of well-bred horses to outrun pursuing posses. He was well-liked and respected, even admired by most of those who knew him.
Wild Bunch author Richard Patterson says, of him "He had a special way with horses; they would become his life; stealing them, raising them, racing them, selling them—and eventually escaping on them with other people's money.
"Quick-witted and good-humored, he was bright but not complex. His tastes were simple and his desires not unreasonable."
There's no record of Butch ever getting married but he did like women and there were many that came and went in his life.
Butch Cassidy was born Robert LeRoy Parker on April 13th, 1866, in Beaver, Utah to a good Mormon family. A turning point in his life came when the family became involved in a land dispute. His father Max was a bit of a jack-Mormon and a court headed by church leaders ruled against them. The family felt wronged and Butch took a strong dislike to authority figures.
He took a job working on a ranch to help the family get by and there he made the acquaintance of Mike Cassidy. Mike taught the youngster to ride and shoot. Mike was also a small-time cow thief and soon young Parker was riding with him. He found the life of an outlaw fun and exciting compared to the dreary life on a Mormon farm.
Butch was looking for excitement and in the summer of 1884 he turned up in the boisterous, rough and tumble mining town of Telluride, Colorado. He found the company of booze, gambling and fast women equally exciting.
He took a job working in the mines but soon grew weary of the live of a miner and began looking for a way to make more money. Thanks to his mentor, Mike Cassidy, Butch knew horses and soon he was making money racing, but he soon decided there was more money in robbing banks.
On June 24th, 1889, he and a fellow Mormon, Matt Warner along with Warner's cousin, Tom McCarty, robbed the San Miguel Bank in Telluride of some $20,000.
Butch had planned and executed a textbook bank robbery on his first attempt. They entered the bank when there was only one teller present, demanded cash, got on their horses and rode out of town. As part of his plan Butch had placed a relay of horses so they could mount fresh ones along their escape route that when the ones they were riding played out. By the time a posse was organized they were long gone.
Robbing banks and trains was a step above other kinds of thievery and he'd crossed over that line to the big time.
It was about that time he changed his name to Cassidy. It's likely took his mentor's name to avoid bringing shame to his family.
Butch's warm personality won him many friends. He was an anomaly among outlaws–he was charming, witty and was a light drinker.
During a flu epidemic in the winter of 1892 in the Wind River country a Mrs. Simpson told how he became something of a local hero when he rode fifty miles to bring medicine to a sick family.