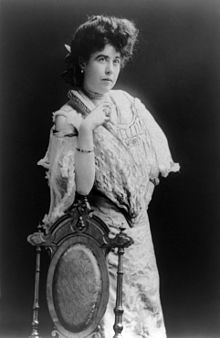 The daughter of Irish immigrants in 1867, Margaret Tobin was born in Hannibal, MO. As a waitress she waited on Mark Twain many times.
When she was 18, Maggie moved to Leadville where she met Jim Brown. "I wanted a rich man," Maggie said "But I married for love." They married in 1886.
She was a pretty redhead, exceptionally bright and buxom. She was high-spirited and strong-willed (typically Irish). The Silver panic in 1893 broke many but not Brown's, they found gold in the Little Jonny Mine, a wide, pure vein. A year later they bought a Victorian Mansion in Denver. They became very rich and their marital troubles began. She set out to conquer Denver society. She became well-immersed in the arts and fluent in French, German, Italian, and Russian. Despite lavish parties she had limited success. Denver Times said, "Perhaps no woman in society has ever spent more time or money becoming 'civilized' than Mrs. Brown."
The Browns legally separated in 1909. He had an affair with a younger woman and caused a scandal. One of the reasons she fled to Europe and a fateful voyage on the Titanic was to avoid the gossip.
She was a true hero on the disaster. She spoke German and French so she could converse with the third-class immigrants. She took charge of a lifeboat and handled the oars, wearing an ermine cloak. Later, She helped raise $10,000 to assist the victims. When people complimented her on her bravery she replied, "I'm unsinkable."
On returning to Denver she was a hero and the "Sacred 36" socialites threw a party in her honor. Unlike the movie, she and "Leadville Johnny" aka James never patched things up but remained friends.
She ran for the U.S. Senate in 1914 but ended her campaign to return to France to do philanthropical work. She also entertained troops during WWI. Maggie spent all her money and died on October 26th, 1932, in New York City.
During her lifetime her friends called her Maggie. When her story was reenacted in the 1960 Broadway musical it was decided to rename Jim to Johnny and Maggie became the more musical sounding Molly. The reference was continued in the 1964 film adaptation starring Debbie Reynolds. Both the play and the film entitled The Unsinkable Molly Brown.