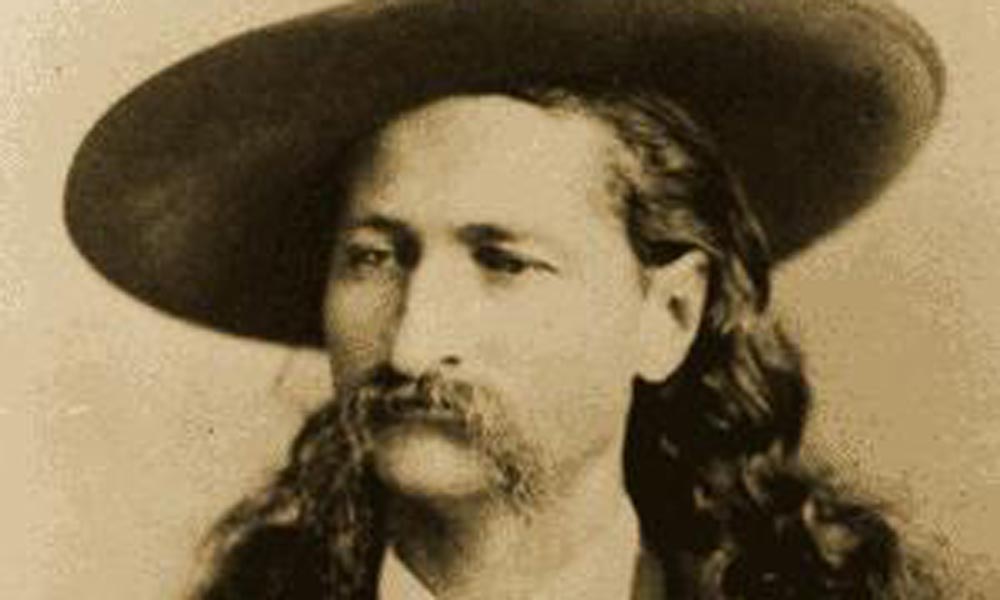 Wild Bill Hickok was arguably the greatest shootist of them all. His skill as a marksman with a six-gun, even considering embellishments, can't be denied. But the number of men he is supposed to have gunned down has been greatly exaggerated. Not counting the wars, the so-called "Prince of Pistoleers," killed only seven or eight men in gunfights.  Mythmakers, including Hickok himself, tallied that number up to a hundred. Years later he came to regret that. Still, Wild Bill led a full life.
During his storied career, Hickok was a Union spy and scout for the Army against the Indians. He hunted on the Plains with the royal Russian family and toured briefly with Buffalo Bill's Wild West show. He battled a wild bear, had numerous gunfights with rough and tumble cowboys up the trail from Texas and an uneven fight with three Nebraska farmers.
Tall and slender, Hickok stood over six feet, was broad-shouldered, with long blond hair that tumbled to his shoulders. He had an aquiline nose and high-pitched voice. His lips protruded causing his adversaries to refer to him as "Duck Bill," but not to his face. His appearance set the style for gunfighters of his era. Wild Bill's passion for clothes was long-tailed frock coats, fancy vests, red sash and ruffled shirts. His effeminate mannerisms belied the fact that he spent a lot of time in some fancy lady's boudoir.  Most of his shooting scrapes can be traced to a love triangle. When he wasn't taming Hays City or Abilene, marshal Hickok could usually be found in one of the local brothels. His taste in women left a little to be desired. It was claimed some of his soiled paramours had more miles on them than the Union Pacific railroad but then Bill wasn't exactly a knight in shining armor either.
Wild Bill's other hobby was gambling, although his hand at cards wasn't nearly as skillful as his prowess with his 1851 Navy Colt's.
Like many larger-than-life western figures, Hickok was a walking contradiction. He was one of the greatest shooters of his time and a fearless lawman, but there were serious flaws in his character that detract from Hickok the man.
His real name was James Butler Hickok. How he acquired the colorful nom de guerre has been a subject of folklore. According to the late Joseph Rosa, Hickok's biographer and foremost expert, there were a number of "Wild Bills" around during the 1850s and early 1860s, but it was James Butler Hickok who was to become immortalized as such.
How he became "Wild Bill" might be a clue to where it came from. His father's name was William.  When young Hickok left home in 1856 for the Kansas Territory he was still known as "James" but by the summer of 1857 when at Monticello he was known variously as Jim or "William."
George W. Hence, a family friend claimed that James became "Wild Bill" following an incident involving a bartender at Independence, Missouri who was being dragged out to be hanged by a drunken mob, but James interceded with six-shooters in hand and stopped them. Afterwards a woman in the crowd shouted, "Good for you, Wild Bill." And the name stuck. But there are no known facts to support that tale. It sure sounds better than "Wild Jim."