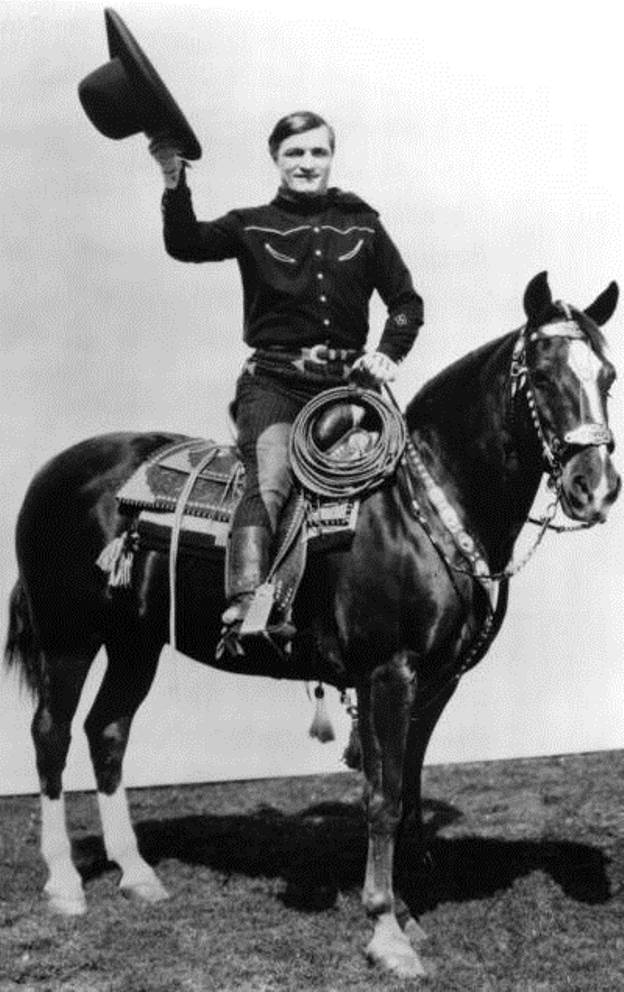 The 1920's was an age of super heroes, Babe Ruth, Lou Gehrig, Red Grange, Gertrude Erdle, Charles Lindbergh but the greatest super star of them all was Tom Mix.
Tom Mix was the first superstar. Post WWI audiences wanted to forget problems and escape to fantasy. His movies were pure frolic and delight. He was the man in the white hat who rode into town and battled the bad guys. They were loaded with fist fights, slapstick stunts, pretty ladies, and to the relief of his adolescent fans, he seldom rode off into the sunset with any of them. Mix led the "Shooting Stars" in marriages with five.
Mix was born in Mix Run, Pennsylvania, on January 6, 1880. He headed out to Guthrie, Oklahoma where he worked as a bartender and played semi-professional football. The Miller Brothers saw him and hired him as a trick rider for their Wild West show.
Mix was making $17,500 a week in the 1920's. He eventually made 300 silent films and 9 talkies.
Mix was an action actor and made fun of his acting ability, asking a director, "Do you want expression number 1, 2 or 3?"
Mix didn't care for "Talkies" thinking they would ruin the action films. Contrary to myth, his voice was fine for them.  His hard living just caught up with him. By 1940, he was sixty years old.
He made more than 300 silent films and nine Talkies. With his "costar" Tony, the Wonder Horse. Tony was the only horse who starred in his own movie (1922) Mix had a supporting role in "Just Tony."  Tony leaped steep canyons, swam raging rivers, galloped through fire, chased a train for 2 hours and never worked up  a sweat. He could walk over to a table, pick up Mix's six shooter and brought it to him. Tony, like his rider had lots of flirtation on the screen with comely colts.
The only thing Tony feared was a dummy horse, used as a studio prop.  Tony whinnied at it but when he got no response, he spooked.
An advertisement showing Tom's wounds sustained while round up the bad guys: Blown up once, shot 12 times, injured doing stunts 47 times, and his body had 22 knife wounds. Born in 1880, amazingly, he was in his 40's when he performed the stunts that made him famous. Every bone in his body had broken at one time or another.
An over eager agent embellished his biography saying he was a Texas Ranger, fought in the Boxer Rebellion in China, the Boer War in Africa, the Spanish American War, was a U.S. Marshal, and rode with Pancho Villa in Mexico.  He did none of them. But he was one heck of a rider, and he even read, and understood Wm. Shakespeare.
In 1929 the genre was declared dead. Lindbergh was the new hero in town. Many experts predicted talkies would be the end of cowboy movie stars whose virtuous character was seen as old fashioned. One critic wrote, "Tom Mix, Hoot Gibson and Ken Maynard had better switch to aeroplanes or retreat to the old actors home."
The media predicted the genre would disappear in 1929, replaced by airplanes. "Lindbergh has put the cowboy into discard as a type of national hero," said western movie historians, George Fenin and William Everson in 1929.
Mix who lost it all in the stock market crash in 1929 was also through as an actor the same year.  He came back to make some talkies in 1931 but never regained his previous stardom.  His last years were spent working the rodeo and fairgrounds circuit.  He was killed on October 12, 1940, when his 1937 yellow Cord Phaeton convertible wrecked near Florence, Arizona. Too late, he saw barricades on a bridge detour. He swung into a wash, jolting the car, causing an aluminum suitcase to fly up from the back seat, breaking his neck. He got out, took one step and fell to the ground.  He'd spent the night before at the Santa Rita Hotel in Tucson.
Tony died two years later.