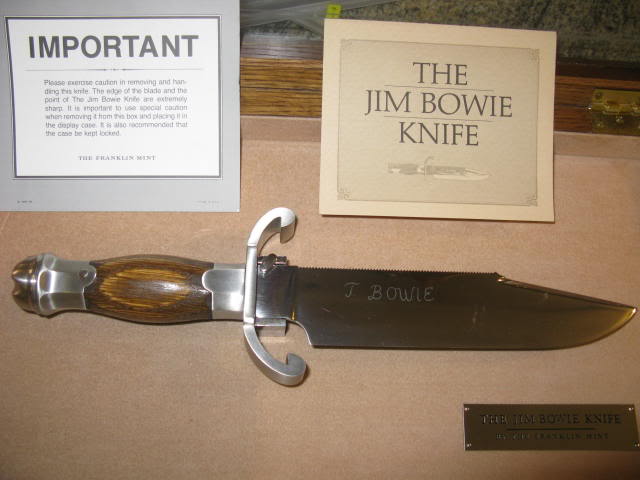 Several movies were made in the 1950s, about the Alamo and Jim Bowie. The lyrics of a popular song were, "What a Man was six feet six Jim Bowie, Big Jim Bowie…." But in reality, Jim Bowie was "only" six feet tall. Still that was pretty tall for his day. With that nine and a quarter-inch knife in his hand he must have looked six feet six. The man who played him in the popular movie, "The Iron Mistress" was five feet six, Alan Ladd.
The legendary Jim Bowie had several knives over his life. In his day a knife was a man's favorite sidearm. One didn't have to pause and reload. His brother Rezin (pronounced Reason) wrote in 1838, a couple of year after his death:
"The first Bowie Knife was made by myself in the parish of Avoyelles, in the this state (Louisiana), as a hunting knife, for which purpose, exclusively, it was used for many years." Rezin P. Bowie, Planters Advocate: August 24, 1838.
Jim Bowie's initial fame came about as a result of a feud with Norris Wright, Sheriff of Rapides Parish. The two had participated on opposite sides of political party squabbles and competed against each other in land speculation ventures. Bowie had supported Wright's opponent on the race for sheriff and Wright, a bank director, had been instrumental in turning down Bowie's loan application. They met by chance on a street in Alexandra one afternoon and Wright fired a shot at him.  Bowie was enraged and tried to kill Wright with his bare hands. Wright's friends intervened and stopped the attack. Bowie resolved to carry his hunting knife with him from then on. Resin presented him with a knife so that he would never be caught unarmed again.
Rezin described it had a huge blade that was "nine and a quarter inches long and one and a half inches wide. Single edged and not curved." It was quite different from the Bowie Knife as it came to be recognized.
On the banks of the Mississippi River on September 27th, 1827 the storied "Sandbar Fight" took place which cemented the Bowie Knife place in history. There is disagreement among scholars as to whether the knife was used in this fight was the same kind of knife now known as the Bowie knife. It's been described as a "large butcher knife." Many conflicting accounts exist of who actually designed and built the first Bowie knife. Some say Bowie designed it and others attribute the design to noted knifemakers of the time. However, in a letter to the Planter's Advocate. Rezin Bowie claimed to have invented the knife.
There many legends surrounding the final disposition but mystery surrounds it's ultimate fate. According to Bowie family legend, Jim Bowie returned the knife to his brother Rezin and one of his grandchildren lost. Others insist Jim Bowie always carried it.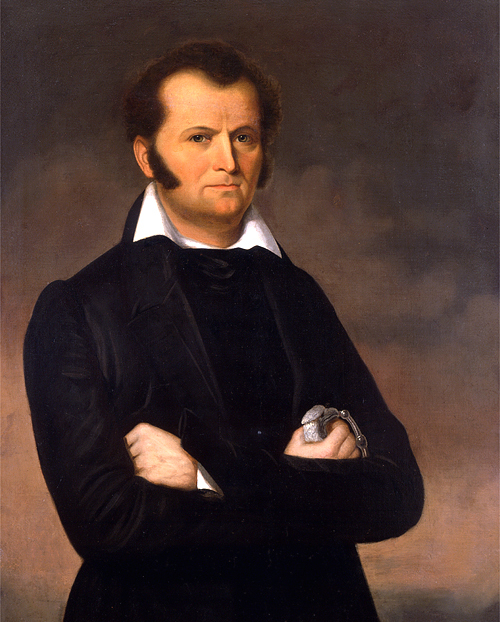 And the Bowie brothers were inclined to give presentation Bowies (4) to friends, which only adds to the confusion surrounding the knife. The most famous version of the Bowie knife was designed by Jim Bowie and presented to Arkansas blacksmith James Black in the form of a carved wooden model in December1830. At the same time Black created another based on Bowie's original design but with a sharpened edge on the curved top edge of the blade. Black offered Bowie his choice and he took the modified version. Bowie took the knife to Texas and in a fight with three armed men, killed all three. Others mentioned as knife makers who claimed to make the "Knife Bowie carried" include Daniel Searles and Cephas Ham. Searles seems to be Rezin Bowie's favorite cutler. His Searles/Fowler Bowie is now on display at the Alamo. Although there are four presentation knives  attributed to his shop only two can be positively identified as a Searles knife. Ham's knife is currently on display in the Long Barracks Museum at the Alamo.
Several knives claimed the title of "Original Bowie Knife" or at least that they were the knife that traveled with James Bowie to the Alamo. Most assume, however, that the Sandbar knife was the one Bowie carried for the rest of his life. It is likely that as his reputation and social standing grew, James replaced that first knife with a better, fancier knife and may have done so several times. It is unlikely we will ever know the actual appearance of the original Bowie knife. Its metamorphosis from a big butcher knife to the huge clip point knife in just a few short years.
The Arkansas toothpick differs somewhat from the traditional Bowie. It is a heavy dagger with a 12–20-inch pointed, straight blade. The knife can be used for thrusting and slashing. James Black, the innovator of the Bowie knife, is also credited with inventing the Arkansas toothpick. There was no consistent distinction made between Bowie knives and Arkansas toothpicks in the mid-19th century.