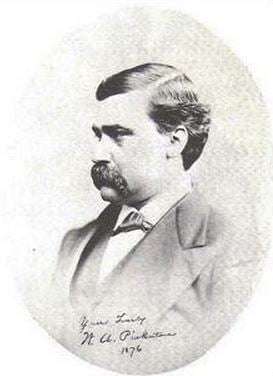 The joke is on Iowa lawmen.
April 1, 1868. Officers check the cells at the Council Bluffs, IA jail–and find that four members of the Reno Gang have escaped. They've dug a hole in the wall and crawled out; above the exit, someone has written in chalk, "April Fools."
Gang leader Frank Reno and the three others split up and make their way back to Indiana.
William Pinkerton (photo) of the famed detective agency–who had led the raid that resulted in the Renos' capture two days earlier–is incensed and vows to bring them to justice, once and for all.