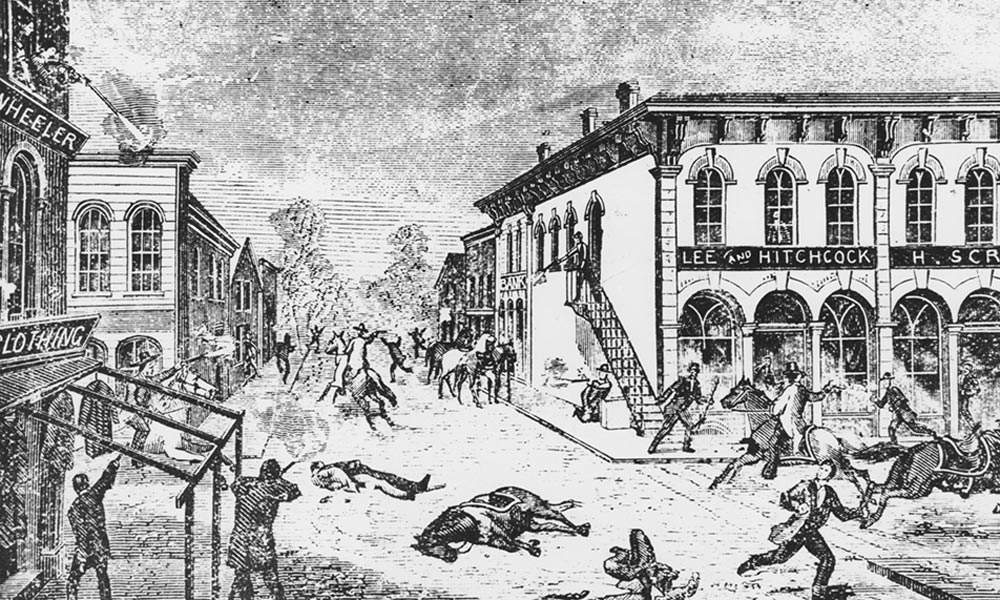 Credited with pulling the first peacetime train robbery in America goes to the four, relatively unknown, Reno brothers of Indiana, John, Frank, Simeon and William.  It happened on October 6th, 1866 in Seymour, Indiana, and the take ranged from $12,000 to $20,000 dollars.  Reportedly they left behind a safe containing $10,000 in gold.
Their biggest heist in their brief career before they were lynched by a mob was the Marshfield Train Robbery on May 22nd, 1868 when they got away with $96,000 in gold and paper currency.  That seems to top anything the James-Younger or any of the other outlaw gangs.  Also, the Reno brothers died without revealing the whereabouts of most of their loot.  It's figured the number totaled about a million dollars in their short career. Their real forte was burglary and it's figured about half of that million was gained by burglarizing county treasuries.  Pinkerton detectives caught up with John and sentenced him to forty years of hard labor. He was luckier than his brothers, who all met a violent end.
After John Reno's capture Frank led the gang on a spree including Marshfield.  The Pinkerton's had let word leak $100,000 was to be shipped through Seymour.  The Reno brother's took the bait and instead of gold, met a platoon of lawmen.  Five members of the gang were captured, but a lynch mob took over and hanged them.  The rest of the gang was rounded up and the lynch mob reappeared.   On December 11th, 1868, "The Night of Blood," they hanged Frank, William and Simeon Reno.
The James-Younger gang took in about $200,000 in a fifteen-year career. The Younger brothers were captured after Northfield fiasco in 1876.  Frank and Jesse continued for a few more years. Jesse was shot in the back in 1882 by the "dirty little coward, Robert Ford.
Frank and Jesse probably took part in at least a dozen bank robberies, seven train robberies, four stagecoach heists and other assorted deviltry, including robbing a state fair.  Their biggest heist seems to be their first one at Liberty, Missouri on February 13th, 1866 when they got away with $60,000.  The rest netted them $10,000 or less.
The criminal career of the Daltons, began after they gave up their jobs as lawmen. It lasted only a little more than three years.  They began in the winter of 1889 with small-time theft like stealing horses and bootlegging before graduating to bigger things in February 1891 when they robbed a train in Alila, California.  Their take from robberies was small except for the Adair, Indian Territory robbery on July 14th, 1892 when they got away with an undisclosed amount of cash.  Some authors claim $17,000. It's also claimed they got away with $19,000 from Lillietta, Indian Territory but the realistic figure is $2,500.   The huge disparity in dollars makes it hard to get an accurate total.
So, it looks like the unheralded Reno Gang wins first prize, with the James-Younger gang runner-up and the Dalton's a distant third.